Damian Salas Wins 2020 WSOP Heads-Up Finale for $1 Million + Gold Bracelet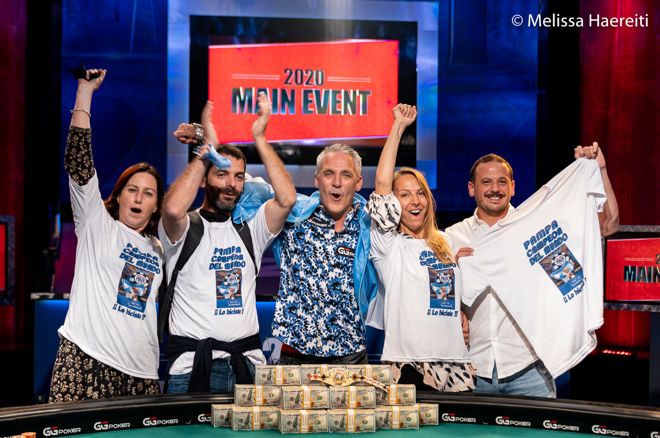 Table Of Contents
On Sunday night, the 2020 World Series of Poker (WSOP) officially came to an end when Argentina's Damian Salas, a practicing lawyer back home, defeated Joseph Hebert in a heads-up finale to win $1 million, a coveted gold bracelet, and the title of WSOP Main Event champion.
The epic back-and-forth heads-up match that lasted a staggering 173 hands was actually the culmination of two $10,000 Main Events. The first was the international leg held on GG Poker, which attracted 674 runners and saw Salas claim a $1,550,969 top prize. The other was the domestic version, which drew 705 players to WSOP.com and saw Hebert turn a $300 satellite seat into a $1,553,256 payday.
"Joseph was a very hard opponent, and he played really well. In a few instances, he was about to win, it was a real fight and he never slowed down," said the 45-year-old Salas, who finished seventh in the 2017 WSOP Main Event. "Going into the championship, I felt all the energy and support from my family and friends in Argentina tonight, and that helped me."
Originally scheduled to play out on Dec. 30th, the event was postponed to tonight as Salas' entry to the U.S. was delayed due to the COVID-19 restrictions.
Heads-Up Action
The match started out with Salas taking a slight lead, but before too long Hebert pulled out in front. On Hand #71, Hebert won a big pot with trip kings to pull out to a more than 3:1 chip lead. Hebert, who was playing in his mother's memory (be sure to check out the #ForLinda story for more on the emotional story) set about extending that lead and at one point was out in front by an 8:1 margin.
However, Salas won the first all-in confrontation on Hand #83, and over the course of the next two and a half hours battled back and forth with Hebert. Eventually, the structure, which featured 20-minute levels, forced the action; in fact, in the end, there were just 20 big blinds in play.
Even so, neither player wanted to give an inch. Whenever one would get short, they'd double back. At times it looked like Salas was going to pull away, then Hebert would dig his heels in, win some pots, and put himself in the driver's seat. It really was anyone's game.
On Hand #170, the players got it in with each holding an ace, but it was the kicker of Salas that would win him the pot and give him a near 4:1 lead. Hebert doubled back to nearly even, but two hands later on Hand #173 of the final table Hebert jammed with ace-queen and Salas called with king-jack. Hebert got it in good but Salas took the lead when a king spiked on the flop. The turn and river both paired the board to give the Argentinean a full house, and Hebert bowed out as the runner-up.
"Both these men are champions in their own right and were a pleasure to host for this unique match," said Ty Stewart, Executive Director of the World Series of Poker. "We thank everyone who participated in this chapter of WSOP history and can't wait to see you in Las Vegas later this year."
What's Next for the WSOP?
While the status of a live 2021 WSOP in Las Vegas remains in limbo due to the ongoing pandemic, WSOP poker action will continue in 2021 with a year-long WSOP Online Circuit Series that will culminate in a gold bracelet event for invited players.
The Online Circuit Series will offer a slate of WSOP.com online events each month. Each tournament will award circuit rings, and there will also be $500,000 in added prizes throughout the year, including monthly $25,000 freerolls for qualifying players.
For more information, visit WSOP.com.
Executive Editor US, PokerNews Podcast co-host & 2013 WSOP Bracelet Winner.