We Entered GGPoker's Softest Poker Tournament - This is What We Found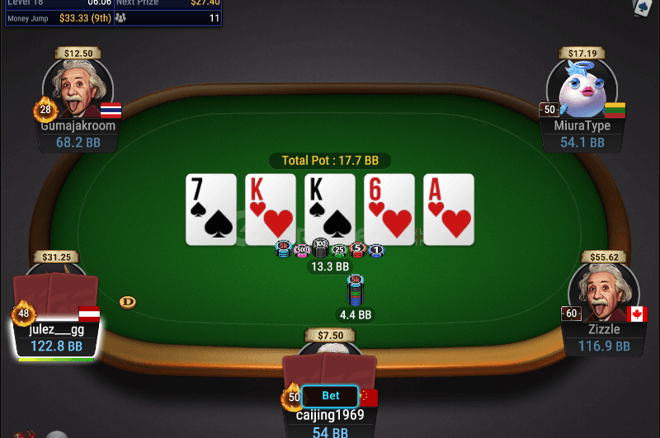 GGPoker has a huge variety of poker tournaments and cash games for players to choose from.
Sometimes it's enough to make you wonder where to start!
But don't worry. If you've tried out the Bounty Hunters and you're tired of the Omaholic tournaments, we have something that might shake things up entirely!
---
Related: Eight Crucial Beginner Poker Tips From GGPoker
---
What is Short Deck Poker?
Short Deck Poker is an exciting poker variant where a 36-card deck is used rather than the full 52-card deck. This means the
,
,
and
are removed. For this reason it is also called 6+ Hold'em.
Most first heard of short-deck poker after it was introduced among the mix in the high-stakes cash games in Macau, but it has grown increasingly popular and is readily available across most major online poker sites.
What Did We Find?
Short Deck can be incredibly fun because the odds of making a hand that would be incredibly strong in Texas Hold'em is incredibly high. However, players forget that in order to scoop the pot in Short Deck, you must have a strong hand.
For example, holding a straight on a paired board in Texas Hold'em would be a strong position. However in Short Deck, the odds of an opponent holding a full house or better is much higher, and therefore the strength of that straight is reduced. Nevertheless, we witnessed someone calling off for their tournament life in the exact position and they were eliminated.
People also forget one of the basics of poker - bet sizing. Pre-flop people would look down at big hands like
or
and think they've got a monster. However, the same rules apply. Because the low-value cards have been removed, the pre-flop hands are always going to be slightly stronger.
Why are Short Deck Bounty Tournaments Soft?
A "soft" tournament is one where the vast majority of players are weak or inexperienced. It only takes a small level of knowledge in that particular game or variant to easily make money. That's why Short Deck Bounty tournaments can be perfect.
Not many people know the Game Theory Optimal (GTO) way around the game of Short Deck, and when you factor in the bounties that are up for grabs then the tournament can prove very profitable indeed.
For example, inexperienced players may not realise that hand strength is vastly different in Short Deck, and may bet and move all in with a hand that is in no fit position to win. Additionally, in Short Deck, a flush often beats a full house, something beginner players or those used to Texas Hold'em may not be aware of.
By paying attention to the texture of the board, and brushing up on Short Deck hand rankings before sitting down to play, you can be in prime position to dominate these tournaments.
Play Short Deck Bounty Tournaments
GGPoker offer both Short Deck tournaments and cash games that can be easily found within their client, but what we really like here at PokerNews are the Short Deck Bounty tournaments.
With buy-ins starting as low as $2.10 and going up to $31.50 they could prove to be some of the softest tournaments on the site.
| Buy-in | Minimum Bounty |
| --- | --- |
| $2.10 | $0.75 |
| $3.15 | $0.75 |
| $10.50 | $2.50 |
| $12.60 | $3 |
| $21 | $5 |
| $31.50 | $7.50 |
---
Join GGPoker via PokerNews
Get in on the action at GGPoker by downloading GGPoker via PokerNews. Doing so entitles you to a welcome bonus worth up to $600 or $100 in tickets! Your first deposit is matched up to a maximum of $600.
The bonus releases into your account in $10 increments each time you earn 6,000 Fish Buffet Points, which is the equivalent of $60 in rake or tournament fees.
Will Shillibier is based in the United Kingdom. He started working for PokerNews as a freelance live reporter in 2015 and joined the full-time staff in 2019. He graduated from the University of Kent in 2017 with a B.A. in German. He also holds an NCTJ Diploma in Sports Journalism.