Poker Pro Phil Hellmuth Makes NFL Predictions; Shares Super Bowl Stories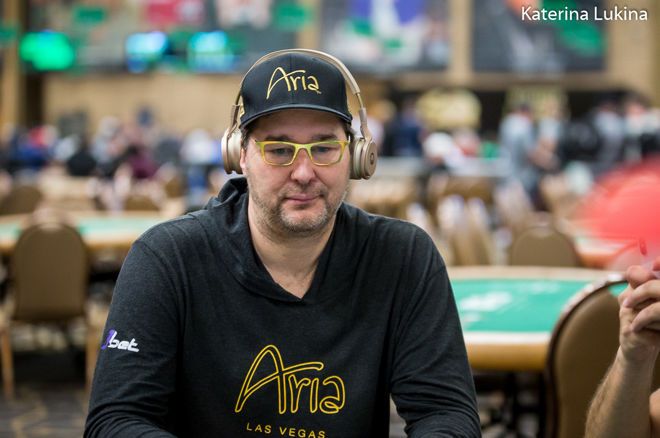 Table Of Contents
If you've been following 15-time bracelet winner Phil Hellmuth on Twitter throughout the NFL season, you've no doubt seen him make his "Pick of the Week." He's actually done quite well having gone 12-6-1 thus far, including a correct pick six weeks in a row.
Heading into this weekend's Conference Championship games – OddsChecker US has both the Green Bay Packers and Kansas City Chiefs as -3.5 favorites over the Tampa Bay Buccaneers and Buffalo Bills respectively – we thought it'd be worthwhile to pick the brain of the "Poker Brat" to see who he likes to make Super Bowl LV.
In addition, Hellmuth shares some upcoming poker plans, including his time on High Stakes Poker, and how he's been a small mover and shaker in the world of special-purpose acquisition companies (SPACs).
If you are in the United States and you plan to place a bet on the Super Bowl LV, listen to this: our sister site OddsChecker is giving away one $1,000 free bet right now. All you need to do to enter the promotion and win it is to leave your e-mail address on this page.
Get a FREE $1k Super Bowl Bet!
Register your e-mail address for your chance to win a $1,000 free bet - right on time for the Super Bowl!
REGISTER HERE
Betting NFL Totals
When it comes to betting sports, Hellmuth is actually a big fan of betting NFL totals.
"The most exciting thing for me is when I found out you can bet NFL totals, so that's to bet how many games are won and lost per year," he told PokerNews. "There's a lot of luck week-to-week in the NFL, but in these long-term bets there's a lot more skill."
Hellmuth revealed that his first-ever totals bet was wagering $10,000 (10 times his previous big bet of $1,000) that the Denver Broncos would have over eight wins when Peyton Manning took over the team. He won that bet, as he did last year when he picked the Green Bay Packers, who had a new coach in Matt LaFleur, to win eight games (they went 13-3).
This season, he bet both the Miami Dolphins to have six or more wins and the Buccaneers to have more than 9.5. He won those as well.
"I've never had a losing year in NFL totals, and that's just fun for me because it's a season-long sweat," he said.

NFL Conference Championship Picks
In addition to being solid in his "Pick of the Week," Hellmuth, who says he watches up to nine NFL games a week during the regular season, is coming off a strong weekend having correctly picked all the winners in the Playoffs Divisional Round.
"I had all four winners picked this past weekend, it was crazy," he said. "I like betting sports. I tend to do really, really good with my top pick each week. That's my strength I think."
Last week, his top pick was the Bills over the Baltimore Ravens, which he nailed. For Hellmuth, it was actually a fairly easy pick as he's high on Buffalo.
"I was talking to Mike 'The Mouth' Matusow on the phone, who is one of the world's worst sports bettors by the way, but he's pretty knowledgeable … I had a dream that Buffalo was going to win it all. Mike was like, 'What? I had the same dream, it's a vision.' He then went and bet Buffalo 9:1, I also bet them 9:1 … I didn't know how they were going to do it, but when Mahomes went down I saw a more clear path. I think Buffalo is a much better team than people understand, I think that Josh Allen has been phenomenal, and I think they have a great team."
"I will tell you this, I am a lifelong Packers fan. I was high for two weeks after the Packers beat the Pittsburgh Steelers in Super Bowl XLV."
Even if Patrick Mahomes returns from concussion protocol, Hellmuth likes the Bills. However, he's not going to make them his "Pick of the Week" for the second time in as many weeks. Instead, he's looking to the NFC matchup for that.
"I'm pretty sure my Pick of the Week is going to be the Packers. In a pandemic, there is no crowd. We're talking you go back to Week 1. The first thing I saw, and probably a lot of really smart people saw this, is that with no crowds the best quarterbacks in the world, which I think Aaron Rodgers is one, but also Tom Brady is one, they can see the defense and they can change the call two or three times easily … I don't think they have the best team, but I do think they have the best quarterback, and I think that Rodgers has been on fire all year, and there's no reason not to think he'll continue to be on fire … I think they're going to put up a lot of points, and Brady is going to somehow have to match that, and I don't know if he can."
So, if the Super Bowl winds up being the Buffalo Bills vs. Green Bay Packers as Hellmuth predicts, who does he like?
"I will tell you this, I am a lifelong Packers fan," Hellmuth said simply. "I was high for two weeks after the Packers beat the Pittsburgh Steelers in Super Bowl XLV. Two weeks. I think it was because of all the negative emotion I carried from the 1998 game (when the Broncos beat the Packers in Super Bowl XXXII)."
Hellmuth was actually at both of those Super Bowls and at one of them met President George W. Bush. You can learn more about that story by watching the video interview below.
Do You Agree with Phil?
Register your e-mail address to win a $1,000 free bet - right on time for the Super Bowl!
REGISTER HERE
High Stakes Poker
As for playing live poker, Hellmuth is sitting pretty tight until he receives the COVID-19 vaccine. However, he did find time in 2020 to film for High Stakes Poker, and his three-session appearance should be airing soon.
"I was a little disappointed because I was expecting to continue [my winning] streak," he explained. "Again, I didn't lose huge numbers, and I won the third session, so I won money for the three sessions. It was disappointing because I think I was taking kind of some bad beats … I remember folding a hand against Tom Dwan that I'm sure they're going to show."
Hellmuth the Venture Capitalist?
Earlier this week, noted venture capitalist Chamath Palihapitiya, a friend of Hellmuth's, credited the "Poker Brat" with helping him become a part-owner of the NBA's Golden State Warriors.
Hellmuth offered his two cents on the story.
"I put the two of them together. I introduced them courtside and then I walked Chamath into Joe Lacob's house with the intention to buy … They hit it off. Chamath ended up buying, I think it's public record, he ended up buying 11 percent for like $25 million. I brought him into that deal, I walked him into that deal, and Joe has been as generous as he could possibly be with me. I remember Joe gave me floor seats, which were worth $55,000 each, for the 2015 finals, Game 5. Joe let me go to any game I wanted to for eight years. After eight years I stopped asking because he said yes, every time."
Hellmuth continued: "Chamath did well on that investment. 10 percent is now $500 million. I think he put in $25 million, so $475 million he made and I walked him into that deal. Makes me feel good. You look at the Rush Street Interactive deal, I brought Rush Street into my SPAC and now it's floating at $5 billion. I brought these guys together, and I was compensated well. I am going to make millions, and millions, and millions from that deal … it's been a lot of fun. I'm sorry to anybody if I sound too cocky. It's been such an amazing ride that sometimes I have to pinch myself. Did that really happen?"