Do You Believe In (White) Magic?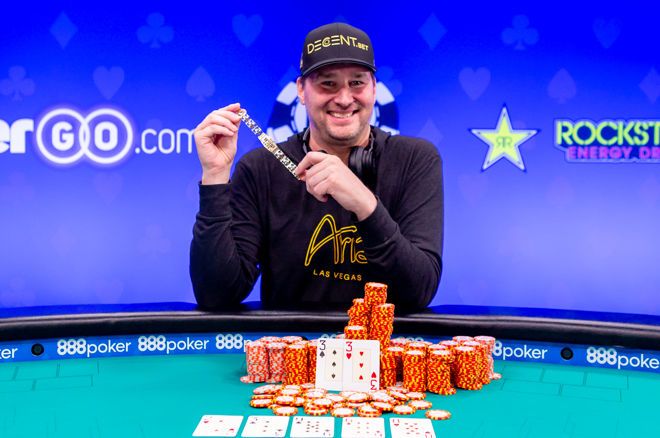 He's the most famous poker player in the world. He has 15 WSOP bracelets (which he barely ever mentions). If luck weren't involved, he would have more... maybe all of them. He has been known to dodge bullets at the poker table. Indeed, time and time again, he has somehow summoned the mystical powers of the occult, using his White Magic™️ to pull a rabbit from a hat.
Case in point:
August, 2017
Rivers Casino, Schenectady, New York
Poker Night in America ~ 'King Of The Hill'
Phil Hellmuth is playing the final match versus Daniel Cates, having dispatched heads-up specialist Doug Polk in Round 1. There is no polite way to put this. He is getting soundly trounced by the Jungleman. At one point, he was down to a paltry $5,600 chips to Cates's $194,400. He was on the ropes. The fat lady was warming up. A lesser man would have throw in the towel but Phil dug deep.
The Poker Brat won a couple of pots. He got himself back to 34,900. Then, he got himself embroiled in one of the most inexplicable hands in poker history. Calling a raise with
, Phil called a continuation-bet on
, raised when the
hit the turn and then shoved for just 20% pot on the
river. Bizarrely, Jungleman folded
for trips.
The Unibet Poker Onlin Series is underway
How did Phil induce that fold? In the latest animated strategy video from 'The Chip Race', myself and Dara O'Kearney ask Phil exactly that. From the meta-game to white magic, Phil puts together all the ingredients of this audacious bluff - "Jungleman knows me and he knows I almost always have it!" White Magic, indeed.
After this hand, there was still a mountain to scale but you don't get to be 'King of the Hill' without knowing how to climb. Phil battled for hours to eventually turn the tables and take the crown. In the video, he went on to explain to Dara and I how he almost retained his crown at the next 'King of The Hill', losing in the final to Parker 'TonkaaaaP' Talbot.
Phil would, however, get the last laugh later that night, throwing an unlikely three-pointer cold after some cheeky libations with Shaun Deeb, Doug Polk and 'Poker Night In America' producer Todd Anderson. The lads laid Phil $1,500 to $15,000. Phil stepped up and swished it.
Watch the video to the end and then ask yourself 'Do you believe in white magic?'
The Chip Race is a podcast sponsored by Unibet Poker (@UnibetPoker). The show is currently in its 13th Season and has recently featured Ike Haxton, Daniel Dvoress, Patrick Leonard, Phil Nagy, Lynn Gilmartin, Shane Schleger, Mason Mallmuth and Marle Cordeiro. The show is available on Apple Music, SoundCloud and Stitcher.
Follow @daraokearney, @dklappin and @thechiprace on Twitter and, if you want more from two of the game's best and most prolific content creators, be sure to check out their entertaining new spin-off Youtube show 'The Lock-In'. It features one guest and has a looser format with lots of banter, anecdotes and deep dives into what's going on in the poker world. Their last few shows have been their biggest ever starring Jamie Kerstetter, Henry Kilbane, Joe Ingram and Kat Arnsby.
You can check out all 'The Lock-In' episodes here.