Three Ways To Win Your Way Into KO Series Events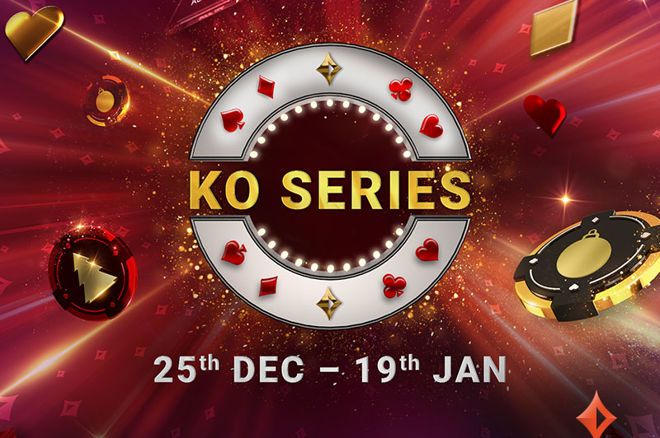 The KO Series is in full swing at partypoker with dozens of players already becoming champions and padding their bankrolls with juicy prizes. There are plenty of big events on the horizon, not least the trio of KO Series Main Events that get underway on January 16.
partypoker devised a schedule with a wide range of tournament buy-ins. You can compete from as little as $0.55 and as much as $2,100 with a huge selection of buy-ins between these extremes. If you want to play in some of the higher buy-in events but don't necessarily have the bankroll for them, we have three routes you can take to satellite into them.
KO Series SPINS
SPINS are partypoker's take on jackpot sit & go tournaments. They are three-handed hyper-turbo sit & go games where the prize pool is randomly determined before the first hands are dealt.
KO Edition SPINS cost $10 to enter and payout in a winner-takes-all format. You'll play for a $20 cash prize the majority of the time, but these SPINS award KO Series tickets too.
Tickets worth between $33 and $2,100 are possible and plenty of partypoker players have won their way into the KO Series' bigger buy-in events for only $10 via this method.
| Multiplier | 1st Place Prize | Frequency in 1M Games |
| --- | --- | --- |
| 2 | $20 cash | 631,954 |
| 3.3 | $33 KO Series ticket | 240,755 |
| 5.5 | $55 KO Series ticket | 123,391 |
| 10.9 | $109 KO Series ticket | 3,000 |
| 32 | $320 KO Series ticket | 500 |
| 53 | $530 KO Series ticket | 250 |
| 105 | $1,050 KO Series ticket | 100 |
| 210 | $2,100 KO Series ticket | 50 |
Turn $10 into a $2,100 KO Series ticket
KO Series Satellites
Those of you who prefer a traditional satellite can jump into the plethora of KO Series satellites that run around the clock each and every day. The KO Series Satellites award ticket to specific KO Series events, so check out the partypoker lobby if there's an event you have your eye on.
Buy-ins start at a mere $0.11 which gives access to KO Series events to everyone. There are some $109 buy-in KO Series satellites too. These award tickets to the $1,111 One Shot which is a huge tournament.
Tournament Dollar Satellites
Head to the "Tourneys" tab and type "tournament dollar" into the search bar to bring up partypoker's Tournament Dollar satellites.
These play out like a traditional satellite except they pay those who cash in tournament dollars rather than cash or tickets to specific events. Tournament dollars can be used for any of partypoker's tournament offerings, from KO Series to its Daily Legends and more besides.
Take this route if you want a little more flexibility when it comes to choosing the events and tournaments partypoker spreads.
Will become the Legend of the Week?
Start Your partypoker Career With Up To $30 Worth of Free Tickets
Download partypoker via PokerNews, make your first-ever real money deposit, and enjoy up to $30 worth of tickets over the course of the week. There is a choice of two bonuses depending on the size of your initial deposit.
Deposit $10 to receive the following $10 worth of tickets
Day 1: 2x $1 SPINS tickets + 1x $3.30 MTT ticket
Day 2: 4x $0.25 SPINS tickets
Day 4: 1x $3.30 MTT ticket
Day 6: 4x $0.25 SPINS tickets
Increase your deposit to $20 and you'll get your hands on this $30 tickets package
Day 1: 1x $5 SPINS ticket + 1x $3.30 MTT ticket
Day 2: 2x $1 SPINS ticket + 1x $5.50 MTT ticket
Day 4: 1x $5.50 MTT ticket
Day 6: 2x $3 SPINS tickets + 1x$3.30 MTT ticket