Artur Martirosian Wins 2021 EPT Sochi Main Event ($325K)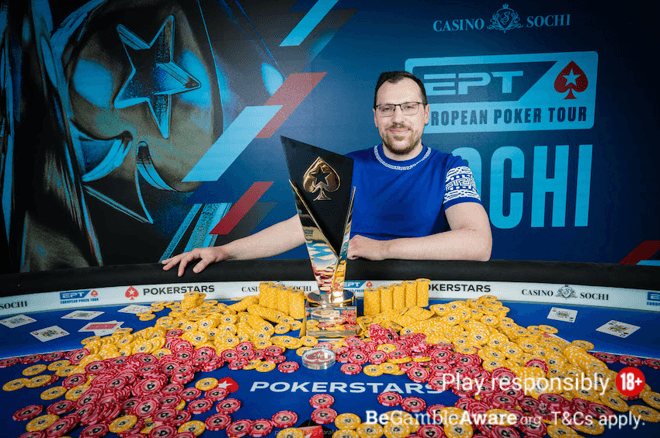 At the same time PokerStars announced last week that the Players No-Limit Hold'em Championship (PSPC) would be postponed for the second year in a row, another big live festival sponsored by PokerStars hit the live felt in the European Poker Tour (EPT).
The first live EPT of the year just took place with Casino Sochi hosting the EPT Sochi from March 19-28. This already matches the number of live EPTs held last year in 2020 when the tour also visited Sochi in October followed up by the EPT Online held virtually at PokerStars in November as the only two EPTs of the year.
Russia's Artur Martirosian has amassed an impressive poker resume despite being a relatively young 23-years of age. Martirosian has been in the poker headlines often this past year for his numerous online achievements including winning two SCOOP events last year under the "mararthur1" screenname at PokerStars.
---
Related: 2021 PokerStars SCOOP Schedule; $100 Million Guaranteed
---
The young Russian added to his ever growing list of achievements over the weekend by defeating a field of 852 entrants in the 2021 EPT Sochi ₽175,000 ($2,311) Main Event to win the ₽24,633,000 ($325,316) top prize for his first EPT title. Perhaps more importantly for Martirosian was getting his hands on the beautiful trophy.
"The trophy has such a cool design – it was one of the reasons why I did not think of cutting a deal," Martirosian shared with reporters at the PokerStars Blog.
Head to the NEW PokerStars Hub
Want to stay up-to-date on all the latest PokerStars news right here on PokerNews? Why not try out the new PokerStars Hub!
2021 EPT Sochi Main Event Final Table Results
| Place | Player | Country | Prize | Prize (USD) |
| --- | --- | --- | --- | --- |
| 1 | Artur Martirosian | Russia | ₽24,633,000 | $325,316 |
| 2 | Vladislav Naumov | Russia | ₽14,957,600 | $197,537 |
| 3 | Mukhtar Taysi | Turkey | ₽10,551,800 | $139,352 |
| 4 | Fanis Khafizov | Russia | ₽7,914,200 | $104,519 |
| 5 | Yuriy Brechalov | Russia | ₽6,237,000 | $82,369 |
| 6 | Anton Smirnov | Russia | ₽4,669,000 | $61,661 |
| 7 | Vladimir Bozinovic | Serbia | ₽3,283,000 | $43,356 |
| 8 | Roman Gadzhiev | Russia | ₽2,307,900 | $30,479 |
Huge EPT Sochi Main Event Field
The EPT Sochi was a huge success with 852 entrants coming out in full force to generate a ₽131,899,810 prize pool representing a huge increase over the 637 entrants and the ₽98,722,260 prize pool during the 2020 EPT Sochi Main Event when Ruslan Bogdanov shipped the event for ₽15,984,500 ($204,498) after agreeing to a heads-up deal with Viktor Tkachenko.
---
Related: Ruslan Bogdanov wins 2020 EPT Sochi Main Event
---
The field was Russian heavy as could be evidenced by 106 of the 127 players to make the money being from the festival's home country. So, in theory, it should become of little surprise that a Russian was crowned an EPT Main Event champion.
However, when it got down to the eight-max final table, there was still a chance that the trophy that Martirosian coveted would leave home soil with two foreigners still holding strong in Turkey's Mukhtar Taysi and Serbia's Vladimir Bozinovic.
Bozinovic was one of the early casualties at the final table settle for seventh place for ₽3,283,000 ($43,356) but it wasn't until Taysi was ousted in third place for ₽10,551,800 ($139,352) that it was guaranteed that a Russian would win the EPT Main Event for a sixth time with just Martirosian and fellow countrymate Vladislav Naumov left for the title.
Martirosian was hungry for an EPT title but so was Naumov who impressively finished sixth place during the 2020 EPT Sochi Main Event for ₽3,929,100 ($50,267).
Naumov was unable to win the trophy despite making it deep for a second straight EPT Sochi Main Event when his ace-six didn't get there against ace-nine to claim the runner-up prize of ₽14,957,600 ($197,537).
Like is the case for many poker players, Martirosian shared with the PokerStars Blog that winning an EPT title was on his wish-list, which he can now cross off. His experience during the past year in winning and going deep in many big online events appears to have once again paid off in Sochi.
"I have a lot of experience with playing on final table," Martirosian said to the PokerStars Blog. "I think it helped me a lot."