Run It Once leadRboard Rewards - Discover Just How Much You Could Win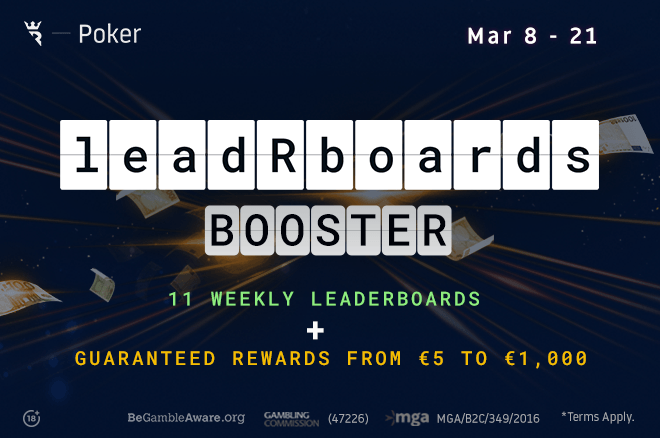 Table Of Contents
If you weren't already aware of the amazing prizes on offer in the Run It Once Poker leadRboards then we're here to change that!
Ever since leadRboards were first launched, players have been able to grab cash prizes as rewards in Cash Game and SNG leaderboards.
Some players received over 200% Rakeback!
According to Run It Once Poker, some players have been able to walk away with some great prizes having played in the popular leadRboards promotion.
All players who placed in the Cash Game leaderboards received between 92% and 270% rakeback for the week, and all players who placed in the 200 PLO leaderboard received over 225% rakeback.
However, the big winners came in the SNG leaderboards, with all players receiving between 65% and 755% rakeback! Not bad for Run It Once Poker's newest product!
---
Related: Play Weekday and Weekend leadRboards on Run It Once Poker
---
Specific Winners
Run It Once Poker gave us the details of some players who took part in various leaderboards, and what prizes they received at the end.
As you can see whatever the stakes and whatever format you choose to play, there are all sorts of value and prizes available
€200 PLO - Winner raked €490 and received €1,120 value in rewards
€10 PLO - Winner raked €136 and received €272 value in rewards
€50 NL - Winner raked €687 and received €1,156 value in rewards
€0.25 SNG's - Winner raked €2.02 and received €15.25 in rewards
€1 SNG's - Winner raked €15.47 and received €76.25 in rewards
€10 + €25 SNG - Winner raked €190.61 and received €442.50 in rewards
Will Shillibier is based in the United Kingdom. He started working for PokerNews as a freelance live reporter in 2015 and joined the full-time staff in 2019. He graduated from the University of Kent in 2017 with a B.A. in German. He also holds an NCTJ Diploma in Sports Journalism.