Don't Miss the $100M GGPoker WSOP Super Circuit Online Series May 1-30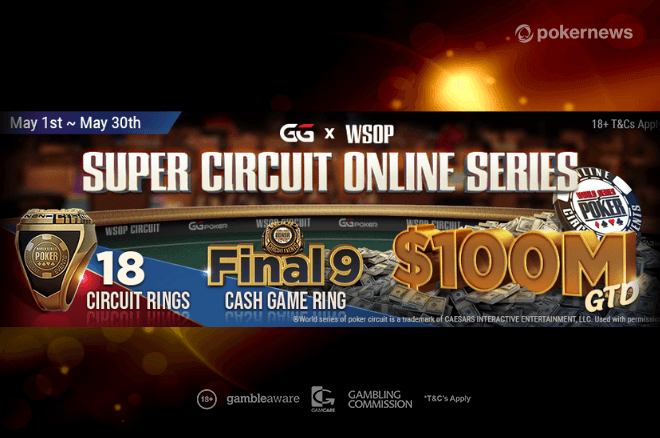 GGPoker has announced the schedule for the 2021 World Series of Poker Super Circuit Online which will run from May 1 to May 30, 2021.
The festival comes with a $100 million guarantee, with 20 WSOP Circuit rings up for grabs. For the first time, these include two rings that will be available exclusively to those who compete in one of two cash game leaderboards.
For all things 2021 WSOP Online, check here
Follow the action of the GGPoker WSOP Super Circuit Online - LIVE
The PokerNews live reporting team is on the clock. Don't miss the WSOP Super Circuit Online coverage!
Biggest WSOP Circuit Main Event Ever
GGPoker already broke the world record for the largest online poker tournament prize pool, and now they're aiming for the biggest WSOP Circuit Main with a $5 million guarantee. The Main Event buy-in is $525 with Day 1s running from May 23 to May 29. Day 2 then takes place on Sunday, May 30.
The final table will then be streamed live on GGPoker.TV on Saturday, June 5.
---
Related: Paulius Plausinaitis Wins the 2020 GGPoker WSOPC $1,700 Main Event ($1,236,361
---
Cash Game Circuit Rings

One of the stand-out announcements ahead of the 2021 WSOP Super Circuit Online Series is the decision to award two additional WSOP Circuit rings to cash game players.
According to the press release, two leaderboards will determine who will be invited to two final-table-only events.
Leaderboard 1: No-Limit Hold'em
Leaderboard 2: Pot-Limit Omaha/Pot Limit Omaha-5
Players who make the top nine of the leaderboards will be guaranteed T$300 and will get a chance to play for the T$2,600 top prize, along with the WSOP Circuit Ring.
| Rank | Payouts (T$) |
| --- | --- |
| 1 | T$2,600 + WSOPC Ring |
| 2 | T$1900 |
| 3 | T$1500 |
| 4 | T$1200 |
| 5 | T$900 |
| 6 | T$700 |
| 7 | T$500 |
| 8 | T$400 |
| 9 | T$300 |
More rules for the Cash Game Rings can be found on the GGPoker website.
Get Ready for 'Team Champions'
The winner of the 2021 WSOP Super Circuit Online Series Main Event on GGPoker will earn a $50,000 sponsorship and become a member of the newly-created 'Team Champions'.
This group of champions will be made up of every WSOP Online Series champion, creating a new team of poker players that fans and viewers can track ahead of what promises to be another amazing year for poker.
PokerNews Live Reporting is back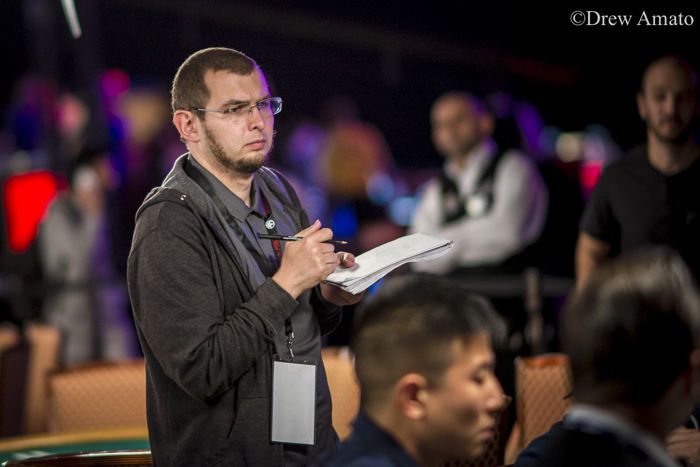 PokerNews will once again be your one-stop shop for all things WSOP on GGPoker. Make sure to check out the tournament hub for all the latest live reporting, news, videos, and more throughout May!
The PN squad will bring you live updates from selected ring event on the schedule, so just sit back, relax, and enjoy all the news, or jump in the action yourself to get a slice of the juicy $100M offered during this festival. Make sure to check back regularly for all the latest from the WSOP Super Circuit Online Series!
2021 GGPoker WSOP Super Circuit Online Series Ring Event Schedule
| Date | Day | Time (GMT) | Event Name | Buy-in | Guarantee |
| --- | --- | --- | --- | --- | --- |
| May-02 | Sunday | 20:05 | #1: $100 Super Circuit Kick-Off, $1M GTD [Day 2] | $100 | $1,000,000 |
| May-01 | Saturday | 18:05 | #2: $210 Beat the Pros [WSOP Edition] | $210 | $500,000 |
| May-02 | Sunday | 18:05 | #3: $400 DOUBLE STACK MILLION No Limit Hold'em | $400 | $1,000,000 |
| May-04 | Tuesday | 18:05 | #4: $800 No Limit Hold'em 6-Max Championship | $800 | $1,000,000 |
| May-08 | Saturday | 18:05 | #5: $315 BOUNTY GIANT No Limit Hold'em | $315 | $500,000 |
| May-09 | Sunday | 18:05 | #6: $365 GIANT No Limit Hold'em | $365 | $1,000,000 |
| May-09 | Sunday | 20:05 | #7: BIG 25, $1M GTD [Day 2] | $25 | $1,000,000 |
| May-11 | Tuesday | 18:05 | #8: $800 Deepstack No Limit Hold'em Championship | $800 | $1,000,000 |
| May-15 | Saturday | 18:05 | #9: $525 Bounty Deepstack No Limit Hold'em | $525 | $500,000 |
| May-16 | Sunday | 18:05 | #10: $100 HUNDRED STACK No Limit Hold'em | $100 | $500,000 |
| May-16 | Sunday | 20:05 | #11: $400 COLOSSUS, $2.5M GTD [Day 2] | $400 | $2,500,000 |
| May-18 | Tuesday | 18:05 | #12: $800 Pot Limit Omaha Championship | $800 | $250,000 |
| May-22 | Saturday | 18:05 | #13: $210 Bounty 6-Max No Limit Hold'em | $210 | $500,000 |
| May-23 | Sunday | 18:05 | #14: $77 LUCKY 7's No Limit Hold'em | $77 | $500,000 |
| May-23 | Sunday | 20:05 | #15: $400 PLOSSUS, $1M GTD [PLO, Day 2] | $400 | $1,000,000 |
| May-25 | Tuesday | 18:05 | #16: $840 Bounty Hunters Championship | $840 | $1,000,000 |
| May-29 | Saturday | 18:05 | #17: $52.50 Ultra Deepstack Bounty Turbo NLHE | $53 | $250,000 |
| May-30 | Sunday | 20:05 | #18: $525 Main Event, $5M GTD [Day 2] | $525 | $5,000,000 |