SCOOP Series Concludes Largest Combined Tournament Series in PokerStars US History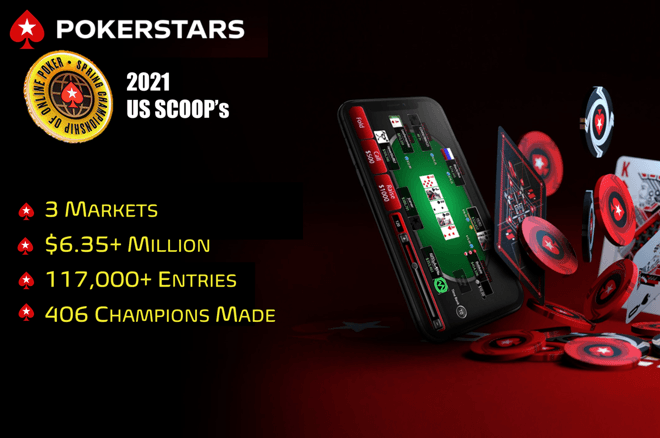 Table Of Contents
The past two months were chockfull of great events for online poker players in Pennsylvania, New Jersey, and Michigan. That's because PokerStars host a trifecta of its popular Spring Championship of Online Poker (SCOOP) in each state, which was live reported by PokerNews.
Between the trio of series, a combined $6.35 million in total prize pools was awarded – well ahead of the $5.2 million in guarantees – with over 117,000 entries competing and 406 champions crowned.
PokerStars' stateside SCOOP series was the largest US online poker series of 2021 thus far with the Main Events in all three states collectively awarding more than $625,000.
For complete results on all three series, visit the PokerStars Blog here. Otherwise, here's a look at various highlights from the SCOOP festivals in Michigan, New Jersey, and Pennsylvania.
MISCOOP Highlights
More than 40,000 entries, across 120 tournaments.
$2.3 million awarded to players, exceeding the $2.2 million guaranteed prize pool.
'Stozypokes' came out on top in the Main Event, winning $41,074.16. Stozypokes' was also victorious in an earlier MISCOOP Sunday Marathon event where they won $2,650.
The Main Event drew 871 entries for a total prize pool of $243,880.
'healybuck2021' won their way into the MISCOOP Main Event via a Depositor Freeroll, which was then parlayed into a third-place finish for a whopping $20,965.
'Dublistic' scored an impressive four MISCOOP titles.
NJSCOOP Highlights
The series attracted 26,000 entries across 163 tournaments.
$1.36 million total prize pools awarded, beating the original $1.2 million guarantee.
In the Main Event, a final table deal was made between two opponents with 'TrashNinja00' taking first prize and $18,183.19.
The Main Event saw 391 entries, building a series-high prize pool of $109,480.
'09123459', 'AvaGray', 'Barney889', 'TopDogCD' had multiple reasons to celebrate with four SCOOP titles each.
PASCOOP Highlights
Over 47,000 entries across 41 events.
$2.6 million awarded, exceeding the $2 million guarantee.
The two-day Main Event High attracted 1,015 total entries and resulted in a total prize pool of $284,200, which exceeded its initial $200,000 guaranteed prize pool.
'Kingboss93' took home the $46,410 first-place prize in the Main Event High
Executive Editor US, PokerNews Podcast co-host & 2013 WSOP Bracelet Winner.