No Gamble, No Future: Jeff Platt & Brent Hanks Chemistry Shines During USPO

Table Of Contents
One of the keys to the chemistry that has brought so much success for the rising commentary team of Brent Hanks and Jeff Platt is the real-life friendship they maintain outside of the grind of their everyday broadcast lives. Their connection was immediate when they met for the first time at an audition and they've taken any opportunity to work together since, rising among the ranks of commentary teams to become a regular fixture of the broadcast booth in the PokerGO Studio at Aria Resort and Casino.
Hanks, a former elementary school teacher from Western New York, hit pay dirt after he left the teaching profession to focus on playing poker more than a decade ago. He found immediate success when he moved to Las Vegas to pursue professional poker, winning the PokerStars Sunday Millions in his first weekend in town and eventually a gold bracelet at the 2012 World Series of Poker. In the time since he has steadily built a career as a poker broadcaster, using his knowledge of the game and his outsized personality to create a wide variety of poker content.
Platt, a Texas native, had a more traditional path to his broadcasting career in poker. He is a graduate of the broadcast journalism program at the University of Southern California and was a veteran of local TV news reporting and sports radio at a few stops around the country before getting a chance to cover the San Antonio Spurs. His persistence in pursuit of broadcasting in poker has paid off, and Platt has taken advantage of every possible opportunity along the way, including a spot as co-host of the PokerNews Podcast.
No Gamble, No Future
The pair got their start together on the studio show Friday Night Poker and have grown quickly into one of poker's most popular commentary teams. Their new podcast "No Gamble, No Future" is available now, and you can currently hear them calling US Poker Open final table action on PokerGO.
What is the US Poker Open? Read all about the tour's history here
Q&A w/ Jeff & Brent
We sat down with Jeff and Brent at the USPO to get their thoughts on what makes them such a compelling broadcast team.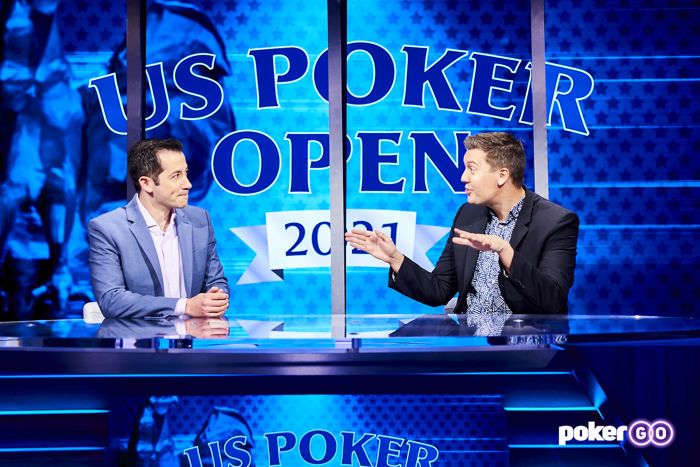 PokerNews: Brent, what was the transition like from being an elementary school teacher to playing poker professionally?
Brent Hanks: When I left the teaching profession I was 27 years old, and I had a choice to make if I was really going to take poker seriously as a career I would have to dedicate myself full time to it. I had a lot of great success online playing, and for the limited times I was playing live I felt very comfortable at the table.
Moving to Las Vegas from a little farm town in Western New York just seemed like the reasonable thing to do. I had my parents' blessing and support and that's how I ended up here.
The move came after I had a lot of online success. I could make a teacher's salary in a weekend, and I had done it a few times just playing online tournaments. That year that I moved to Las Vegas I won the Sunday Million on my first Sunday in Las Vegas, and I followed it up later that year by making my first final table at the World Series of Poker.
How long were you teaching?
BH: I taught for three years.
What was "Mr. Hanks" like?
"I thought If I work in sports broadcasting and I enjoy playing poker so much, what if I merged these two passions?"
BH: Mr. Hanks was probably what you would expect. My favorite book that I would read to my students after lunch was The Big Friendly Giant and I would stand up and walk across the desks and tables. I was helping with coaching sports and I was that teacher that was playing dodgeball with the kids every recess. You could not enter my classroom in the morning or leave at the end of the day without a "Hanksy High Five." Similar to what I do with poker, all my students always had nicknames. That is something that has carried over to what I do with the players.
Jeff, you took a more traditional route to a life in broadcasting. Where did poker start to overlap with the rest of your professional life?
Jeff Platt: I started playing in high school with my friends. We were your typical clichéd group that thought "Moneymaker is on TV so we should play as well." I had a lightbulb moment. I thought If I work in sports broadcasting and I enjoy playing poker so much, what if I merged these two passions? So I fell into poker broadcasting. I kept in touch with Dan Gati, who is Executive Producer for Poker PROductions now, and I would ask if they had anything or if I could come out and audition. Dan would say, "We don't have anything, but sure you can come out and audition." So I went to Las Vegas and talked to Dan and I talked to Mori Eskandani, the President of PokerGO, and I auditioned for them.
My audition was actually with Brent. I think it was really to see how Brent was doing and how he was developing as a broadcaster at the time, and they wanted to see if they could throw him into the mix. After that audition, I didn't hear too much from them, but I harassed Dan a little bit and he finally gave me a couple of WSOP events in 2018 and since then it's been amazing.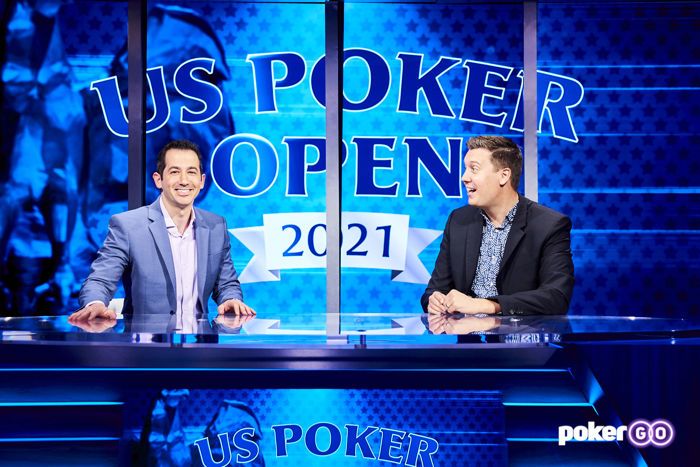 Is that where you met for the first time?
JP: Yes. I was one of the only listeners to his podcast on Poker Central back in the day, I think, so I knew who he was the first time we had met.
When did you start working together?
BH: I think the first gig we ever did together was sitting at the break desk with Maria Ho for the 2018 Poker Masters series. It was that following fall after we had auditioned together. The chemistry and the friendship and the working relationship started right then and there. Shortly after that, we did a studio show called Friday Night Poker, which was me, Jeff, and Amanda Negreanu. We really took off during that show and realized we had great chemistry. I believe Dan and Mori in the back started to recognize that as well, so they started adding us to various things like the Super High Roller Bowl, the USPO, and other international events. The whole thing just took off right from Friday Night Poker.
JP: Now we consider ourselves a team. I think at the beginning with Poker Masters and Friday Night Poker, Dan and Mori were just trying to see what works. And something clicks here. I think what helps is that we are friends outside of the job as well. We have similar interests. We both love sports betting, gambling, and we've fallen in love with poker. It fits and we have developed real chemistry over the last couple of years. We think we are getting better and we try to improve on a consistent basis.
JP: We spend time together away from poker together. I'll go over to his house and hang out with Liz and the kids.
BH: My kids love him. They call him "Mr. Jeff" and they'll ask where "Mr. Jeff" is pretty much every day. And we also have our own show on the side called "No Gamble, No Future," which is a hybrid between what's going on in the world of sports and the world of poker. We think we are tapping into a new audience.
What was the genesis of the "No Gamble, No Future" podcast?
JP: That's been Brent's idea forever. For the last couple of years, he has talked about doing some kind of show that could merge sports betting, fantasy sports, and poker.
BH: It just fell into place at the right time. We had talked about it for some time. We would meet and have lunch, and of course gamble, and we thought that we should be doing this as part of the show. Eventually, we got the green light from PokerGO and said let's do it. We do it live every single week and we have a ton of fun on that show with our team. Shoutout to John Bovenizer, our producer, for all those episodes.
JP: The goal of the show is basically putting a camera at a lunch that we have together. So when we are on camera for that podcast, it's just a conversation that you and I have. It has some format but it's not scripted and we just go on topics we are passionate about.
Brent, as someone with a "non-traditional" professional broadcasting background, how has Jeff helped you develop and polish your talent?
BH: He's known as "The Professional." He went to school for this and it's been his dream to be a broadcaster. For me, I had no idea where to begin. I didn't know the difference between play-by-play and color commentary. I had no clue that those were separate roles. I would just learn through Jeff and I was so impressed.
"I had no idea where to begin. I didn't know the difference between play-by-play and color commentary."
He has this internal clock, so if there's a 10 second "out" he can talk for exactly 10 seconds. Every time we have the opportunity to go in the booth, I can feed off of him and understand how this thing is supposed to flow.
And we have that natural chemistry where he knows he can come to me, and I'll go off on some tangent, and then I can pull back and come to him so he can bring us back into order for the show.
Jeff, you come from a more traditional broadcasting background in TV and sports. Reporting can be a lonely world. How does having a partner like Brent help you find the more social side of your personality as a broadcaster?
JP: I think the first thing that I noticed about Brent was his energy level off-camera and how it translated to on-camera. It is really hard to deliver a message that you are passionate about throughout a long broadcast. It's a little bit easier for us at the break desk segments where you have three minutes. You can be energetic and enthusiastic for those three minutes. But the way Brent is able to carry that passion across hours and hours, I knew that they really had found something in a broadcaster.
What Brent has done, to his credit, is bring my personality out a little bit I would say (laughing)...
BH: (laughing) I had a goal on Friday Night Poker. I remember Amanda and I were like "We need to get Jeff to swear." Because he's such a professional and he's so talented at what he does, I thought you know what let's get him to come out of his shell a little bit. And he knows how to go back and forth. He knows how to be buttoned up and dialed in, on the sideline or in the booth. A real professional. And he knows when he can deviate a little bit.
JP: Some poker broadcasts call for a more casual broadcasting environment. Let's be honest here: Sometimes the poker is not that exciting. When you're watching six hours of coverage, especially online when it's cards-down coverage, it can get pretty boring if you just stick to poker. We've been able to branch out a bit and Brent has kind of dragged me along with him. He wants me to showcase my personality. He wants me to bring out what he saw at lunch. So he will get me to talk about basketball, or my dating life to make me uncomfortable, or he will have me drink on camera. So now in poker broadcasts, I feel like I can be myself. I don't have to be this super-polished professional who never gets out of line or makes a mistake. I can just be me, Brent knows that he can be Brent, and that's what makes our partnership work so well.
What is your schedule looking like for the summer?
BH: Hopefully busy. We want to do every one of the majors coming up. Obviously, we have the USPO right now. We'd love to be involved with the PokerGO Cup and the PokerGO Heads Up Championship later this summer. It's to be determined what our roles are going to be but we'd love to be involved with as many of the big events as possible.
JP: We try not to be annoying, but at the same time we basically tell them we want to do everything. We want to be involved, whether it's on the break desk or in the commentary booth. Absolutely everything.
Do you have a goal as a pair?
BH: Yeah, we have a goal. We eventually want to be the top team. We want the biggest events in the world. We want the World Series of Poker Main Event. When that opportunity is there, we want to make sure we are ready for it.
JP: I think when you are passionate about the industry that you work in, you always want to get to the top right? That doesn't mean we want to push Vince and Tony off the roof of the World Poker Tour, and that doesn't mean we want to shove Lon and Norm away from the WSOP Main Event, but it does mean that we have a goal and we want to get there someday.
Remember, an annual subscription to PokerGO costs $99.99, but you can save $20 off by using promo code "USPO21" at checkout. Sign up by going here.
*Images courtesy of PokerGO.
Las Vegas-based PokerNews Live Reporting Executive, originally from Chicago, IL