The Muck: Mount Rushmore of Poker Topic Elicits Great Debate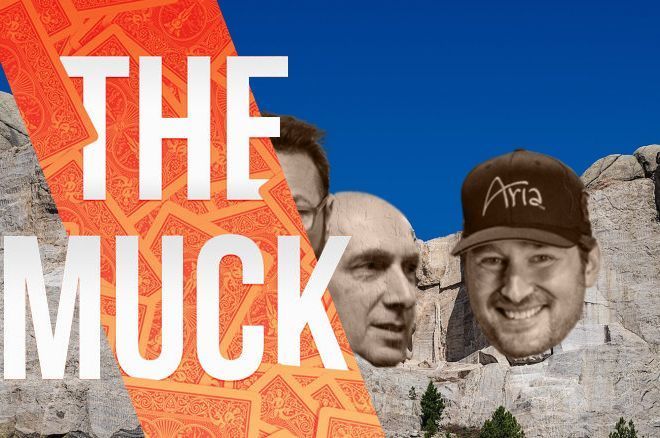 Table Of Contents
PokerNews asked our readers last week to choose the four players most deserving to sit atop the Mount Rushmore of Poker. Following an interesting debate on social media, the votes are in and you've made it clear the players you felt are most deserving.
Poker Fans Spark Debate
Our social media team first asked the poker community to chime in. We received hundreds of comments from poker fans, and the players mentioned were all over the map, and not just Doyle Brunson, Phil Hellmuth, Daniel Negreanu, and other popular mainstream pros. But it appeared that "Texas Dolly" was the one player who seemed to make just about everyone's list.
"Doyle brunson should be on the list before any of these 4. Doyle , Ivey , chip Reese , hellmuth," @Huntdog777 argues.
"Doyle Brunson, Johnny Moss, Amarillo Slim, Stu Unger… only the OGs making my list," @AirByron7 tweeted in response to the PokerNews post.
Brunson then returned the love and included Seidel — although he misspelled the name — on his Mount Rushmore of Poker. As usual, Doyle was a bit modest and didn't include himself, but Seidel sure enjoyed the comment.
The responses we received included a solid mix of old-school pros (Johnny Moss, Stu Ungar, Amarillo Slim) who are no longer living or playing, and some popular names from the poker boom era (Phil Hellmuth, Daniel Negreanu, Phil Ivey). But there wasn't much support for the new-school high rollers such as Bryn Kenney and Alex Foxen, although one Twitter user believes that could change down the road.
"sometime down the road we'll add Chidwick and Peters," @steveblats tweeted.
Chris Moneymaker was one of the most interesting choices quite a few of our followers went with. The 2003 WSOP Main Event champion and 2019 Poker Hall of Fame inductee doesn't stack up as one of the best poker players of all-time. But many argued he should be included on the Mount Rushmore of Poker for other reasons.
"He isn't in the same league in poker skills, but Moneymaker changed everything," @thecoffeeisonme argued.
Narrowing it Down to Four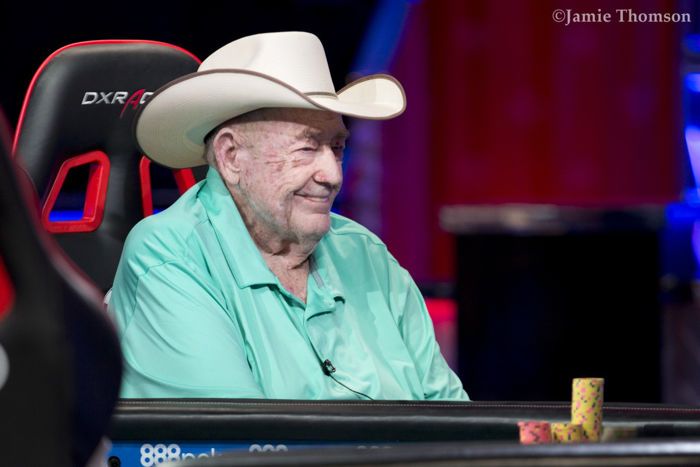 Mount Rushmore, located in the Black Hills of South Dakota, is a monument carved to depict four iconic U.S. presidents — Abraham Lincoln, Theodore Roosevelt, George Washington, and Thomas Jefferson. So, we had to narrow it down to just four poker players to keep in line with the real Mount Rushmore.
After reading through hundreds of comments from social media, we pulled out the 10 players who received the most attention. We then asked our audience to vote on which player they feel is most deserving of being included on the Mount Rushmore of Poker. With over 1,000 votes in, we can now announce the four who made the final cut, as selected by the poker community.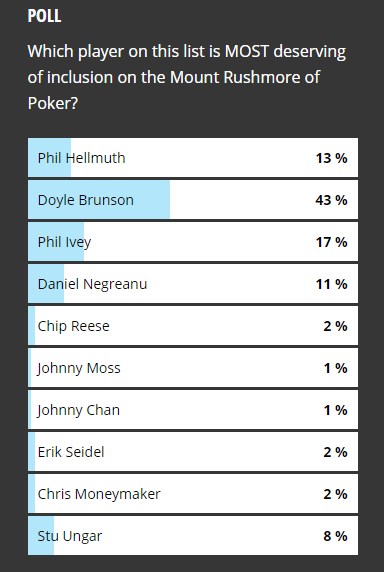 In line with the social media comments from last week, with over 40% of the vote, Doyle Brunson was chosen as the most deserving to sit atop the Mount Rushmore of Poker. The three remaining selections were Phil Ivey (17%), Phil Hellmuth (13%), and Daniel Negreanu (11%). Stu Ungar, who won three WSOP Main Event titles before passing away in 1998, just missed the cut (8%).
The four players who made the final cut have a combined 41 WSOP bracelets heading into the 2021 World Series of Poker, which begins September 30. Hellmuth, Negreanu, and Ivey are all expected to compete in a number of events, potentially adding to that tally. Brunson has also hinted at returning to the WSOP for the first time since 2018.