COLOSSAL! Top 5 Hands from GGPoker's $2,000/$4,000 High Stakes Cash Game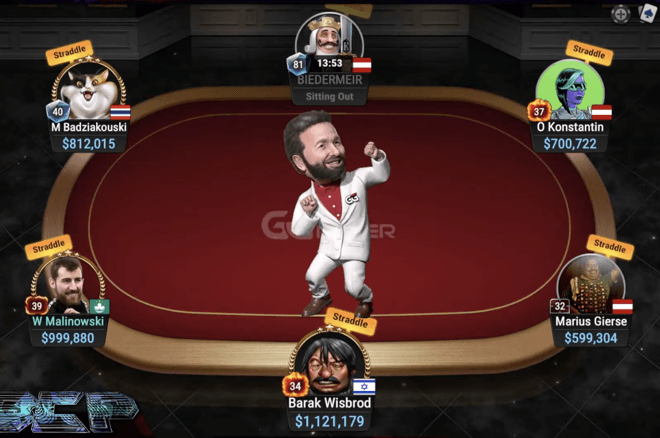 It is no secret that some of the best high stakes online poker takes place on GGPoker. The platform has just finished hosting its first Super MILLION$ Week of the year which guaranteed to pay out no less than $40 million in prizes.
It was not only tournaments that had been driving the action, last weekend saw a $2,000/$4,000 online poker cash game take place. The six-handed cash game featured huge names like Mikita Badziakouski and Super High Roller Bowl Europe champion Wiktor Malinowski.
With over $4 million on the table and straddles up to $32,000, there were several astronomical pots. We've picked the five biggest hands that went to at least the river so continue reading to find out the big winners from this nose-bleed cash game.
Early Double for Konstantin - $587,581
The first notable hand of the session came early on with "BIEDERMEIR" putting on the triple straddle to $16,000. O Konstantin then open jammed for $289,440 from the button with "BIEDERMEIR" calling.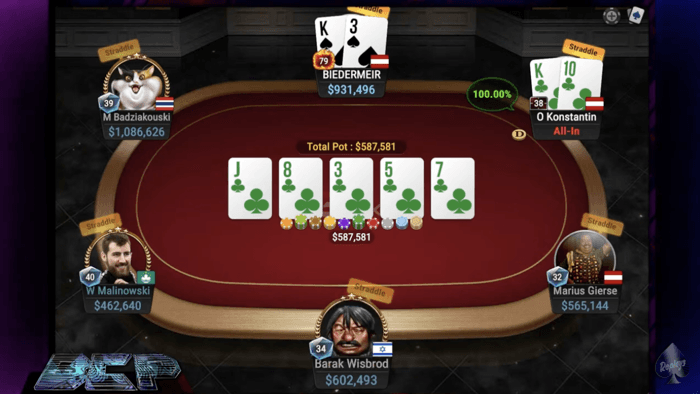 Konstantin flopped a flush and then sealed the checkmark on the turn to rake in pot worth more than $500,000.
Gierse Gets There Against Malinowski - $333,550
The next mammoth sized pot was sent towards Marius Gierse. Action driver "BIEDERMEIR" straddled to $8,000 in the small blind with Gierse raising to $16,000 from under the gun. Renowned and feared high stakes grinder Malinowski called on the button as did the small blind.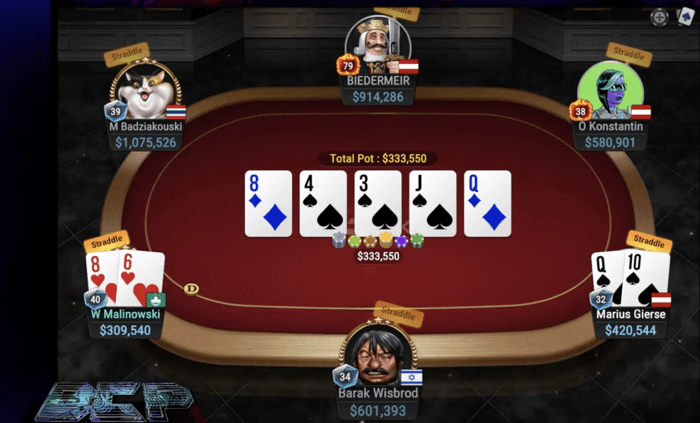 With $51,700 in the middle, "BIEDERMEIR" led out for $25,850 with Gierse calling before Malinowski bumped it up to $128,000. Only Gierse called with both players deciding to check after a third spade fell on the turn. Gierse checked the river but Malinowski avoided his opponent's trap and checked back with his flopped top pair. Gierse scooped the six-figure pot their queen-high flush.
Konstantin Gets Badziakouski to Fold - $519,882
"BIEDERMEIR" had another straddle out in front of him, however it was only $4,000 on this occasion. Konstantin, in late position, opened to $10,000 before calling the $58,000 small blind three-bet from Mikita Badziakouski.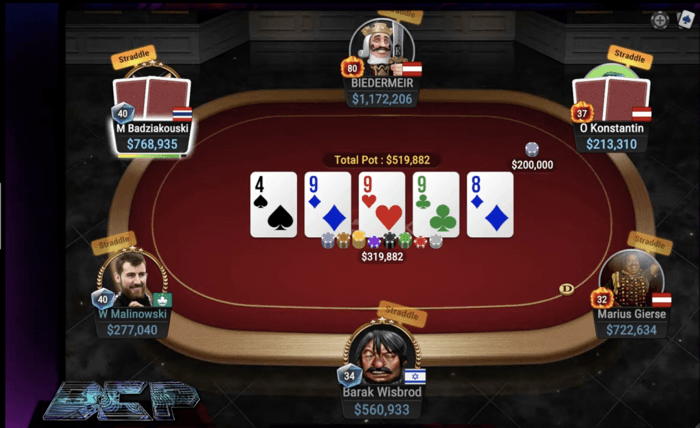 The flop brought in a paired board and Badziakouski opted to continue for $35,000 which his opponent called. A third nine then hit the turn which prompted the former partypoker ambassador to check-call a bet of $63,591. Konstantin then sized up to $200,000 on the river and Badziakouski responded by folding his cards.
Wisbrod Rakes in Seven-Figure Pot - $1,237,886
It should come as no surprise that "BIEDERMEIR" again was pushing the action, this time straddling to $32,000 on the button. Barak Wisbrod raised to $77,000 from under the gun and only "BIEDERMEIR" called to see a flop.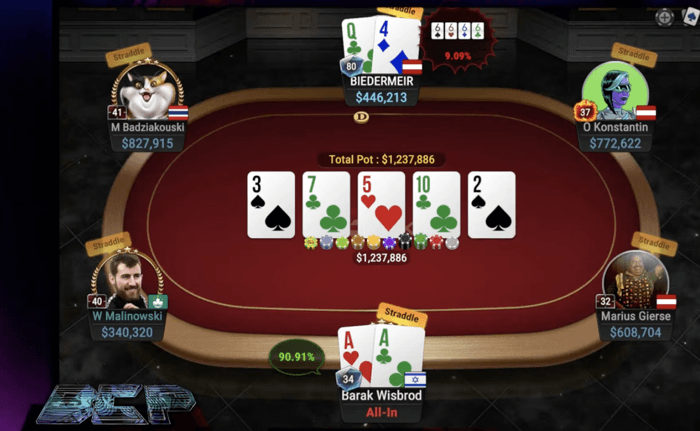 "BIEDERMEIR" then ripped in their gargantuan stack and was snap-called by their adversary's pocket aces. "BIEDERMEIR" was unable to hit their gutshot straight draw and Wisbrod scooped in the biggest pot of the session so far.
End of the Road for "BIEDERMEIR" - $1,447,347
In the largest pot of the night, "BIEDERMEIR" straddled again to $32,000 which then sparked a three-way all-in between themselves, Wisbrod and Malinowski. The latter was the short stack and was competing for the $999,960 main pot while $447,387 was in the side pot.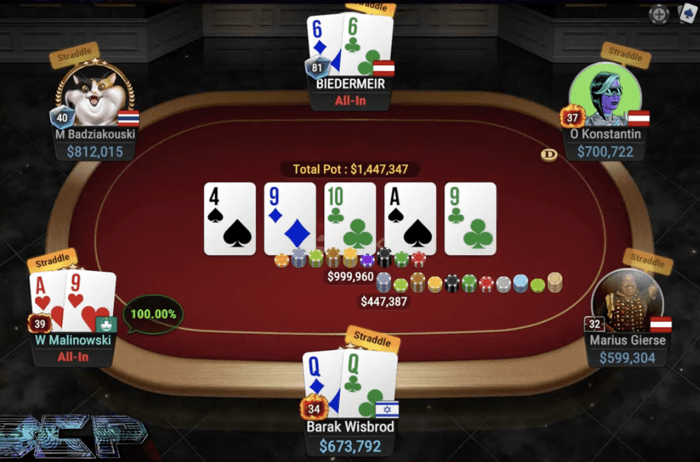 Malinowski would end up making a full house to scoop the main pot and Wisbrod's pocket-queens reigned supreme over the sixes of "BIEDERMEIR."
That would be the final hand played by "BIEDERMEIR" and the game broke less than half an hour later.
Get In On The GGPoker Action With a $600 Welcome Bonus
Now is the time to join GGPoker if you do not already have an account. Download GGPoker via PokerNews, create your account, and make your first deposit knowing GGPoker matches your initial deposit 100% up to a maximum of $600.
The bonus releases into your playable account balance in $1 increments each time you contribute $5 in net cash game rake or pay in tournament fees. You have a full 90 days to release as much of the bonus as possible.
In addition, new depositing players can get involved in the Honeymoon promotion. The promotion revolves around completing daily challenges. Completing just three see you win a prize. Complete all 30 and you will have received $170 worth of cash and $180 in other rewards on top of your $600 welcome bonus!
| Number of Missions Completed | Reward |
| --- | --- |
| 3 | 2x $0.50 AoF Sit & Go Tickets |
| 5 | 1x $2.50 Global MILLION$ Satellite ticket |
| 7 | 10x $0.50 AoF Sit & Go tickets |
| 10 | 1x $5 Omaholic MILLION$ Satellite ticket |
| 15 | T$14 |
| 20 | $20 cash |
| 23 | 1x $50 Global MILLION$ ticket |
| 24 | T$50 |
| 25 | 1x $52.50 Omahoic Bounty Quarter MILLION$ Stage 1 ticket |
| 30 | $150 cash |
Calum has been a part of the PokerNews team since September 2021 after working in the UK energy sector. He played his first hand of poker in 2017 and immediately fell in love with the game. Calum's proudest poker achievement is winning the only tournament he has ever played in Las Vegas, the prestigious $60 Flamingo evening event.