Cigar-Toting WPT Choctaw Runner-Up Steven Buckner Playing for His Late Mother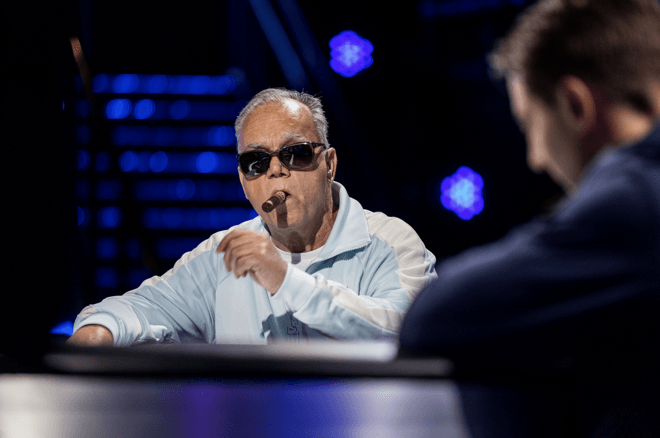 Steven Buckner is on an extended heater that's seen him travel across the country to various poker tours and circuit stops and pick up hundreds of thousands of dollars in tournament earnings in the process.
In the past 14 months, the Coral Springs, Florida resident has played everything from the 2021 Wynn Summer Classic in Las Vegas to the World Series of Poker Circuit stop in Cherokee, North Carolina and the Bally's Colorado Poker Championship.
Most notably, Buckner, an eccentric personality who is hard to miss at the poker table with his usual unlit cigar, bright tracksuit and blaring Italian bark, finished second in the World Poker Tour (WPT) Choctaw Main Event in May for a career-best $320,000. Before that, Buckner finished 12th in the WPT Rock 'N' Roll Poker Open in Hollywood, Florida for $61,935 and later 70th in the WPT Seminole Hard Rock Poker Showdown for $13,100.
"I've been running deep in a lot of WPTs," Buckner said as he smoked a thick cigar that had become a small nub next to a Venetian slot machine. "I mean, I'm just playing well."
Buckner took some time to chat with PokerNews as he played in Day 1c of the WPT Venetian Main Event on July 14. The Floridian talked about how his mother's recent passing inspired him to travel to various poker stops and how Chance Kornuth snatched the WPT Choctaw victory away from him.
Playing With a Purpose
Before Buckner, a retired business owner, began traveling to poker stops around the country, he spent four months caring for his elderly mother, including feeding and bathing her.
"She asked me to take care of her and never put her in a home, and I did," he said. "I took care of her for 17-18 hours a day."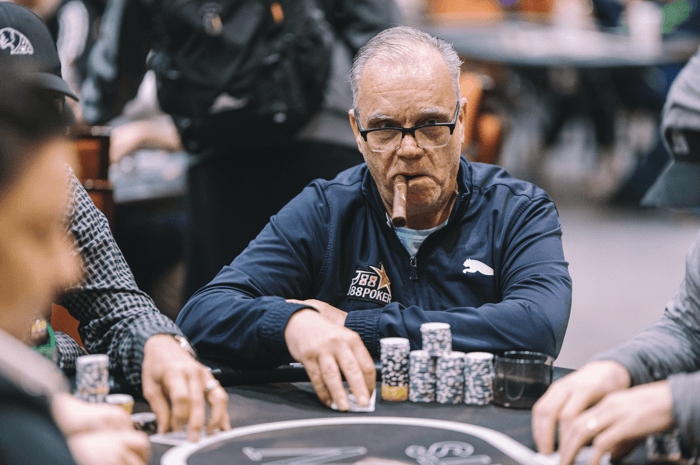 It was when his mother passed away that Buckner decided to put his full focus on poker.
"I love my mom, but when she passed, I just went on the road," Buckner said tearfully. "And since I've been on the road, I know she's looking after me and I'm doing what I love. I've got close to $600,000 in cashes in 14 months. So I'm doing what I love and I'm just happy where I'm at."
Denied a WPT Title
Buckner came within inches of winning his maiden WPT title after getting heads-up against Kornuth, who is currently the top-ranked GPI player.
In a pivotal hand, which was documented by the WPT reporting team, Kornuth moved all in with
and was called by Buckner with
, putting Buckner in a great spot to win it all. Here's how Buckner remembers it all going down:
"He (Kornuth) says 'I'm all in,' I said 'I call,' queen-ten versus queen-nine of diamonds. Queen on the flop and one diamond, he looks at the camera and me and he says, 'Cuz, I'm due a suck-out.' And it goes runner-runner diamond and he denies me the title and $487,000 — and my name on the (Mike Sexton WPT Champions) Cup that would never go away."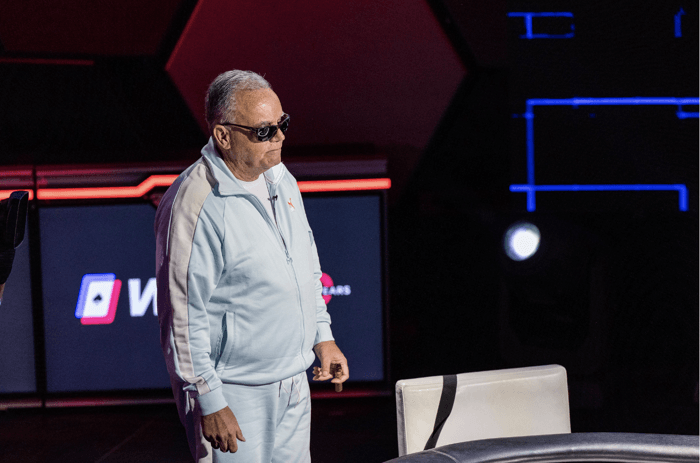 It didn't end right there, but Kornuth went on to take the lead and win his own first WPT title.
"I should've won that," Buckner said as he shook his cigar. "I would've been the second oldest WPT title (winner) in history."
Another Deep Run
It didn't take long for Buckner to make another deep run as he played a heavy schedule at the WSOP at Bally's and Paris, including the marquee $10,000 Main Event. Buckner made it to Day 5 before being eliminated in 355th place for $36,000, but most of the damage was done the previous day when he took a brutal beat for most of his stack after getting it in as a big favorite with
against the
of a shorter-stacked opponent.
"He just GTOs f***in' 475,000 in the middle, the blinds are 10,000/15,000 … I wake up with two jacks, I f***in' ship 675,000 and play a million-chip pot," Buckner remembered. "He turns over ace-five of hearts. (The flop is) ten, nine, eight, all black. Turn nine, river ace."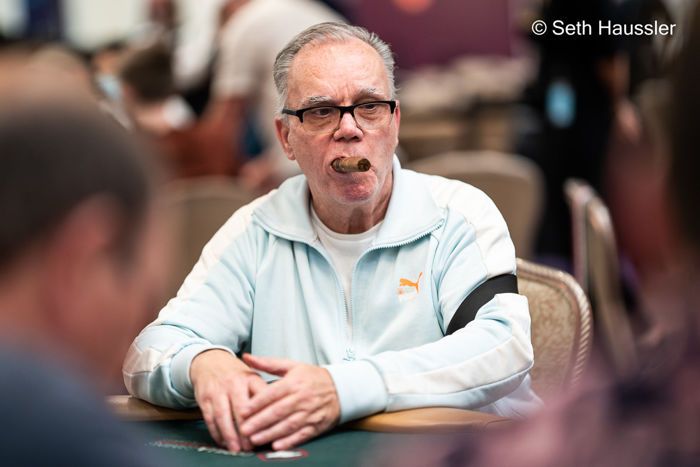 Best Free to Play Slots
Buckner was left with crumbs but survived the rest of Day 4 before being eliminated early the next day. He can't help but think things would've played out much differently had that river not been an ace.
"Now, you give me 1.2 million second level into Day 4, it changes the whole complexity of where I am in Day 5," he explained. "I ain't donkin' my chips off. I nursed that 200,000 for f***in' five hours ... I woulda went a lot deeper than what I did with 1.2 million."
Playing His Own Game
As Buckner took a break from the Day 1c tournament action, he made a note about the strength of the field that included Kristen Foxen, who he faced off with at the WPC Choctaw final table, as well as WPT champions Phil Laak, Noah Schwartz and Kornuth himself.
"I love that we're playing with great players," he said. "This is not Choctaw, now; let's clarify that. This is not Choctaw, where they don't lay down top pair top kicker and you gotta go through minefields to get where I got. But I love playing with better players. I mean, I'm really happy."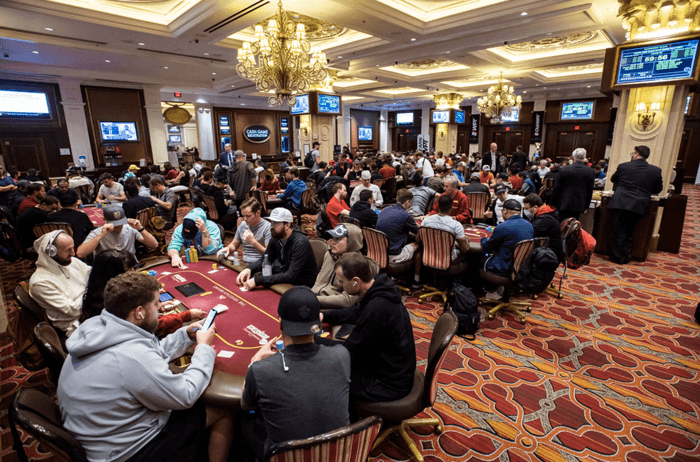 While Buckner realizes that he is facing off against great players, he isn't the least bit intimidated.
"I'm not afraid," he said convincingly, holding a cigar that had gone out minutes ago. "I just play my game. They wipe their ass the same way I do. They get two cards, I get two cards. I'm not afraid of them. They like to three-bet, four-bet; I just play my game and I do my thing."
Buckner was one of 228 players who survived to bag on Day 1c. He returned on Day 2 with a stack worth 65 big blinds but was eliminated before reaching the money, putting an end to his latest run for a first WPT title. Follow along the remaining WPT Venetian action with updates from the WPT reporting team.
Photos courtesy Joe Giron and WPT