Daniel Marx Wins WSOPC Choctaw Durant ($246,820); Denies Quan Tran Back-to-Back Titles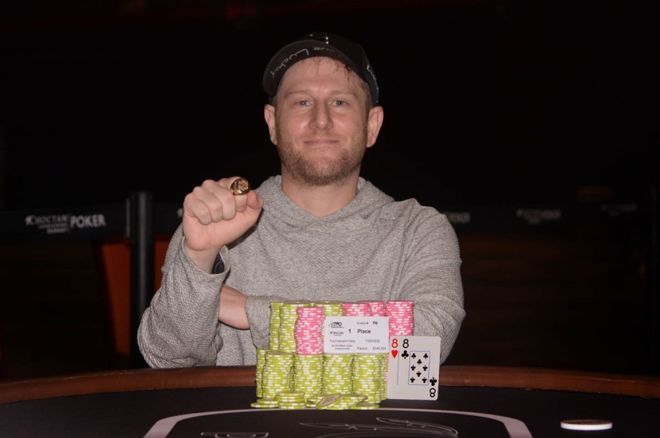 Table Of Contents
The latest World Series of Poker (WSOP) Circuit stop in Oklahoma's Choctaw Durant has wrapped up and saw Daniel Marx as one of its final winners as the Dallas native took down the $1,700 buy-in Main Event to win his first ring and $246,820.
Not only did Marx pick up the biggest score of his career, but he also denied reigning champion Quan Tran, who won the WSOP Circuit Choctaw Durant Main Event in January for $336,412, the glory of a repeat victory when he sent the fellow Dallas native out in second for $152,553.
"I have no words right now, this whole tournament has been an insane experience for me," Marx told WSOP after the victory. "I am incredibly grateful. I need a night to let it all sink in, I'm just super happy right now."
WSOP Circuit Choctaw Durant Final Table Results
| | | | | |
| --- | --- | --- | --- | --- |
| | PLACE | PLAYER | HOMETOWN | PRIZE (IN USD) |
| | 1 | Daniel Marx | Dallas, TX | $246,820 |
| | 2 | Quan Tran | Dallas, TX | $152,553 |
| | 3 | Nikola Mircetic | Coppell, TX | $114,015 |
| | 4 | Brad Ruben | Hernando, FL | $86,051 |
| | 5 | Dakotah O'Dell | Springfield, MO | $65,591 |
| | 6 | Jason Rice | Kenosha, WI | $50,498 |
| | 7 | Osman Ihlamur | Turkey | $39,272 |
| | 8 | Steven McCartney | Calera, OK | $30,855 |
| | 9 | Aaron Thomas | Colorado Springs, CO | $24,492 |
Marx's Capital
To win the six-figure top prize and a seat into the 2023 Tournament of Champions, Marx had to navigate through a field of 931 runners in an event that generated $1.4 million in prize money.
Some of the players who went deep in the event include bracelet winner Michael Perrone (37th - $4,394), WSOP Circuit Choctaw Main Event winner Jared Ingles (34th - $4,963) and Steven Buckner (11th - $19,645), who won his maiden ring earlier in the series in WSOPC Event #8: $400 No-Limit Hold'em Mammoth Stack.
Marx further had to navigate through a stacked final table that included ring and bracelet winners, including Dakotah O'Dell (5th - $65,591) and Jason Rice (6th - $50,498), both of whom won their rings earlier in the series, as well as four-time bracelet winner Brad Ruben (4th - $86,051).
"A lot of those guys are very, very tough players," Marx said. "A lot of them have a lot more tournament experience than me. I come from a cash background, I'm still getting the hang of tournament stack depths, but I learned a ton from playing against them. I was incredibly lucky to be able to beat them."
According to live updates from WSOP, Nikola Mircetic bowed out in third place for $114,015 when his ace-three was dominated by the Big Slick of Tran and he failed to improve. Despite scoring the knockout, Tran entered heads-up play with a nearly two-to-one chip deficit.
In the final hand, Tran moved all in with a pair of threes and a gutshot and was called by the better pair of eights of Marx, who held up as the river bricked off to deny Tran back-to-back titles.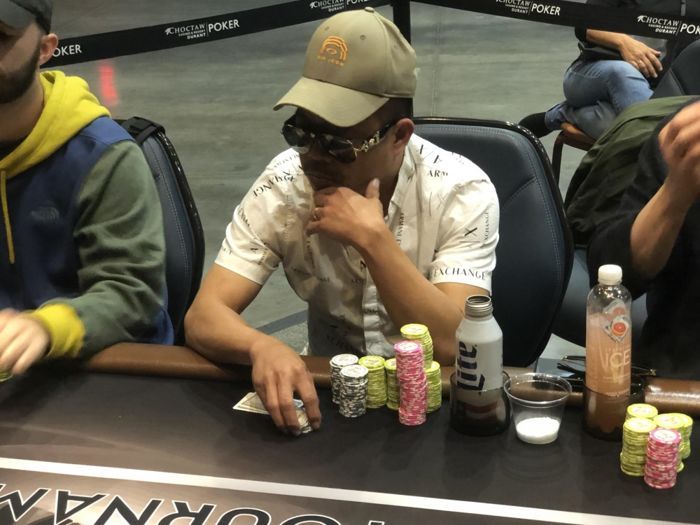 Best Free to Play Slots
Other Winners
Some late winners in the series include Oklahoma City's Jayce Palmer, who took down WSOPC Event #11: $250 No-Limit Hold'em for $8,535, as well as Texas' Christopher Khieu, who won WSOPC Event #12: $250 No-Limit Hold'em for $9,402.
To close out the Circuit stop Oklahoma's Eric Bunch won WSOPC Event #13: $400 No-Limit Hold'em 'The Finale' to finish the trip with a score of $17,550.
PokerNews highlighted other ring winners of WSOP Circuit Choctaw Durant in an earlier article, including New Jersey's Sergio Ramirez, who won three rings in ten days to bring his total collection up to five.
Next, the WSOP Circuit is headed to North Carolina for Harrah's Cherokee, which will take place Aug. 4-15.
A full list of ring winners at WSOP Circuit Choctaw Durant is available in the table below.
WSOP Circuit Choctaw Durant Ring Winners
| | | | | | | |
| --- | --- | --- | --- | --- | --- | --- |
| | TOURNAMENT | ENTRIES | PRIZE POOL | WINNER | HOMETOWN | PRIZE (IN USD) |
| | Seniors #1: $130 No-Limit Hold'em | 467 | $46,700 | Ronald Covert | Lawrence, KS | $9,155 |
| | WSOPC Event #1: $600 Pot-Limit Omaha | 215 | $101,765 | Sergio Ramirez | South Plainfield, NJ | $26,118 |
| | WSOPC Event #2: $250 No-Limit Hold'em Monster Stack | 442 | $92,400 | Terry Harrell | Oklahoma City, OK | $18,200 |
| | WSOPC Event #3: $400 No-Limit Hold'em 'Gargantuan' | 1,739 | $573,870 | Dakotah O'Dell | Springfield, MO | $84,875 |
| | WSOPC Event #4: $250 No-Limit Hold'em 'The Twilight' | 704 | $140,800 | Jason Loving | Hurst, TX | $25,631 |
| | WSOPC Event #5: $400 No-Limit Hold'em | 342 | $112,860 | Jason Rice | Kenosha, WI | $24,062 |
| | WSOPC Event #6: $400 No-Limit Hold'em | 150 | $49,500 | Sergio Ramirez | South Plainfield, NJ | $12,867 |
| | WSOPC Event #7: $400 No-Limit Hold'em Double Stack | 272 | $89,760 | Sergio Ramirez | South Plainfield, NJ | $19,860 |
| | WSOPC Event #8: $400 No-Limit Hold'em Mammoth Stack | 366 | $120,780 | Steven Buckner | Margate, FL | $25,363 |
| | WSOPC Event #9:$1,100 No-Limit Hold'em | 246 | $239,850 | Nathanael Kogel | Pflugerville, TX | $54,547 |
| | WSOPC Event #10: $1,700 No-Limit Hold'em Main Event | 931 | $1,410,465 | Daniel Marx | Dallas, TX | $246,820 |
| | WSOPC Event #11: $250 No-Limit Hold'em | 160 | $34,000 | Jayce Palmer | Oklahoma City, OK | $8,535 |
| | WSOPC Event #12: $250 No-Limit Hold'em | 193 | $38,600 | Christopher Khieu | Garland, TX | $9,402 |
| | WSOPC Event #13: $400 No-Limit Hold'em 'The Finale' | 230 | $75,900 | Eric Bunch | Tulsa, OK | $17,550 |
Photos courtesy WSOP