Ebony Kenney Abruptly Ends Interview w/ Joe Ingram After Mod's "B****" Insult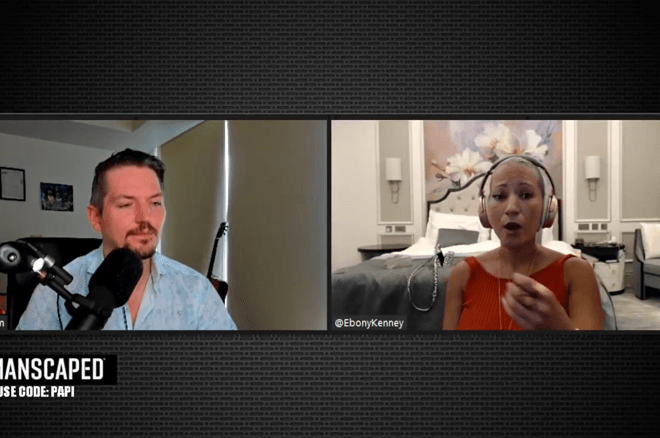 More than two hours into an interview on Wednesday night's Poker Life Podcast, Ebony Kenney ended the conversation with host Joe Ingram over what was initially believed to be insulting comments from the YouTube moderator.
Fresh off her $1.7 million score for fifth place in the $200,000 buy-in Coin Rivet Invitational at the Triton Poker Cyprus series, Kenney appeared on the popular podcast to discuss her nearly historic performance.
For most of the conversation, the mood was upbeat between the two longtime friends. It wasn't the first time she'd appeared on the Poker Life Podcast, but the chat turned sour late when the host and guest engaged in a contentious debate over Ingram's moderator referring to certain women in poker as a "b*****s."
Why Don't More Women Play Poker?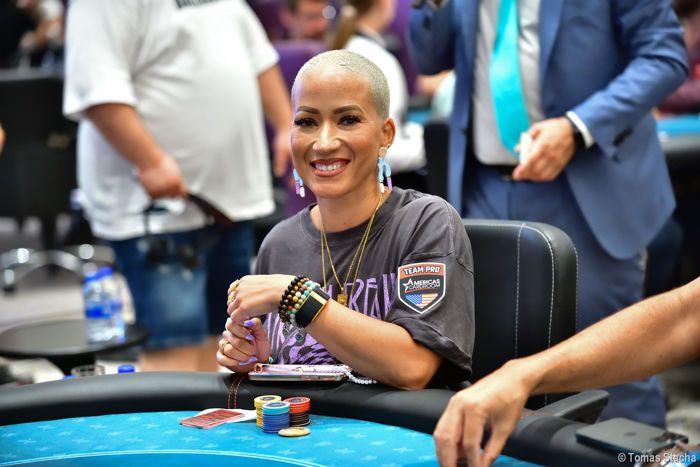 Kenney, who is openly an advocate for women in poker and speaks out against what she deems as sexist behavior, said on the podcast that, "I used to treat women very badly." But, she followed up with, "I have rectified the mistakes that I've made in the past." Hence, why she was none too thrilled when multiple viewers in the YouTube live-feed chat box made some nasty comments directed at her.
"I'm not gonna take comments from the person in the chat who's doing that, I'm not engaging in that," Kenney said after glancing at the chat conversation, although it was unclear exactly what was said.
Kenney, who accused Daniel Negreanu of making her uncomfortable by staring at her at the poker table years ago as part of a Twitter thread this past summer, suggested that the Poker Hall of Famer's behavior is detrimental to attracting more women to the game. Negreanu has denied the allegations.
Ingram then brought up some comments from the chat who wanted her to address her professional relationship with Winning Poker Network CEO Phil Nagy, the head of Americas Cardroom, and also someone who has been accused of sexual harassment.
Nagy played in and backed Kenney in the Coin Rivet Invitational and Kenney is an ambassador for ACR, an unregulated US-facing online poker site that Ingram's been critical of in the past.
"I guess a lot of people are saying that you're advocating for Phil Nagy," Ingram told his guest.
Kenney then fired back, defending her decision to play in the high roller with the backing of Nagy: "I'm not advocating Phil Nagy. I'm advocating for owning your s**t and growing."
"It sounds like both of the guys are kind of doing the same thing. They're making people feel uncomfortable, they're putting people in situations, they're being bullies," Ingram said in regards to accusations against Negreanu and Nagy.
"What I'm saying with Daniel Negreanu is he has a platform," Kenney responded. "When he gets called out, he just attacks and is a bully. Whereas, I'm pretty sure Nagy did not do that."
Kenney then said she doesn't want to "cancel" Negreanu, or anyone, and would love to sit down and have a conversation with him about the issue of bringing more women into the game of poker. Shortly after, the ACR pro glanced at the chat and noticed some additional offensive comments coming from the moderator.
"That's exactly why the poker environment is as toxic as it is right now because we let comments like this live, and we just downplay it as an opinion."
"Everybody's got an opinion, what makes your opinion more valuable? That's what I always say, who gives a f**k what I got to say?" Ingram said in defense of the chat.
"Joey, Joey, we can't have comments like 'women need to stop being b*****s and fighting each other' and then you say everyone has their own opinion," Kenney responded. "That's exactly why the poker environment is as toxic as it is right now because we let comments like this live, and we just downplay it as an opinion."
Kenney then asked why the individual who made that comment would say such a thing, and Ingram responded that the person who said it is a woman.
"Why does she need to use this kind of language?" Kenney asked. "This kind of comment doesn't need to live, from a woman especially."
Censorship and Removing Sexist/Offensive Comments on the Internet
The conversation then turned into a debate about censorship, with Ingram questioning if it's right to remove comments even if they are deemed offensive (sexist, racist, etc.). "I allow anybody (in my community) to say anything they want to say," he said.
"Yeah, but when you allow people in your community to just call women b*****s, it creates a mindset that is toxic and facilitates this exact kind of behavior," Kenney fired back. "In my Twitch community, we are the Bad B***h Army. I use all the curse words. Everyone is allowed to curse as much as they want. But what I don't allow is people to call other people names, and call people b*****s and whatever in the way and their intentions behind it."
"When we ask why more women don't play poker, this is also part of the problem, Joey."
She then said that Ingram, given his large platform of over 140,000 YouTube subscribers, has a responsibility to remove offensive or sexist comments from his podcast's chat log.
"I'm not about censoring that hard," Ingram said in defense.
"When we ask why more women don't play poker, this is also part of the problem, Joey," the podcast guest argued. "You have one of the loudest voices in poker."
"So another woman to say the word 'b*****s' in the chat while I'm talking with you, and me allowing that, you said that I allowed that lady to do this is what you're implying?" the pot-limit Omaha specialist answered back. "Because I don't think that's true."
Ingram then joked about his female moderator "getting me in trouble." Shortly after, Kenney became irritated with the conversation and of the host defending his moderator's offensive comments. She shook her head in disbelief before saying, "alright, I'm gonna go, Joey," and that was the end of the interview. The full podcast is below:
Kenney Takes to Twitter
Following the interview, Kenney fired off a series of tweets and shared some additional thoughts on the issue with Ingram.
1. The idea that women have to answer for men at all times is a ridiculous double standard demanding women to do th… https://t.co/l4mMMuNHuM

— Ebony Kenney | Poker & Purposeful Pleasure (@Ebony_Kenney)
She reiterated her comments on the podcast by writing: "Using the word b***h for women in a negative way in a male-dominated space only harms women. It perpetuates the negativity attached to the use of the word amongst an already extremely toxic chat environment."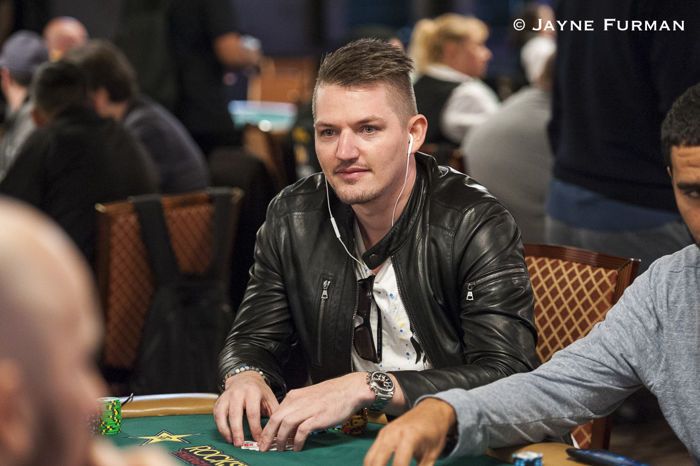 Following Kenney's tweetstorm, Ingram then turned on his Twitch stream to take calls from poker fans to discuss the podcast.
Ingram hosted another controversial podcast last week when he brought on accused poker cheater Bryn Kenney to tell his side of the story. Following that podcast, he told Poker.org's Brad Willis that he's frustrated with many within the poker community and growing fed up with the industry.
Should You Play Online Poker on Unregulated and Unlicensed Sites, or Not?
Poker Community Shares Thoughts
As is the case with any controversial topic surrounding anyone involved in poker, many chimed in on poker Twitter to give their two cents. While most defended Kenney, there were some who may have proven her point.
Longtime WSOP commentator Norman Chad was not part of the latter: "This is the second time in six months @Ebony_Kenney has posted a Twitter thread that should be unnecessary in the year 2022 but turns out to be sadly reflective of realities in the year 2022. It's very much worth listening to what she is saying here," he tweeted.
"Sorry the pod ended the way it did. Can understand why @Joeingram1 came to his mod's defense and while I have no idea the actual intention behind her referring to women as bitches you were completely in the right to bring attention to why it's problematic," poker pro Xuan Liu wrote, and Kenney agreed.
"As per usual, I'm w her," Texas poker player Caitlin Comeskey tweeted in defense of Kenney.
There were some, however, who were critical Kenney in the thread.
@Ebony_Kenney And Ebony blocked me. Classic. I offered the lightest touch of criticism I can think of.

— Anona Miss (@Femanonymously)
"You come off extremely defensive. Are you entirely unaware that you are simply known as a low-stake tournament player? The question of backing would of course be asked (as it would any known small-stake streamer), but you made good on it. Who cares? Welcome to the internet," @tredigs tweeted.
Ingram asked his guest on the podcast how much of the $1.7 million won that she gets to keep. Kenney wouldn't disclose that information as she wants to keep that private. She clarified her reasoning for ending the interview in a tweet at PokerNews.
@PokerNews @Joeingram1 No. I ended it because of Joey's dismissive attitude regarding me not wanting to be subjecte… https://t.co/MIZ3J4rKGF

— Ebony Kenney | Poker & Purposeful Pleasure (@Ebony_Kenney)
What should've been a lighthearted and celebratory podcast interview ended on a sour note and certainly shook up poker Twitter on Wednesday night.
Do Ambassadors Have Moral Responsibility When Representing Unregulated Sites?