Venetian Cancels $1.1M Worth of PokerGO Stairway to Millions GTDs Day Before Tournament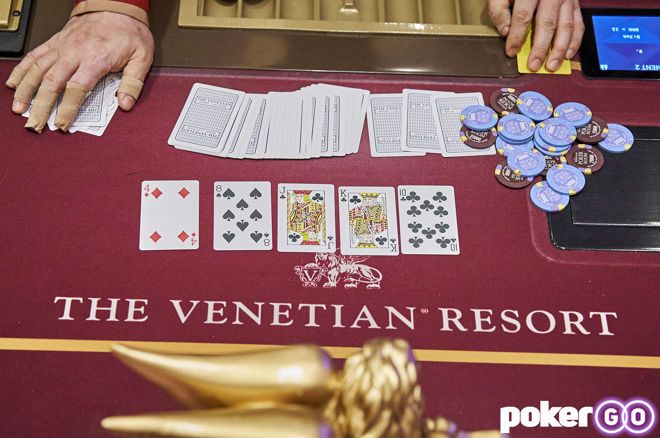 With two tournaments totaling $1.1 million in promised guarantees remaining in the PokerGO Stairway to Millions series at Venetian in Las Vegas, the card room has pulled the plug on both events.
On Sunday, there was expected to be a $25,500 buy-in tournament with $500,000 guaranteed. Those who reached the money would then receive a ticket into Monday's $51,000 buy-in event, which was to have $600,000 minimum in the pot. Both have been called off despite a few players having won free entries into the Sunday tournament, presumably due to expected overlays.
PokerNews confirmed with Venetian that the two events would not run. A further request for comment went unanswered as of the time of publication.
Many poker players on social media ripped the Las Vegas Strip card room for canceling the tournaments in the middle of the series. The first eight events of the series all surpassed the guarantees. On Friday, however, the $10,400 buy-in tournament ($400 in fees) had just 18 players, meaning the $200,000 guarantee fell $20,000 short. There was $30,000 in overlay — the equivalent of two players — on Saturday in the $15,500 tournament ($300,000 guarantee).
After finishing live updates for Saturday's event, PokerGO simply wrote: "The Stairway To Millions originally had 12 events on the schedule, but due to decisions made by The Venetian Resort Poker Room, the final two events were canceled."
Strange Finish to the Series
The Stairway to Millions series, a PokerGO Tour event, has a unique format in that every player who cashes automatically advances to the following step. Play was supposed to wrap on Monday with the $50k event.
Paul Zappulla defeated Stephen Song heads-up to win Event #10 for $124,500, which turned out to be the final tournament of the series, however.
Adam Hendrix, who finished runner-up in Event #9 for $37,050, earned a seat into what turned out to be the series finale. During play, he was informed that the guarantees for the final two events, which would inevitably be canceled altogether, would be removed.
@AllenKessler @Protentialmn @ToddWitteles That are being played Sunday and Monday respectively. So at this point 3… https://t.co/HDLry3yvnb

— Adam Hendrix (@AdamHendrix10)
Hendrix then tweeted that he was offered cash for the seat he'd won, but he wrote that "canceling a guarantee to a tournament you won a satellite into already is unacceptable."
Those sentiments were echoed by many other poker players.
"Venetian is horrible for poker and this isn't their first time doing something like this yet all of you degenerates still go there to play," @nogoodlogan responded.
"There won't even be a 50k hopefully lesson learned and they just stop running PGT stuff there," Dan Colpoys tweeted.
So they canceled 1.1mil in GTDs of a series that had 2.15mil overall in guaranteed.

— Ryan Laplante🏳️‍🌈 (@Protentialmn)
Chance Kornuth Wins Third Stairway to Millions Title; Wang Misses Fourth
Not the First Time, Won't Be the Last
Most tournament regulars consider canceling a guaranteed event in the middle of a series bad form. In total, the series promised at least $2.15 million in prize money to be awarded over 12 events. But the unique event finished up after just 10 tournaments, leaving $1.1 million in guarantees on the table.
This isn't the first time in recent months in which a similar unfortunate outcome occurred. At Hustler Casino in Los Angeles this past summer, multiple remaining Day 1 flights were canceled in the middle of a $250,000 guaranteed tournament and the prize pool readjusted after the poker room determined it was unlikely the guarantee would be met.
While these situations are unfortunate and bothersome to those who play tournaments, don't count on this being the last time an operator pulls the plug on an event when it becomes obvious there will be some overlay. On the contrary, there are many more examples in which the poker room facing a massive overlay just accepts the loss and doesn't cancel the tournament. Take, for example, The Lodge Card Club in Texas, which had to eat over $300,000 in overlay during its May Lodge Championship Series Main Event, a $2 million guaranteed tournament.
Final Stairway to Millions Results
| | | | | | | |
| --- | --- | --- | --- | --- | --- | --- |
| | DATE | EVENT | ENTRANTS | PRIZE POOL | WINNER | PRIZE (IN USD) |
| | Thursday, September 8 | Event #1: $460 NLH $25K GTD | 93 | $37,200 | Francis Anderson | $6,702 |
| | Friday, September 9 | Event #2: $460 NLH $25K GTD | 94 | $37,600 | John Yelaney | $6,417 |
| | Saturday, September 10 | Event #3: $900 NLH $50K GTD | 82 | $65,600 | Arsh Grover | $12,510 |
| | Sunday, September 11 | Event #4: $900 NLH $50K GTD | 74 | $59,200 | Samy Dighlawi | $11,330 |
| | Monday, September 12 | Event #5: $1,640 No-Limit Hold'em | 73 | $109,500 | Michael Wang | $22,986 |
| | Tuesday, September 13 | Event #6: $1,640 No-Limit Hold'em | 75 | $112,500 | Michael Wang | $22,458 |
| | Wednesday, September 14 | Event #7: $2,740 NL Hold'em ($100,000 GTD) | 92 | $230,000 | Chance Kornuth | $45,373 |
| | Thursday, September 15 | Event #8: $5,350 NL Hold'em ($100,000 GTD) | 42 | $210,000 | Andre Butler | $60,945 |
| | Thursday, September 16 | Event #9: $10,400 NL Hold'em ($200,000 GTD) | 18 | $200,000 | Michael Rocco | $61,750 |
| | Thursday, September 17 | Event #10: $15,800 NL Hold'em ($300,000 GTD) | 18 | $300,000 | Paul Zappulla | $124,500 |
Photos courtesy PokerGO