Event #13: $3,000 Main Event
Days: 4
Event #13: $3,000 Main Event
Day 4 Completed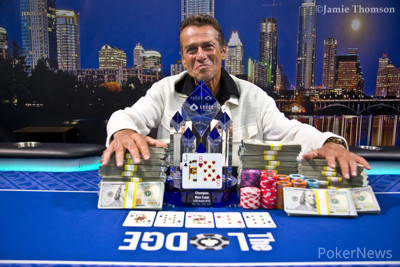 The Lodge Poker Championship $3,000 Main Event has reached its end after an amazing four days that saw 617 players try their hand at making a deep run and only six coming together for the final day of streamed action.
Taking home the Main Event championship trophy and money was Alain Bauer, who won the grand prize of $374,800 and the LCS Main Event trophy after taking the final by the reins and cruising to an impressive victory.
Bauer is originally from France and he made his way to Scotland where he spent several years of his life. He now lives in Mexico and plays poker mainly for enjoyment. Prior to this victory, Bauer made the majority of his poker winnings from several years ago in European tournaments, but he found something special here in Round Rock during this series as started with a third place finish in Event #10 $5,000 High Roller.
"When I focus I can play high-level poker. But I do not play a lot; I was not well for a long time. As soon as I can stay focused there is no problem for me" Bauer explained about his recent hot form at the Lodge. "I think when you don't play very often, you are happy when you do play and will play your best game".
These great results almost didn't happen as Bauer said, "I decided to come here last minute. I went to WPT Choctaw from Mexico and then heard about the Lodge and these tournaments and decided to go last minute. Throughout my life, I have followed my intuition, so I just thought I had to come here"
It turned out to be quite the good decision as Bauer takes home a cumulative amount of $426,000 for his efforts at the Lodge this series.
2022 Lodge Championship Series Final Table Results
| Place | Player | Hometown | Prize Money |
| --- | --- | --- | --- |
| 1 | Alain Bauer | Scotland | $374,800* |
| 2 | Eric Afriat | Miami Beach, FL | $320,000* |
| 3 | Steven Rivero | Hialeah, FL | $194,400 |
| 4 | Doug Polk | Las Vegas, NV | $142,000 |
| 5 | Nir Cohen | Brooklyn, NY | $105,200 |
| 6 | Daniel Jones | Las Vegas, NV | $78,600 |
| 7 | Farid Jattin | Miami, FL | $59,600 |
| 8 | Schuyler Thornton | Corpus Christi, TX | $45,400 |
| 9 | Mohammad Bagheri | Dallas, TX | $35,000 |
*denotes heads-up deal made
Road to Title
As far as the action of the tournament, Bauer said he was very fortunate to win a big flip early on in the final day against Nir Cohen when his ace-king overcame the queens of Cohen to build him up to the big stack and from there he played with more confidence pointing to his bluffs that made some headlines.
"I had some crazy good intuition all the way that when I was feeling that my opponents were weak, in those moments I went for the bluffs and I was almost never wrong," he said about some of his play towards the end of the tournament.
When asked what is next for him, Bauer said he will for sure play the WSOP Main Event and will consider playing some of the short NLH tournaments as well if he feels up for it, but if not, he will not force it either as the joy in playing is a very big factor for him.
Thankful to His Friends
Bauer seems to be a man of many friends as he made sure to give shout-outs to several people in his life who he wanted to remember after the big win. He dedicated the win to Mona Potter, who he said was the inspiration for winning the tournament. He promised her he would win a Wynn tournament for her and then the High Roller in this series, but when he came up just short in each of those, his focus shifted to Main Event where he did indeed win this one for her.
He also thanked poker player Philipp Gruissem, who he said saved his life a few years ago in tough moments and that he would not be here today without his support.
Poker-wise he gave credit to players Dominik Nitsche, Daniel Rezaei and Adam Owen who he said have been coaching him recently and from whom he has been learning some strategy to add to his natural intuition.
And lastly, he wanted to give a shoutout to one of his closest poker friends Rob Yong and congratulate him on his 2-year-old child.
Action of the Final Day
The first elimination of the day came after about an hour and a half as Daniel Jones was not able to ladder up from his start of day short stack as he went out in sixth place to secure the second largest poker win of his career.
The next player to go was only a few minutes later was the aforementioned Cohen, who entered the day third in chips. He got it in during a big coin flip situation holding queens vs the ace-king of Bauer, who was able to spike a full house and crush Cohen's queens to eliminate him in fifth for the first big score in his poker career.
Doug Polk, the story of the day going in, would bow out in fourth place. Polk was never able to spin his stack up much and mainly treaded at the final table before ultimately he was handcuffed with a short stack that had to jam in a non-ideal spot to be eliminated.
Three-handed play would take about two hours before Steven Rivero's short stack ride would finally expire as he found pocket kings but ran up against a turned ace to bring the field to heads-up play.
Heads-up play started after the two remaining players agreed to a more even ICM chop of the remaining payouts. It began with Bauer holding a significant chip advantage over Eric Afriat who entered the day as chip leader and had tussled with Bauer several times before on Day 3 as well as earlier in the final day, including a much talked about hand where Afriat ended up folding aces to Bauer on a dry flop when Bauer had missed with ace-king. The heads-up battle would not really produce any memorable hands though as it was a short affair with Bauer eventually finding the winner with the better kicker on jack-high flop when both players hit top pair.
That wraps things up for the PokerNews coverage of the Lodge Championship Series. A recap of each tournament can be read in the archives for this event.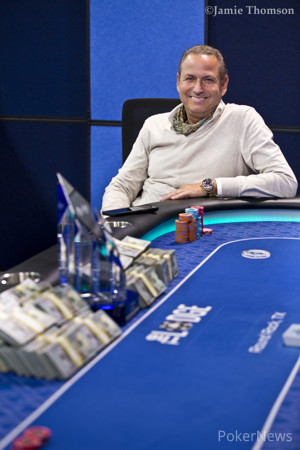 Eric Afriat raised to 320,000 from the small blind and Alain Bauer called.
The flop came
. Afriat jammed for 2,300,000. Bauer called.
Bauer had the
while Afriat had the
and was out-kicked.
The turn was the
and the river the
to bring the title to Bauer.
Alain Bauer limped the button and Eric Afriat checked.
The flop came
. Bauer bet 325,000, Afriat raised to 825,000 and Bauer called. The turn was the
. Action went check-check
The river came the
. Afriat led for 2,000,000 and Bauer called.
Bauer showed the
but was rivered by the
and Afriat pulled some chips back.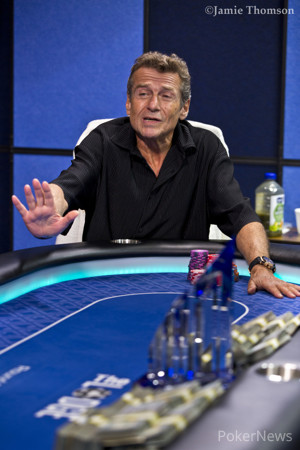 Eric Afriat raised to 360,000 from the small blind and Alain Bauer called.
The flop came monochrome
, Afriat bet 350,000 and Bauer raised to 800,000 which Afriat called.
The turn was the
. Bauer bet 1,600,000 which got Afriat to fold. The stream showed that Bauer had the
while Afriat had folded the higher diamond draw with the
.
A couple of hands later, Afriat raised the small blind and Bauer called. The flop came all diamonds again, the
. It went check-check to the
turn. Bauer bet 400,000 and Afriat called. The river came the
. Bauer bet 1,600,000 which Afriat called after thinking for a bit.
Bauer tabled another flopped flush with the
while Afriat had the
as Bauer started heads up play on fire to send Afriat short, albeit still with a workable stack with around 30 big blinds.
The players are now on a brief break before heads-up play starts.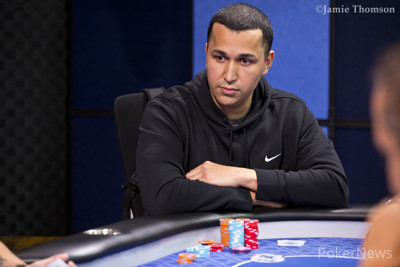 Eric Afriat raised to 300,000 from the small blind, Steven Rivero jammed form the big blond and was called.
Steven Rivero:

Eric Afriat:
The flop came the
. The turn was the
to put Rivero on the brink of elimination and the river was a blank
to bring the end of the road for Rivero and set up heads up play.
Alain Bauser raised to 410,000 from the small blind, Eric Afriat defended the big blind.
The flop came
, both players checked. The turn was the
. Bauer led for 600,000 and Afriat called.
The river came the
. Bauer led again, this time for 2,500,000. Afriat folded.
Bauer showed the
for king-high while Afriat had folded the
.
Level: 28
Blinds: 60,000/120,000
Ante: 120,000
The players are on a brief 10-minute break now.