Hall of Famer & Poker Champ Ted Takasaki Offers Thoughts on Fishing Cheating Scandal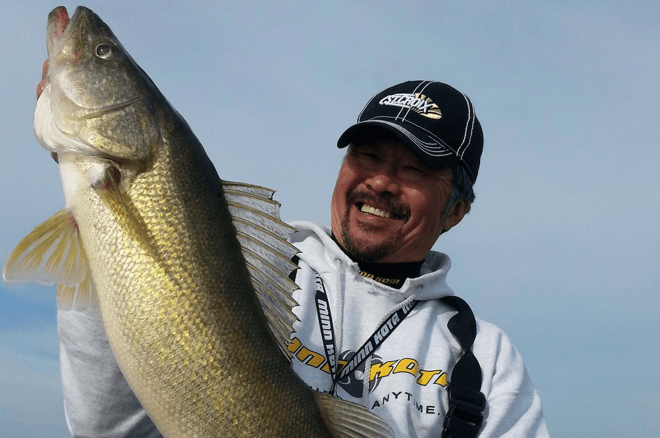 Table Of Contents
When it comes to poker and fishing, perhaps no one is more qualified that South Dakota's Ted Takasaki. Not only is he a poker champion – he won the 2016 MSPT Grand Falls – he is also a legendary angler. In fact, he is a member of the Fishing Hall of Fame and a top competitor on the National Walleye Tour. In 1998, he won the prestigious Professional Walleye Trail (PWT) Classic Championship, and three years before that the 1995 PWT Top Gun Angler Award.
The world has been consumed by the Hustler Casino Live (HCL) alleged cheating drama between Garrett Adelstein and Robbi Jade Lew, and one of the reasons interest has been so high from mainstream audiences is that it coincided with high-profile cheating scandals in the chess and fishing industries.
PokerNews recently caught up with Takasaki to get his take on the recent cheating scandal that rocked the fishing industry when accused cheaters Jacob Runyan and Chase Cominsky allegedly rigged weigh-ins by stuffing fish with 12-ounce lead weights and filets sliced from other fish.
The whole incident was captured in what has become a viral video allegedly catching the cheaters red-handed.
Serious Controversy in Pro fishing tournament as multiple-time winners caught stuffing lead weights and other fish… https://t.co/9iHuGriR5d

— Billy (@Billyhottakes)
Fishing Hall of Famer Shares His Thoughts
"There is absolutely no room in any competitive sport for cheating. I am appalled and the perpetrators should be fined, any monies won should be returned to rightful winners, and the perps should spend some jail time," said Takasaki, who confirmed that he didn't know the alleged fishing cheaters. "It is very shocking to me! This was the first time that I have heard of this kind of activity to this level in any facet of my professional fishing career."
When asked what he thought might be easier to cheat in, poker or fishing, Takasaki really wasn't sure.
"I guess that is something that I have never considered, so I cannot answer this question," he offered. "When one plays by the rules, one doesn't even think about how easy it can be to cheat."
As for fishing and poker in general, Takasaki actually sees some similarities.
"I believe that a successful angler can truly be a successful poker player and vice versa. Patience is the key. By being able to pick the right time to push your chips into the middle or making a long run to catch the winning fish, or waiting on a hot spot for the fish to turn on are important skills to learn. Reading an opponent such as 'tells' on a poker player or sensing a change in the fishes' behavior and where they live/moving to are critical skills to master. I love both sports tremendously."
Becoming a MSPT Champ
In August 2016, Takasaki topped a 187-entry field to win the $1,100 MSPT Main Event at Grand Falls Casino in Larchwood, Iowa, just across the border from his hometown in Sioux Falls, South Dakota.
"Poker's a hobby for me, fishing is my profession," Takasaki said at the time, which is also when he was sponsored in fishing by the likes of Lund Boats and Mercury Outboards. "I get a big high every single time I win a pot. This is the biggest win I've ever had by far. I play online a lot, come out to the casino quite a bit. This is equivalent to the first $100,000 fishing tournament I won. I was jumping up and down. It was exciting. It was exactly how I envisioned being a professional fisherman would be like back when. This win is exactly the same euphoria, the same kind of emotion. It's like the culmination of all the work I've done."
Takasaki still keeps busy both fishing and playing poker, though the latter has been curbed a little bit after he got married a few years ago, something that has made him "happier than ever."
"My wife, Charlotte, is very considerate of my passions and is good to allow me to pursue both my fishing and poker careers," he said. "I'm just more careful as to what I enter – the live poker tournaments vs. online or which fishing tournaments I enter, team or individual. Everything in life is about balance: work, life, hobbies, and family. I do love my wife incredibly and everything she brings along with marriage so I am considerate to what she likes to do and we compromise a bunch! It makes for a great marriage!"
For more on Ted Takasai, visit his website here!
*Images courtesy of Ted Takasaki.
Executive Editor US, PokerNews Podcast co-host & 2013 WSOP Bracelet Winner.