Arrests Made as Texas Poker Club Raided in Middle of $100K Tournament; Players Fined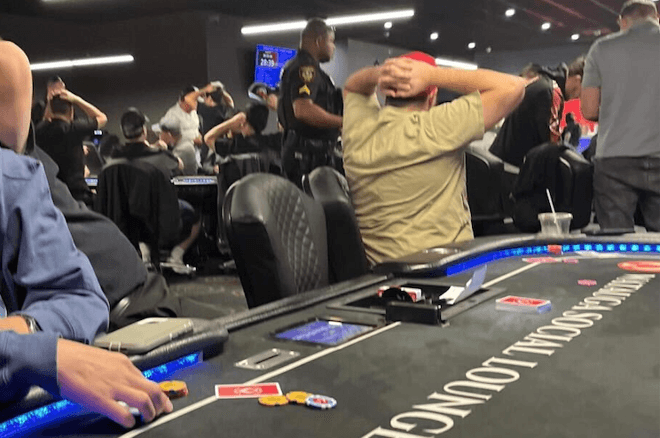 Table Of Contents
On Sunday, the Watauga Social Lounge Poker Club in Watauga, Texas – situated between Fort Worth and Dallas – was raided by local authorities with players being fined and at least half a dozen staff members being arrested and booked in the county jail.
"I thought it was security actually because we asked for two security to come in, but I guess they didn't realize we started the tournament at 1 p.m. as they normally come in at 6 p.m. but when they told me to raise my hands I realized it wasn't security," an anonymous staff member told PokerNews.
The room opened in January and even hosted a ribbon-cutting ceremony attended Watauga Mayor Arthur L. Miner. The room was even a stop on PokerNews Texas Road Trip back in March.
Assets Seized
According to a warrant "Authorizing the search of a gambling establishment" obtained by PokerNews, Tarrant County, authorities were authorized to seize "currency, gambling proceeds, financial instruments, and or other items of value … relating to obtaining, transferring, secreting or spending large sums of money made from engaging in specified unlawful activities."
As well as "Tickets, papers, bank bags, receipts, money, gift certificates, coupons, credit card receipts showing documentation of entries, add-on plays, dealer/staff appreciation, administrative fees, payoffs, and checks cashed by player."
The warrant, which Judge George Gallagher signed on Friday, October 7, 2022 at 7:55 a.m., more than two days before the execution of the raid, described the venues as: "All of the windows for the poker room are … preventing anyone from seeing inside. On either side of the door are large images of playing cards [with] black, blue, and white poker style playing chips," reads
The warrant also indicated that authorities were looking for non-poker related gambling apparatuses such as dice, roulette wheels, video gambling devices, etc. in violation of Texas Penal Code, Chapter 47.
Today the Watauga Poker Club just outside Dallas, Texas was raided. Here's a look at the search warrant that was ex… https://t.co/ge7uU4ArSB

— Chad Holloway (@ChadAHolloway)
While no other gambling games operated at the venue, authorizes apparently stripped the property which included loading tables, chairs, and other equipment into the back of county trucks.
Tournament Interrupted; Players Fined
The raid occurred during Day 2 of the venue's Fall Classic Poker $420 buy-in, $100K GTD Main Event. That tournament featured a "$20 optional dealer add-on", offered six starting flights, and had planned to live-stream the final table.
The tournament attracted 369 entries who generated a $132,840 prize pool. Day 2 saw 53 players return to action with Randi Lister (942,000), Ethan Wilson (676,000), and Johnny Marlow (626,000) as the big stacks. The raid apparently took place in Level 16 (3,000/6,000/6,000) with 49 players remaining.
Unfortunately, that prize pool, along with an undisclosed amount of cash on hand, was seized by authorities. Making matters worse, all of the players in attendance were each fined a reported $360.
They were also asked the following questions:
How long have you played here?
Are you a member (daily, monthly, yearly)?
How much did you pay to enter the tournament?
What was the breakdown of the entry fee?
Did you tip the dealer $20.00 to receive an additional 15,000 chips for the tournament?
What Are the Best Poker Rooms in Texas?
What Does It Mean?
While Watauga isn't the first poker room in Texas to be raided, it is arguably the largest and most well-known. The room is not without controversy, however. Back in February, a poker player claimed to be banned from the room after calling it a "rathole" and complaining about what he alleged was a hidden rake on add-ons.
As it stands, poker social clubs operate throughout Texas and are subject to primarily city and county authorities. Most law enforcement seems to accept the rooms without much resistance, but raids in certain jurisdictions have occurred.
The raid on Watauga Social Lounge Poker Club comes at a precarious time for poker in Texas as a Dallas lawsuit challenging the operation of Texas Card House is expected to make its way to the state's Supreme Court. If it does, the ultimate ruling could set a precedent for all rooms throughout the state.
With funds and assets seized, it's safe to assume that Watauga Social Lounge Poker Club will be closed for the foreseeable future if not indefinitely. Owners of the venue have said they will issue a statement in the coming days once they learn more about the charges. PokerNews will have more on this story as it develops.
Executive Editor US, PokerNews Podcast co-host & 2013 WSOP Bracelet Winner.