Le_Piaf Sun Runs Their Way to 888poker Big Shot Main Event Victory
Sometimes in poker, the stars align, and no matter what you do at the table, it turns out to be the correct play. Even when you are wrong, the cards fall your way. That was definitely the case with "Le_Piaf" in the 888poker $109 Big Shot Main Event. They outlasted a 971-strong crowd to bank $15,480, even if they rode their luck at several points at the nine-handed final table.
$100,000 Big Shot 109 Main Event Final Table Results
| Place | Player | Country | Prize |
| --- | --- | --- | --- |
| 1 | Le_Piaf | Malta | $15,480 |
| 2 | 9salute46 | Ireland | $11,290 |
| 3 | POPEYE888 | Costa Rica | $8,299 |
| 4 | Habilidade0 | Brazil | $6,150 |
| 5 | cv1ko | Croatia | $4,550 |
| 6 | kenyer8 | | $3,400 |
| 7 | joolius | Lithuania | $2,560 |
| 8 | DominykasJ | Lithuania | $1,940 |
| 9 | Brunsonskid | | $1,480 |
"Brunsonskid" did not last long at the final table because they open-shoved for 8.5 big blinds with king-queen and couldn't get there against the pocket nines of "DominykasJ" who called in the small blind.
DominykasJ was the next casualty despite winning that pot. They came unstuck in a strange hand against the runaway chip leader "Le_Piaf." From under the gun, Le_Piaf min-raised with ten-seven of hearts, DominykasJ three-bet to six big blinds, leaving themselves a shade over one big blind behind, with ace-queen, and Le_Piaf set their opponent all-in. DominykasJ called. Le_Piaf hit running cards to improve to a straight!
"joolius" was the next Le_Piaf victim in another cruel hand. In a battle of the blinds, the pair went heads-up to a six-nine-seven flop, joolius holding ace-nine, and Le_Piaf flopping a straight with ten-eight. All the chips went in on the turn when an ace landed, and joolius failed to boat up on the river.
The final six became five with the exit of "kenyer8," who open-shoved for six big blinds in the hijack with ace-queen, but did not count on "POPEYE888" finding pocket tens on the button. A nine-high board reduced the player count by one.
Croatia's "cv1ko" was the next player heading to the rail. They were down to a mere three big blind when their ace-six lost to the pocket fives of Le_Piaf, who, of course, turned a set.
Brazilians smashed the ChampionChip Games at 888poker recently, so all eyes were on Brazil's "Habilidade0" when four-handed play began, especially as 888poker's sponsored pro Vivian Saliba, a Brazil native, was in the commentary booth. However, it wasn't Habildade0's day because they got their short stack into the middle holding an open-ended straight draw and a flush draw, which improved to a pair on the turn, only for the Le-Piaf's aces to hold.
888poker XL Retro Schedule Features TWO Mystery Bounty Tournaments and $500k GTD Main Event
The ball was now firmly in Le-Piaf's court as they had a 98 big blind stack and their other two opponents only owned 27 big blinds between them.
Heads-up was set when POPEYE888 put the last of their chips over the line with ace-five, and Le_Piaf called with the dominating ace-ten. Both players paired their non-ace, but no further help arrived for POPEYE888, whose third-place finish came with $8,299.
Le_Piaf held a more than six-to-one chip advantage in addition to running hotter than the sun, so it was unsurprising to see the Malta-based star scoop the $15,480 top prize. The final hand saw "9salute46" limp from an 11 big blind stack with pocket nines, and Le_Paif check their option with eight-five offsuit. Le_Piaf flopped trip fives, but both players checked the seven-high flop. Le_Piaf fired a pot-sized bet on the offsuit three turn, before snap-calling the 10.3 big blind shove of their opponent. An eight in the river gifted Le_Piaf an unnecessary full house, and resigned 9salute46 to the $11,290 consolation prize.
Pokanuktus Wins a Five-Figure Score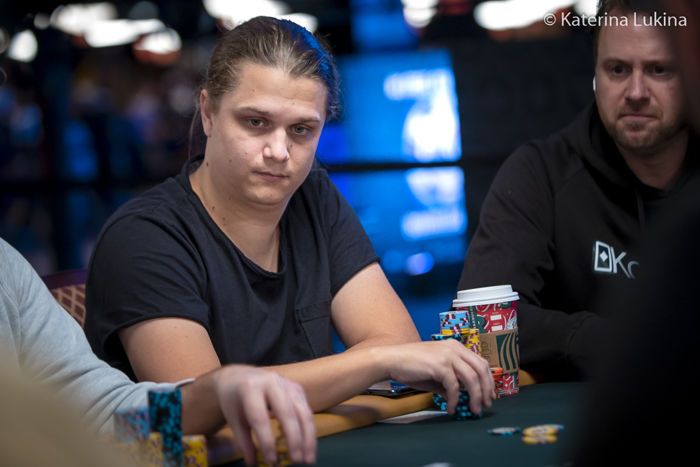 The $525 buy-in $40,000 guaranteed Big Shot 525's $13,860 top prize is now nestled in the 888poker account of Montenegro's "pokanuktus" after they came out on top of a 99-strong field.
Winnings a high-stakes poker tournament is no easy feat, especially when Sweden's Niklas "tutten7" Astedt is not only competing but navigated his way to the final table. Astedt's latest deep run ended in a fifth-place finish worth $3,465.
With Astedt out of the way, the remaining four players could concentrate on eliminating one another. "excimiii" fell in fourth before "Sue.1979" of the United Kingdom bowed out in third for $6,534. Pokanktus then eliminated "raw_dawg" in second place, resigning the runner-up to a still respectable $9,256 payday, while reeling in $13,860 for themselves.
$40,000 Big Shot 525 Final Table Results
| Place | Player | Country | Prize |
| --- | --- | --- | --- |
| 1 | pokanuktus | Montenegro | $13,860 |
| 2 | raw_dawg | | $9,256 |
| 3 | Sue.1979 | United Kingdom | $6,534 |
| 4 | excimiii | | $4,752 |
| 5 | Niklas "tutten7" Astedt | Sweden | $3,465 |
| 6 | MorayEEEEEL | Sweden | $2,598 |
| 7 | Korpisoturi2 | Finland | $2,103 |
| 8 | simoneblondi | Denmark | $1,732 |
| 9 | afronewtzz | United Kingdom | $1,485 |
You Spoke, They Listened! 888poker Adds $500K to Weekly Guarantees
Biggest 888poker Score of the Weekend Goes to "algsxr"
888poker regular "algsxr" won the largest prize of the weekend thanks to emerging victoriously from the Big Shot High Roller, a $2,100 buy-in affair that saw 16 entrants. Only the top four finishers secured a slice of the $46,000 prize pool, with algsxr's fellow Canadian "Reggie_Degen" popping the all-important money bubble.
The final table consisted of two Brazilians and a pair of Canadian natives. Both Brazilians were the first finalists heading to the showers. "campana17" colleted $4,600 for their fourth-place finish, with "seijistar1" banking $6,900 after falling in third.
Algsxr defeated "DosPoochies" heads-up, with second place prize money weighing in at $13,800 and the victory coming with $20,700 in cold, hard cash.
The Big Shot High Roller Final Table Results
| Place | Player | Country | Prize |
| --- | --- | --- | --- |
| 1 | algsxr | Canada | $20,700 |
| 2 | DosPoochies | Canada | $13,800 |
| 3 | seijistar1 | $6,900 | |
| 4 | campana17 | Brazil | $4,600 |