The Muck: Poker Twitter Questions Authenticity of Thief's Alleged DM to Robbi Jade Lew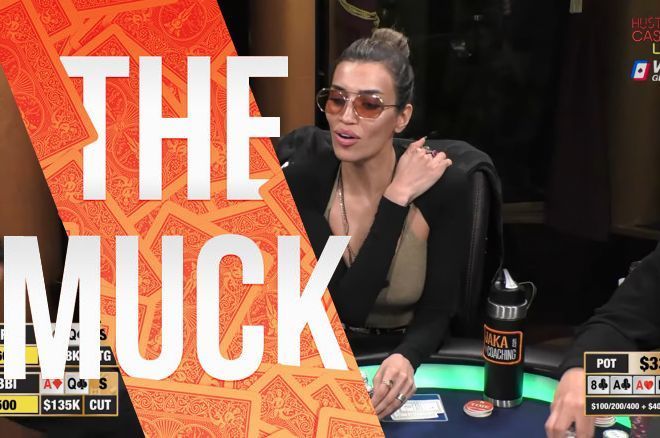 Table Of Contents
On Friday morning, Robbi Jade Lew shared a Twitter direct message allegedly from the High Stakes Poker Productions (HSPP) employee who swiped $15,000 worth of casino chips from her stack following the Sept. 29 stream.
In that lengthy DM, Bryan Sagbigsal, the thief in question, praised Lew for not pressing charges and offered to "do anything" to make it right. He even said that he'll do "hard labor" to pay her back the money. But many on social media appear convinced the message was scripted and that it was actually Lew or her husband, attorney Charles Lew, who wrote the DM, and that is the subject of our latest edition of The Muck.
"Robbi I believe you. Someone who was so kind to give the money back to the crybaby Garrett and kind enough to SPARE ME wouldn't not be as nice as you are," Sagbigsal, assuming it truly was him who wrote it, said.
Double-negatives aside, Lew did decline to press charges against Sagbigsal, at least for now.
Hustler Casino Live Reg Discusses Theft Incident
"Nik Airball," a regular on Hustler Casino Live's Wednesday night game told PokerNews he'd met Sagbigsal many times and that he found the HSPP crew member to be "nice" and that he didn't seem sketchy at all. So, he was shocked and disappointed to find out about the chip-stealing incident.
The poker player also said that Sagbigsal has been playing and losing regularly in mid-stakes games at Hustler Casino in Gardena, California (Los Angeles area).
Nik Airball said he loaned "Rip" (Jacob) money ($175,000) to play in the infamous Sept. 29 Hustler Casino Live stream, and then was promptly paid back the following day. He said Rip's bank wire hadn't gone through in time and so helped him out so that both Rip and Lew could play on the stream that evening.
Rip staked Lew in the game and Nik Airball didn't find that to be anything out of the ordinary even though, as he said, "I do not think she'd be a favorite in that lineup."
"I don't think Jacob (Rip) sees it that way," Airball said about Rip's odd choice to invest in an inexperienced player against a lineup that included Garrett Adelstein and Phil Ivey. "I think he sees it more as a fun gamble."
Rip, as he explained, manages boxers and MMA fighters and has a passion for poker. He said he met Rip on a Sept. 21 HCL stream and they began hanging out, along with Lew, shortly after.
Although he is uncertain what transpired in the infamous jack-four hand, Nik Airball expressed confidence in Hustler Casino Live co-founders Nick Vertucci and Ryan Feldman getting to the bottom of it, and said he feels comfortable playing on the stream and will do so again next Wednesday.
"I have a lot of blind faith in Nick and Ryan. They've always done me right," he said.
As for the DM's released by Lew on Friday, he isn't sure what to think but seems to have a different opinion of Sagbigsal than before.
Poker Twitter Debates DM Authenticity
Did Lew share a genuine DM that was written wholly by Sagbigsal? Many aren't so sure, but others believe those questioning its authenticity are conspiracy theorists. Ryan Riess, the 2013 WSOP Main Event champion, doesn't seem to be buying it.
@RyanRiess1 @Joeingram1 What case? I am being transparent with information. I confirmed that the phone number in th… https://t.co/z9kVwXOFtj

— Robbi Jade Lew (@RobbiJadeLew)
"This is a message a co conspirator would write in a poker cheating scandal in a feeble attempt to project innocence," @CnutCrypto tweeted.
"Why isn't anyone telling @RobbiJadeLew to stop farther incriminating herself? Isn't her husband a lawyer or something?" @PierPapa2 asked.
"For a guy who says he has 0 education his grammar sure is on point. 🤷‍♂️ just make it all end," Len Ashby argues.
"This is LEGIT more sus than the actual hand itself," Matt Berkey wrote.
Within the doubters there were a few poker players who defended Lew, as they've done every step of the way.
"He had an amazing job and threw it all away. I'd be so stoked to have that job. Try my ass off at it and represent them the best I could. What a shame he didn't feel the same," @Eric_Shunn wrote.
@OneChipPoker @RobbiJadeLew @Joeingram1 She's not going to sleep with you homie.

— Kody w/ a C (@crogers_htown)
Joey Ingram has communicated with Sagbigsal and announced on Twitter the former High Stakes Poker Productions employee will appear on his live-stream Friday night.