Two-Time EPT Champion Coren Mitchell Comments on Alleged Hustler Cheating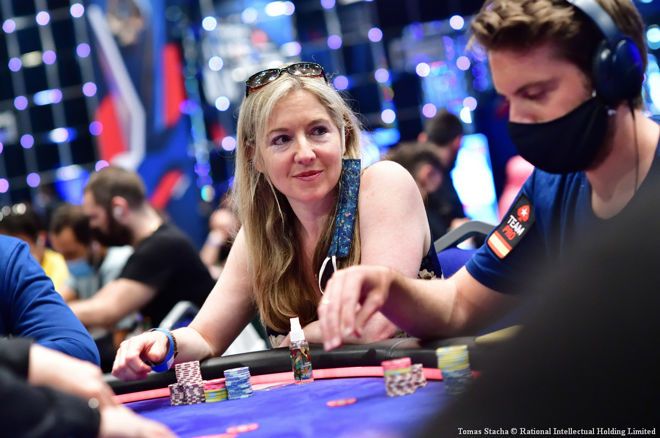 It seems that the poker and non-poker public love hearing about cheating scandals, even alleged ones. The recent bizarre hand between Garrett Adelstein and Robbi Jade Lew has captured the imagination of the poker community and has spread virally much further afield. The story has appeared on websites far and wide, including featuring on the news section of the BBC. On October 7, 2022, the alleged cheating appeared on the BBC programme, Have I Got News For You.
Have I Got News For You is a long-running satirical new quiz, featuring teams captained by Ian Hislop and comedian Paul Merton. On October 7, the two-time European Poker Tour Main Event champion and former member of team PokerStars, Victoria Coren Mitchell, hosted the show.
EPT London Returns After Eight Years; Two $30,000 Platinum Passes To Be Won
Lots of fun stories in the news at the moment, and some terrifying ones. Seems like a good week for #HIGNFY! No dou… https://t.co/POV3ZjJg2j

— Victoria Coren Mitchell (@VictoriaCoren)
During the episode, "Woman accused of using a vibrating ring to win £117,000 in poker tournament" appeared on the screen. Taking away the fact the information is incorrect – the hand took place in a cash game, not a tournament – it is amazing to see how far that hand has spread.
"I can't believe this wasn't the opening story," Coren Mitchell quipped as the audience laughed. Of course, Coren Mitchell has two EPT Main Event titles under her belt, including the EPT London Main Event.
"In my view, this women is definitely not cheating," Coren Mitchell said. Coren Mitchell went on to explain how the hand played out, but was interrupted by Merton who joked, "Is there much more of this?" to much laughter.
"You're interested in the comedy industry, I'm interested in this hand," said Hislop.
"Well, make the rest of us interested in it then," replied Merton. "Imagine you've got an audience listening to this!"
Befuddled Garrett Adelstein Loses to Wildest Poker Hero Call You'll Ever See
"I think it's interesting because what people are accusing her of is having a hidden vibrating device, like the anal beads," explained Coren Mitchell, the last comment relating to the ongoing elite-level chess cheating scandal involving 19-year-old Hans Niemann and grandmaster Magnus Carlson. "I don't think any of it's true. I don't think the chess player did either; I think he had an earpiece.
"But where did he have the earpiece, that's what everyone wants to know," was the hilarious response from Merton.
Coren Mitchell on the Adelstein/Lew Hand: "It's a Perfectly Makeable Call"
It is no surprise that many people have contacted Coren Mitchell for her views on the ongoing Adelstein/Lew saga. After all, Coren Mitchell has a brace of EPT Main Event titles to her name and a long and illustrious poker-playing career.
Coren Mitchell does not believe Lew cheated, and Coren Mitchell said as much in a series of tweets. The two-time EPT champion has since clarified to PokerNews that she could not imagine anyone who would be cheating to gamble in such a spot, in addition to the call being believable if you do not know everyone's hole cards like stream viewers are privy to.
Lots of people asking my opinion on the "cheating scandal". My instinct is: it makes most sense if the player misre… https://t.co/vqghqI0Way

— Victoria Coren Mitchell (@VictoriaCoren)
Of course cheating is possible (everything's always possible) but I'd assume the best, and whatever happened there'… https://t.co/ky6bXviWfP

— Victoria Coren Mitchell (@VictoriaCoren)
Also, if it is signalling, I'd love to analyse the person who has the intelligence to make that system work but not… https://t.co/C4vVMud9zq

— Victoria Coren Mitchell (@VictoriaCoren)
Coren Mitchell recently hinted that she will be gracing the upcoming EPT London stop with her presence. She last cashed in a live event in May 2022, when she finished 54th in the €3,000 No-Limit Hold'em Second Chance Mystery Bounty event, a result that took Coren Mitchell's live poker tournament lifetime winnings north of $2.5 million.
Last night I saw @RealDMitchell in the opening night of @UpstartCrowPlay at the Apollo, and I could NOT STOP laughi… https://t.co/GdgjaJMOb0

— Victoria Coren Mitchell (@VictoriaCoren)
PokerNews will be on the ground through the PokerStars EPT London festival, providing live updates from the series' biggest and richest events. Stay tuned to our live reporting pages to discover if Coren Mitchell does attend EPT London, and if she manages to become the first three-time EPT champion and the first-ever player to capture the same EPT title twice.
Follow PokerNews' EPT London Coverage Here