Robbi Jade Lew Return to Hustler Casino Live in the Works?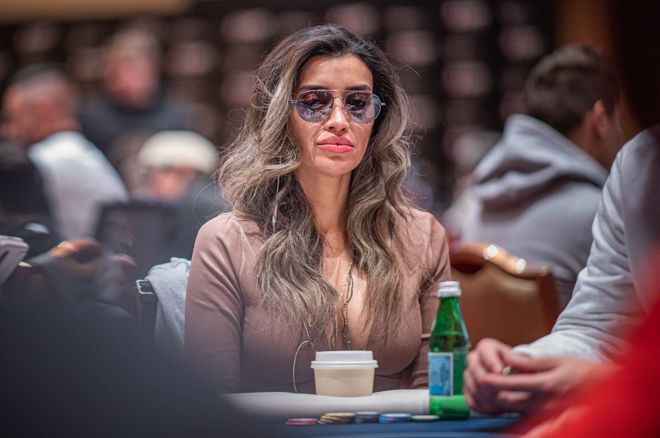 Playing in Day 1a of the $15 million guaranteed WPT World Championship at Wynn Las Vegas on Monday, Robbi Jade Lew hinted to PokerNews that a return to Hustler Casino Live could soon happen.
The poker player from Southern California also reflected on how her life has changed since the infamous alleged cheating incident at Hustler Casino on Sep. 29.
During that live-streamed episode of Hustler Casino Live, Lew was accused of cheating in a six-figure pot by her opponent, Garrett Adelstein, a long-time crusher on the show. She has since denied any wrongdoing and has many supporters, and of course some who still don't believe her story.
Will She Play on Hustler Casino Live Again?
Lew made what just might be the most insane call in poker history — calling off a six-figure wager on the turn with nothing but jack-high, and it turned out she had the best hand. The call caused Adelstein to leave the game and he since hasn't returned to action. Neither has Lew, but she said that may change.
"I hope to be back," Lew told PokerNews' Lara Neacy when asked if she plans to return to Hustler Casino Live one day. "We're in the process of working through things. The investigation needs to clear, I think it's getting there, it needs to get there. So, you'll be seeing me."
Ryan Feldman, co-producer of Hustler Casino Live, couldn't confirm if Lew will or will not be back on the show in the near future, or at any point.
Lew also discussed how her life has changed since the jack-four controversy.
"It is weird," Lew said of how strange the attention has been. "There was life before the hand, life after the hand."
The participant in the World Poker Tour's biggest event ever said players come up to her for selfies and that she's over all the attention she's received from one of the most controversial incidents in poker history.
Lew has continued to deny cheating, and has since recommended charges filed against HCL production staffer Bryan Sagbigsal, who admitted to stealing $15,000 in casino chips from her following the infamous stream.
Los Angeles Times reporter Andrea Chang gave a brief update on the Sagbigsal case last Friday on Twitter. She revealed that the accused chip thief faces two counts of grand theft and that an arrest warrant has been issued. Sagbigsal has yet to turn himself into police.
As for the investigation into the jack-four hand, Hustler Casino Live hired a third-party independent investigator dig into the incident. Thus far, no proof of cheating has been found, or at least disclosed publicly. The only revelation discovered thus far was Sagbigsal stealing chips off Lew's stack, but that isn't related to the hand in question.
*Images courtesy of WPT.