David Kaye "Blown Away" by Impact of PokerStars US Player Pool Merging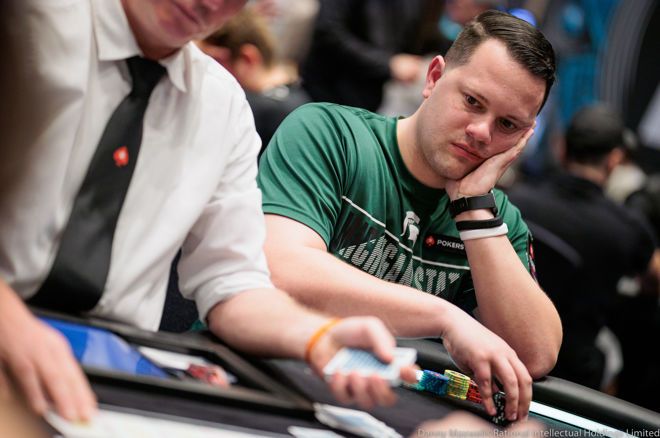 It was barely a month into his time as a PokerStars Ambassador that David Kaye was met by the biggest PokerStars news story to come out of the United States in a number of years.
The announcement that the player pools in Michigan and New Jersey were to merge was met by an overwhelmingly positive response, and as Kaye attests the impact on the online tables has been a noticeable one.
The Importance of a Regulated Market
"It's been a huge change," he told PokerNews. "Shared liquidity is just a huge deal in America and for PokerStars players in Michigan and New Jersey. There are more games running, tournament prize pools are bigger and there are bigger guarantees.
"A lot of Michiganders and people in New Jersey and Pennsylvania, just love playing on PokerStars US and it's important to them that they have a good regulated market with safe games to play. I'm excited to be part of that, to keep growing it and moving forward."
Twitch schedule for the week of February 6-12 on @PokerStarsUSA! Not feeling back to 100% so going to take a few d… https://t.co/f0xeNi9RVG

— David Kaye (@DavidKayePoker)
Kaye Appreciated as a PokerStars Ambassador
Joining in November 2022, Kaye said that the way PokerStars went about recruiting him was very natural and he's enjoyed his time as an Ambassador so far.
"The process has been amazing," Kaye told PokerNews two months on from joining Team PokerStars. "The thing that really impressed me was that PokerStars wasn't trying to make me sell myself to them.
"Instead, it was them telling me how much they really liked what I did. The fact they were very clear and clearly appreciated and respected what I do, I mean obviously coming from PokerStars that was just very cool."
---
Top Stories of 2022, #9: Michigan Matures, Ontario Launches, and is Texas in Trouble?
---
As an Ambassador, Kaye hopes to inspire not just poker players in Michigan but across the United States, and he's already noticed how re-energized players from far and wide are through the merging of the player pools.
"Combining the players [in Michigan and New Jersey] wasn't just great for those already playing, it got others re-energized about the new numbers that we were seeing. People want to play in big tournaments with big guarantees, and people were just excited about the number of players that were active.
"Not only that, but as an American, I obviously noticed and follow the legislative landscape a bit more than most, but it's been really exciting to see players from Pennsylvania asking when they're gonna merge, or people from other states like New York and Illinois asking when they're gonna get in."
Detroit Red Wings, PokerStars Form Online Poker Partnership in Michigan
Momentum and a Bright Future for PokerStars US?
With momentum going in the right direction, at least according to Kaye, he can't help but imagine how bright the future can be for players on PokerStars US.
"Just imagine if we can get even 20% of the states into one player pool I just think it's going to be incredible"
"It's just been really cool to see online poker flourishing in America. There are just so many games running at all different stakes. And this is just with two out of 50 states. Just imagine if we can get even 20% of the states into one player pool I just think it's going to be incredible.
"We know the end goal isn't just two states. Two states is great, but this is just the groundwork to get where we really want to be when we have all the states under one umbrella — or as many states as possible!
"We're working our way back! The merge of the markets in Michigan and New Jersey — which is where I play — it's just very exciting times. And hopefully, more states get legalized in the coming years and hopefully get them into one player pool.
"Blown Away" by Michigan Numbers
Michigan has grown into the largest regulated poker pool in the US, and the merger has only helped that to grow even further.
"People have heard of PokerStars, they know the reputation, and they know that they're looking out for the players' best interests"
"Even before the merge happened between Michigan and New Jersey, I was blown away by the number of games we had in Michigan. With the sheer number of players playing the cash games and tournaments and the interaction and excitement on social media, I've genuinely been blown away.
"I think that there's so much potential and there are so many exciting things going forward in this new wave of online poker in the US and especially the brand recognition. PokerStars brings a lot of real validity to online poker across America.
"People have heard of PokerStars, they know the reputation, and they know that they're looking out for the players' best interests. So I think overall, that hopefully sets up good things further down the road."
---
Is Poker legal in Michigan? Online Poker Laws in Michigan Explained
---
Kaye says he does feel a certain amount of responsibility to help shape the future of PokerStars in the United States, but he's unequivocal in the fact that the way forward is for more player pool mergers to happen.
"It's all about me playing my part in educating people and sharing the huge positives that can come from having these state-regulated markets. That's the biggest point to get across. Yes, a state might have legally regulated online poker, but the really important thing is merging the player pool. Michigan and New Jersey starting that off is just such an important first step, and we'll really see the benefits down the road in the medium to long term.
"Even now, it's super exciting now, but in the medium to long-term, this is really big news and it has me excited and optimistic for the future."
Will Shillibier is based in the United Kingdom. He started working for PokerNews as a freelance live reporter in 2015 and joined the full-time staff in 2019. He graduated from the University of Kent in 2017 with a B.A. in German. He also holds an NCTJ Diploma in Sports Journalism.