Chance Kornuth & James Calderero Bite the Dust on 2023 Wynn Millions Money Bubble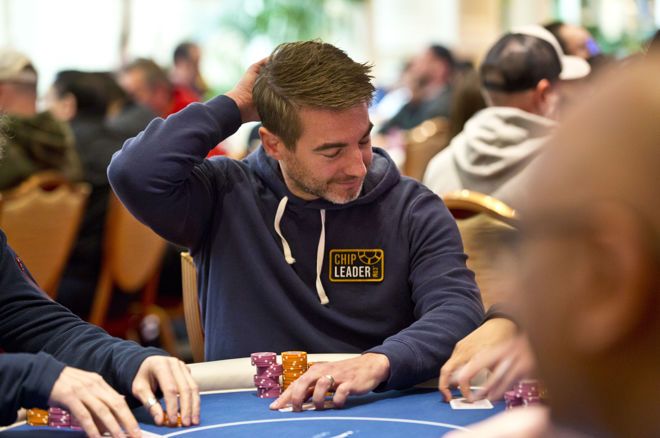 The 2023 Wynn Millions $3,500 Championship kicked off this past weekend, and on Wednesday the money bubble approached as Day 3 action commenced. The PokerNews Live Reporting Team has been on-site all tournament long to capture all the action, and there have been some rather entertaining hands.
Below is a look at five more exciting hands captured in our live updates from the 2023 Wynn Millions.
Follow live updates from the 2023 Wynn Millions here!
Kornuth's Aces Get Cracked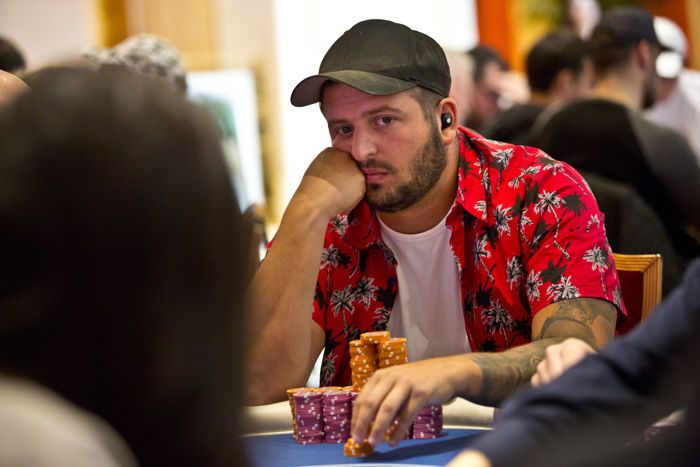 On Day 3 in Level 16 (4,000/8,000/8,000), it was hand-for-hand play just two away from the money when Jake Schwartz raised to 17,000 in early position and Chance Kornuth (lead picture) pushed in his last 14,000 chips from the hijack. Sara Ralston also called on the button which created a small side pot.
The flop came
and the action checked through to the
on the turn and the
on the river. Schwartz finally threw in a bet of 22,000 and Ralston let her hand go.
While the players waited for the action at the other tables to finish, Kornuth and Schwartz exchanged some words about their hands but neither player was sure if the other was slow rolling or not. "I have a feeling I'm going to the PLO tournament," Kornuth said.
When the hands were tabled, Kornuth turned over
but Schwartz found a lucky runout with
to eliminate Kornuth just short of the money.
Calderaro Eliminated on the Money Bubble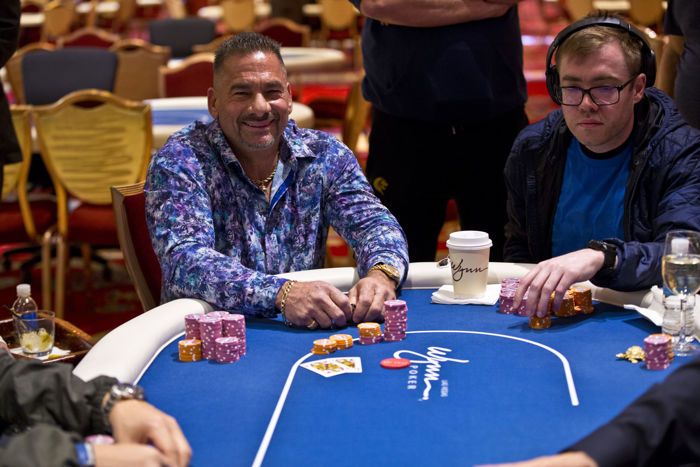 Not long after in the same level, there was a raise to 16,000 and Vuong Do three-bet to 46,000 in the cutoff. James Calderaro four-bet shoved for 140,000 out of the big blind and Do wasted little time before calling.
James Calderaro:

Vuong Do:
It was a cooler for Calderaro who needed some help in order to survive the bubble. The board ran out
and Do's kings held on to eliminate Calderaro. The remaining 134 players were then all guaranteed $8,386 in prize money.
Laplante, Cheong & Costa Among Early 2023 Wynn Million Side Event Winners
Javier Finds a One-Outer to Stay Alive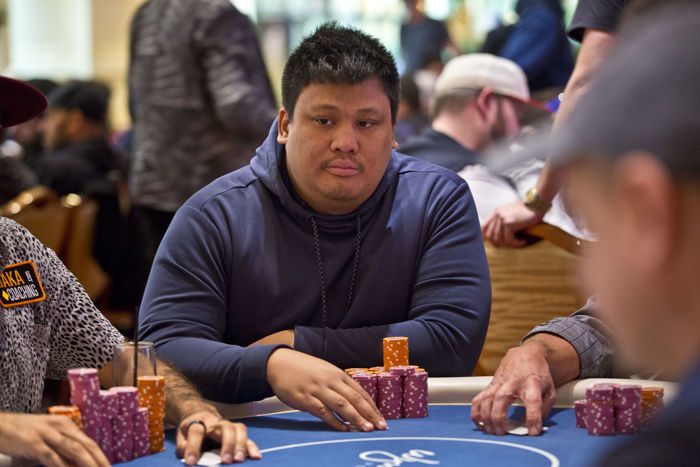 Prior to that in Level 15 (3,000/6,000/6,000) on a board reading
, three players were still in the hand with around 45,000 in the middle. Faraz Jaka was the first to throw in a bet of 13,000 and Kevin Javier just called. Pierre De Almeida check-raised to 42,000 which got Jaka out but Javier shoved all in for 127,000. De Almeida quickly called and the cards were on their backs.
Kevin Javier:

Pierre De Almeida:
Both players flopped a set and things weren't looking very good for Javier. However, the
peeled off on the river and Javier made quad sevens. A loud eruption came out of De Almeida as he was left with just a few big blinds and was eliminated shortly after.
Adams Finds a Miracle River to Bust Jacobson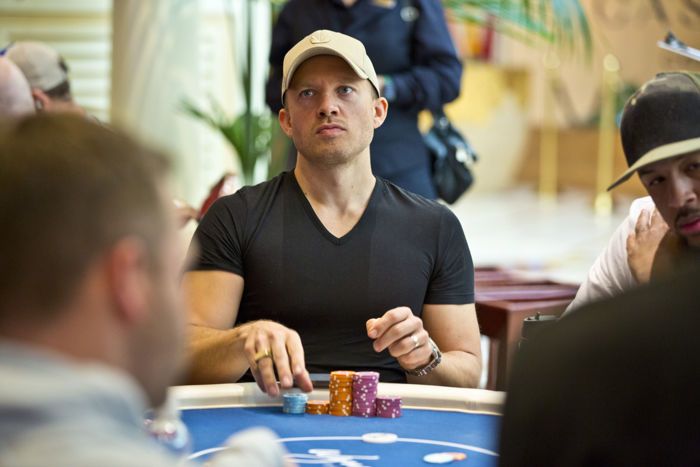 Another interesting hand took place on Tuesday on Day 2c of the tournament. In Level 13 (2,000/4,000/4,000), Lenard Adams limped in from under the gun and Joshua Faris called from the small blind. 2014 WSOP champ Martin Jacobson made it 18,000 from the big blind and only Adams called.
The flop came
and Jacobson continued with a bet of 12,000. Adams snap-called and the
rolled off on the turn. Jacobson checked this time and Adams threw in a bet of 30,000 which Jacobson called.
The river brought the
and Adams attempted to go all in out of turn. "How much you got left?" He excitedly asked Jacobson. The 2014 WSOP Main Event champion moved all in first for 80,000 and Adams quickly called again.
Jacobson turned over
for two pair but was no good against the
of Adams which made a straight.
Check out the Wynn Poker Room review here on PokerNews!
Kordowski Runs a Bluff to End the Night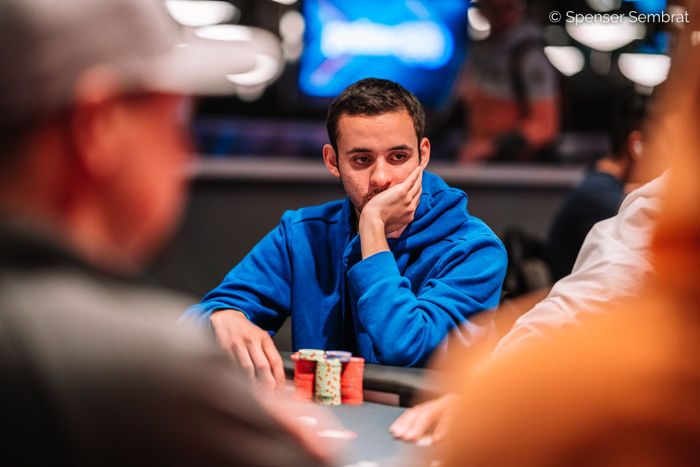 One level later in Level 14 (3,000/5,000/5,000), it was near the end of the night when Keith Kordowski raised it up from under the gun and was called by Noah Bronstein a couple of seats over. The flop came
and Kordowski checked to Bronstein who bet 12,000. Kordowski check-raised to 45,000 and Bronstein called.
The turn brought the
and Kordowski pushed out a bet of 90,000. Bronstein still called and the
completed the board. Kordowski announced all for 429,000 as the big stack. Bronstein was sitting with a stack of 299,000 and had a decision for his tournament life. He thought for a couple of minutes but eventually laid his hand down.
Kordowski showed
for just ace-high which got a loud reaction from the rest of the table and a grin from Bronstein.
Executive Editor US, PokerNews Podcast co-host & 2013 WSOP Bracelet Winner.