What Poker Hand Left Daniel Negreanu Feeling "Stung" Over the Weekend?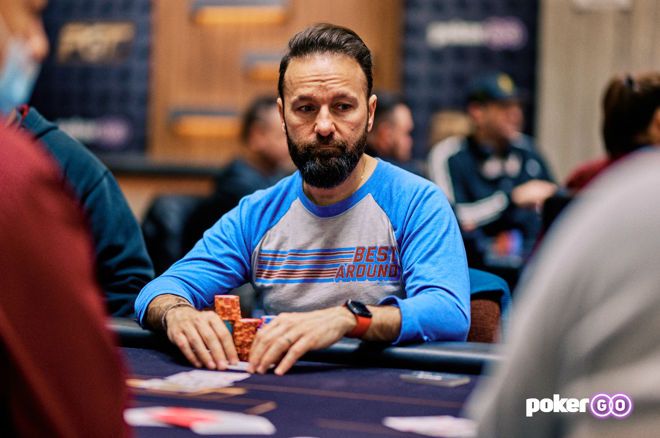 Unlike the over-sharing Allen Kessler, Daniel Negreanu isn't one to tweet often about hands that sent him to the rail. But a crucial pot he lost in a PokerGO Tour pot-limit Omaha bounty event he played on Friday "stung" badly enough to discuss it with the Twitter world.
The hand in question came against Isaac Haxton in the $25,000 buy-in tournament at the PokerGO Studio in Las Vegas on Day 1. It was Event #7 of the PLO series, eventually won by Lautaro Guerra for $228,000 along with another $75,000 in bounties. Another Isaac — Isaac Kempton — took second place out of 114 entrants for $171,000.
Well before the champion was crowned on Day 2 (Saturday), a hand in Level 12 (10,000/20,000 blinds) was heavily discussed on social media thanks to Negreanu's following tweet:
Early PGT Tour PLO Series Recap
Poker Can Be Cruel Sometimes
The hand Negreanu shared was debated as to if the Poker Hall of Famer played it optimally. It was initially live reported by PokerGO as follows:
On a board of
, Haxton made a pot-sized bet of 800,000 with
, giving him an ace-high flush and he could only lose to a straight flush. Negreanu, with
, had a king-high flush and went into the tank for a few minutes before calling to find out the bad news.
The 2,400,000-chip pot was a game-changer for both players as it gave Haxton at the time over 2.7 million chips — more than 135 big blinds — and left "DNegs" with nothing but crumbs. Haxton would go on to finish in sixth place for $68,400 and Negreanu busted in 12th place for $34,200.
Negreanu would fill in a few blanks compared to the live reported hand as to what transpired preflop, on the flop, and on the turn. He explained that at the six-player table, Alex Foxen had limped from the cutoff with an undisclosed hand, as did Negreanu on the button.
Haxton then raised the pot to 100,000 from the small blind and it went heads-up to the flop. The preflop aggressor bet 70,000 and received a call before checking the turn. Negreanu, who had also picked up a flush draw to go along with the nut straight he turned, bet half-pot, or 200,000. This is where some were critical of his play (more on this in a bit).
The bet didn't convince his opponent to fold and then the flush came through on the river without pairing the board. According to Negreanu, if the
appeared on the river instead of the
, he wouldn't have paid off 800,000 as he knew there was a shot he would have been up against a full house.
Did He Make the Right Play?
One of the criticisms from a couple poker players on Twitter was with the turn bet. Some argued that he should have bet the pot instead of half-pot. Those in that line of thinking said it would have likely forced Haxton off the pot. Negreanu disagreed.
A few followers suggested he never should have been in the hand in the first place, or at least folded to Haxton's preflop raise after initially limping, to which he also disagreed. In the end, regardless of how correctly it was played, this is one of those hands that would leave a sting with just about anyone. Imagine the reaction if it were Phil Hellmuth who lost the pot.
PokerGO Tour PLO Series Update
The PokerGO Tour Pot-Limit Omaha series began its ninth and final event on Sunday — $2,200 5-Card Pot-Limit Omaha and played down to a winner before wrapping things up for the night.
Also on Sunday was the second day of Event #8: $25,000 Pot-Limit Omaha Championship.
Guerra was the biggest star of the series, winning both Event #5 ($10,000 PLO) for $220,400 and Event #7 ($15,000 PLO Bounty) for $228,000. He had just $500,000 in career live tournament cashes prior to the series, according to Hendon Mob. He's now fifth on the 2023 PokerGO Tour leaderboard. Perhaps the pot-limit Omaha community has a new star-in-the-making on its hands.
Full List of PokerGO PLO Series Winners
| | Event # | Tournament | Winner | Prize |
| --- | --- | --- | --- | --- |
| | 1 | $5,000 PLO | Daniyal Iqbal | $160,000 |
| | 2 | $5,000 PLO Bounty | Allen Shen | $91,290 |
| | 3 | $10,000 PLO | Nacho Barbero | $234,000 |
| | 4 | $10,000 PLO Hi-Lo | Sean Troha | $200,000 |
| | 5 | $10,000 PLO | Lautaro Guerra | $220,400 |
| | 6 | $10,000 Mixed PLO/PLO 8/Big O | Jim Collopy | $206,400 |
| | 7 | $15,000 PLO Bounty | Lautaro Guerra | $228,000 |
| | 8 | $25,000 PLO Championship | X | $518,750 |
| | 9 | $2,200 5-Card PLO | X | $43,700 |
*Image courtesy of PokerGO.