Top 5 Gambling Movies You Must Watch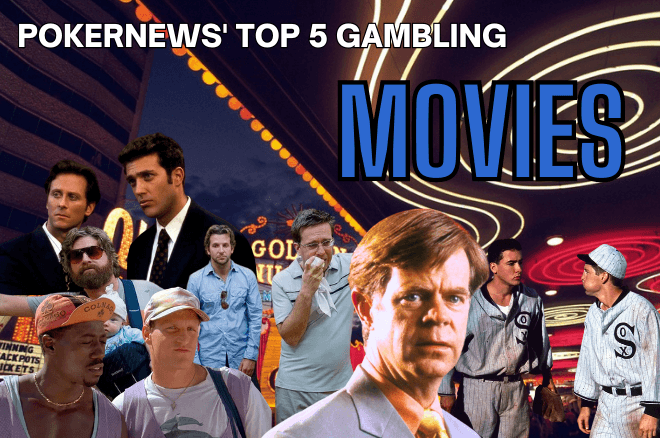 We've shown you our lists for the best poker and casino movies of all-time. Now it's time to bust out our five favorites from the overall gambling space.
There are many outstanding ones to choose from, some of which narrowly missed the cut but still deserve some recognition. Adam Sandler's Uncut Gems (2019), Martin Scorsese sports drama The Color of Money (1986), James Caan's The Gambler (1974), and the underrated Hard Eight (1996) are all excellent films that are worth checking out. But they fell just short of the PokerNews list of top five gambling movies ever created.
Other gambling-related movies that didn't make our list include those that we've already covered in previous pieces, including poker's greatest movie, Rounders (1998), and one of the best movies ever, period, Casino (1995).
PokerNews' Top 5 Casino Movies of All-Time
Top 5 Gambling Movies
There are thousands of movies that involve gambling in some capacity, which made it challenging to create this list. You'll notice a trend among our top five all-time gambling movies: we lean heavily on sports and comedy. Call it a personal preference if you must, but these are some exceptional films that we think you'll enjoy.
If you haven't seen any of these, do so ASAP. All the info you need on how to access the following epic flicks is written below. We're thinking outside the box a bit for the best gambling movies ever produced. You might be a bit surprised at some of the films we included, and perhaps you may not have even considered some of them "gambling" movies before. Anyway, here we go!
#5 - The Hangover (2009)
You might not think of The Hangover as a gambling movie, but there's certainly a gambling component to it. Few lovers of comedy haven't seen this 2009 flick that features a star-studded cast of characters (Bradley Cooper, Ed Helms, Heather Graham, and Zach Galifianakis, to name a few).
The movie's basic premise is that a group of friends drive out to Las Vegas for a bachelor party (where else would you go for that?). Things get out of control and the groom-to-be, Phil (Cooper), goes missing a day before he's supposed to be home getting hitched. A hilarious search to find Phil ensues, and it comes down to the wire if they're going to get Phil to the altar in time.
The Hangover, a blockbuster hit, grossed $467 million at the box office and won a Golden Globe for Best Comedy in 2009. Rotten Tomatoes critics give it a 79% score, which is quite high for a raunchy comedy.
While most see The Hangover as a comedy, and it is, there's some high-stakes gambling that takes place. When the group, dubbed "The Wolfpack," desperately needed to come up with money immediately, Galifianakis, who played the socially awkward Alan, learned how to count cards and made a boat load at the blackjack table.
Is The Hangover Realistic?
Sure it is. Just visit the Las Vegas Strip on any given weekend and you'll encounter a number of bachelor and bachelorette parties that get way out of hand. Perhaps, the plot was a bit over-the-top when it comes to the "what happens in Vegas, stays in Vegas" motto (no matter how intoxicated you get, you probably won't actually end up on the roof of Caesars Palace). But there's some accuracy to what goes down during a dude bro Vegas bachelor party.
How Can I Watch The Hangover?
You can watch this comedy classic via a number of ways. There's always the DVD/Blu-Ray option, or even better, you can stream it on Amazon Prime, AppleTV, Vudu, Google Play, or the following:
Is The Hangover on Netflix?
Yes, The Hangover is available on Netflix, along with many other epic gambling and comedy movies.
Is The Hangover on Disney+?
At this time, no, The Hangover is not available to stream on Disney+.
#4 - The Cooler (2003)
William H. Macy (Fargo, Pleasantville) is one of the most talented actors of all-time. In The Cooler, he put on one of his most brilliant performances playing a down-on-his-luck character named Bernie Lootz.
The movie, released in theaters in 2003, tells the story of Lootz, who found one useful skill in life, and that was to play the role of a "cooler" at a casino, run by Shelly Kaplow (Alec Baldwin). When a gambler was on a heater, Kaplow would send over Lootz to bring that guest bad luck and end a winning streak.
Reviews of The Cooler are mostly positive and critics give it a 77% composite score on Rotten Tomatoes. Ron Livingston, Maria Bello, and Paul Sorvino play key roles but it is Macy who truly carries this movie that packs a big punch.
Is The Cooler Realistic?
If you're superstitious, you will likely consider The Cooler a realistic movie. Otherwise, you'll probably see it more as just an entertaining movie that isn't realistic.
How Can I Watch The Cooler?
The Cooler is on Blu-Ray and DVD, for starters, along with numerous streaming devices, including Amazon Prime, Spectrum TV, Roku TV Channel, Vudu, and more.
Is The Cooler on Netflix?
The Cooler is among the stacked Netflix lineup and has been for quite some time.
Is The Cooler on Disney+?
You cannot watch The Cooler on Disney+, unfortunately.
#3 - Sour Grapes (1998)
Sour Grapes, starring Steven Weber and Craig Bierko, is one of the most underrated and forgotten comedies from the 1990s. The iconic and hilarious Larry David of Seinfeld and Curb Your Enthusiasm fame directed the film, which is about two relatives who feud over who deserves the money from a slot machine jackpot.
Ignore the 27% Rotten Tomatoes score because this is a fun and funny movie that addresses a common issue among the gambling community.
Two cousins — Weber and Bierko — embark on a weekend trip to Atlantic City. While seated at a slot machine, Bierko's character (Richie Maxwell) asked his cousin named Evan Maxwell for two quarters. He immediately hit a $430,000 jackpot and felt that because he played the machine he deserves all the money, minus the 50 cents he borrowed from his cousin.
Evan, however, comedically feuded with Richie over the money as he believed he deserved of half the jackpot. Who ends up getting the money? Watch the movie and find out.
Is Sour Grapes Realistic?
It's realistic in that if that scenario played out in real life, both parties would likely feel they deserve all or a chunk of the money. Imagine handing someone two quarters and they hit a massive jackpot right in front of you. It would be difficult to refrain from asking for a portion of the winnings.
How Can I Watch Sour Grapes?
You can pick up Sour Grapes in your local $5 bin at Walmart or wherever you buy cheap DVDs and Blu-Rays. Or, you can stream it on Vudu, tubi, AppleTV, or Amazon Prime.
Is Sour Grapes on Netflix?
No, Sour Grapes is not currently streaming on Netflix but it has been on there in the past.
Is Sour Grapes on Disney+?
Sour Grapes is not part of the Disney+ package.
#2 - Eight Men Out (1988)
Eight Men Out (1988), starring John Cusack, Christopher Lloyd, and Charlie Sheen, is an all-time classic, especially for baseball fans. It is based on the true story about the infamous 1919 Chicago White Sox, a World Series team that had eight players intentionally tanking games because bettors paid them off to do so.
Rotten Tomatoes gives this cult classic, one of the best baseball movies ever created, an impressive 87% score.
Dubbed the "Black Sox," the movie portrays one of the most famous (or, infamous) baseball teams of all-time. More than 100 years later and baseball historians are still talking about one of baseball's biggest scandals ever.
D.B. Sweeney plays "Shoeless" Joe Jackson, the most famous and talented player from that 1919 White Sox team. Cusack, in typical fashion, puts on an excellent performance as Buck Weaver, one of the ringleaders on the team who helped convince the other seven players to follow his lead.
Is Eight Men Out Realistic?
Well, yes, because it is based on a true story. That said, the days of professional baseball players taking a dive to satisfy a bet are over because they're paid millions anyway.
How Can I Watch Eight Men Out?
It isn't difficult to find a copy of Eight Men Out at your nearest electronics retail store or Walmart/Target. It's also free on tubi and Pluto, along with streaming apps such as Amazon and Vudu, and you can download it on Google Play, Roku, or iTunes.
Is Eight Men Out on Netflix?
Eight Men Out is available for streaming on Netflix and has been for quite a while. Don't expect it to be gone from the Netflix lineup any time soon either.
Is Eight Men Out on Disney+?
Like most gambling-related movies, Disney+ doesn't currently have Eight Men Out in its lineup.
#1 - White Men Can't Jump (1992)
White Men Can't Jump isn't just an epic gambling-related movie. It's one of the best movies regardless of category from the 1990s, arguably the greatest decade for film.
Rotten Tomatoes has it scored at 77%, which is solid but a travesty considering it's one of the best sports movies ever. For those who love gambling or grew up playing pick-up basketball, it's simply a movie you have to love and watch at least once or twice a year for the rest of your life.
Woody Harrelson plays the role of the underestimated Billy Hoyle, a white basketball player who hustles black athletes on the court. Billy's act is to show up to the court looking nerdy and then betting on himself to win a game of one-on-one. One of the players he hustled was Sidney Deane, played by the great Wesley Snipes. Billy and Sidney would become friends and team up to take on anyone willing to put up the money to play a game of two-on-two.
Is White Men Can't Jump Realistic?
Yes, it is a realistic-ish movie. If you need proof, check out "The Professor," a white under-sized real-life basketball player just like Billy Hoyle who has made a living hustling people on the basketball court.
How Can I Watch White Men Can't Jump?
Given that White Men Can't Jump was released in 1992, you could always dust off the old VCR and pop it in. If that doesn't work, there are plenty of stores such as Walmart and Target where you'll likely find a copy on DVD or Blu-Ray. Or, you can get it on various streaming apps such as Hulu, Amazon Prime, and Vudu.
Is White Men Can't Jump on Netflix?
For quite some time, White Men Can't Jump has been accessible with a Netflix subscription.
Is White Men Can't Jump on Disney+?
Yes, this legendary sports and gambling movie is part of a Disney+ subscription package.
Watch these Top Gambling Movies and then Play at the Best Online Casinos!
If we'd successfully whetted your appetite for gambling and playing casino games, then take a look at our recommendations for the Best Online Casinos, to try these games out for real.
If slots are your thing, then we also have a list of the Best Places to Play Slots and How to Pick a Winning Slot Game.
Table game fan? We've got you covered as well... see our Live Dealer Casinos page for the best places to play and improve your strategy with our guides for Roulette, Craps and Blackjack.
>See more Casino content from PokerNews