High Stakes Poker Season 10 Finale Ends With a Bang as Negreanu Goes Bust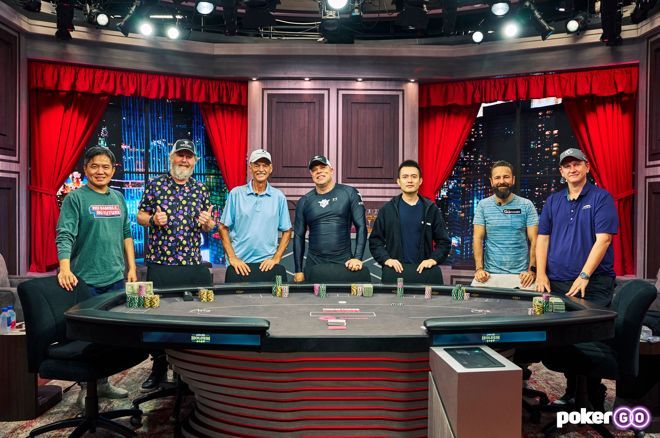 Season 10 of High Stakes Poker aired on PokerGO Tuesday night, and it wrapped with an exciting hand between Daniel Negreanu and Ben Lamb.
Episode 17 of the current season had the exact same cast of characters compared to last week's episode. Negreanu and Lamb were seated with Bill Klein, Eric Hicks, Stanley Choi, Charles Yu, and Eric Persson.
Negreanu Bluffs Lamb
From middle position, Negreanu raised to $2,000 with 3♥2♥ before his next-door neighbor Lamb three-bet to $7,000 with A♠Q♣. The two poker pros went heads up to a flop of A♦Q♥K♦ and Negreanu checked and then called a bet of $7,000 with three-high.
When the J♠ appeared on the turn, both players checked to see the board pair on the river with the J♦. This time, "DNegs" fired out a bet of $12,000 while playing the board, knowing it was his only way to win the pot.
Lamb, sitting on two pair on a scary board, decided to fold and lost the pot to an inferior hand. Negreanu proudly showed the bluff. Moments later, Lamb missed a Royal Flush draw and lost a $93,000 pot to Choi.
Persson Bluffs into Klein's Set of Aces
In one of the most thrilling hands of Episode 17, Persson did what he often does – attempt a big bluff into a player who was holding a monster.
Lamb opened the action with a raise to $3,000 with K♠J♠ and then Klein three-bet on the button to $11,000 with A♥A♣. Persson, holding 6♥6♦ in the small blind, called, as did Lamb.
The flop was 2♠A♦3♥ and after two checks, Klein bet $8,000 with his set of aces. Persson was feeling frisky and raised it to $23,000, forcing Lamb off the pot. But, of course, the bet did nothing to eliminate top set.
Klein made the call to see a turn of 10♦, leaving Persson drawing dead. Still, he ripped off a bet of $39,000 and his opponent flicked in a call. The river was the K♣ and this time Persson gave up and checked it over to the button, and then Klein made the shocking decision to fold, admitting he feared a flopped straight.
PokerGO then showed the chip stacks at that point in the show, and they were as follows:
| Player | Stack |
| --- | --- |
| Erick Persson | $578,800 |
| Bill Klein | $363,700 |
| Ben Lamb | $355,100 |
| Stanley Choi | $326,400 |
| Eric Hicks | $237,700 |
| Daniel Negreanu | $210,500 |
| Charles Yu | $160,300 |
Negreanu Runs into a Tough Spot
On the final hand of the episode, we saw one of the best hands of the season. Yu started the action with a raise to $4,000 with 8♥5♥ and then Negreanu called on the button with 10♠9♠. Lamb, however, had a real hand in the small blind — Q♥Q♦ — and bumped it up to $19,000. Only Negreanu came along to the flop, which was 6♠9♥Q♠.
Both players had a significant piece of that flop, so there was no surprise when the action went $17,500 bet from Lamb, followed by an all in for $119,000 and a snap-call.
The poker superstars agreed to run it twice with Negreanu needing to hit his flush draw without the board pairing in at least one of the runouts to avoid going bust. On the first board, he lost when it came 7♣ and then 4♥, securing Lamb would take at least half the $285,000 pot.
On the second runout, it was again favorable to Lamb when it came 10♣ and 6♣, and he took down the entire pot to put a conclusion to an exciting Season 10 of High Stakes Poker.
The show will return in the fall with Season 11, which has already been filmed. PokerGO has yet to determine a release date.
Past High Stakes Poker Recaps
Check out our past recaps from Season 10 of High Stakes Poker on PokerGO:
*Images courtesy of PokerGO.