Jennifer Tilly Can't Catch a Break on Latest Episode of High Stakes Poker
Table Of Contents
Actress Jennifer Tilly starred on Tuesday's High Stakes Poker episode, but her role was that of an unlucky poker player.
Season 10 Episode 4 brought about some juicy pots and solid table banter. Chino Rheem picked up some hands and came out swinging. Jean-Robert Bellande couldn't pull the trigger on a river bluff with ace-high against Matt Hanks in a $100,000 pot and lost to a small pair at showdown, and Ema Zajmovic paid off a $20,000 bet on the river with a 10-high flush against Rheem's king-high flush. But Tilly brought most of the action during this action-packed episode.
Jennifer Tilly was recently inducted into the Women in Poker Hall of Fame!
Jennifer Tilly Came to Play Poker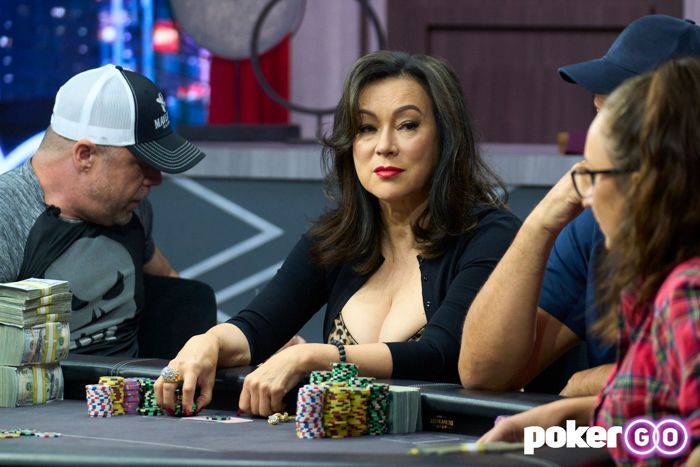 Tilly was on quite the roller coaster ride throughout the 45-minute show. She won some pots, she lost some pots, but the biggest ones didn't go her way, especially a monster pot she played against Bellande.
In that hand, with an $800 straddle on and a few limpers in the pot, the Bride of Chucky star made it $10,000 from the small blind with
. Only "JRB," who was holding
in the big blind, called.
The flop was
, giving Bellande middle set. Tilly, who didn't improve on that flop, bet out $15,000, and this is where the hand went off the rails. Bellande raised it up to $40,000, and then Tilly came in for an aggressive re-raise to $125,000, turning her pocket pair into a bluff.
Aggression often pays off in no-limit Texas hold'em, but not when your opponent has the second nuts. Bellande didn't waste any time moving all in for $281,000, and both players had almost identical stacks. There wasn't anything Tilly could do at that point other than to fold her hand.
In a hand against Rheem, the Hollywood star bet $10,000 with
on a board of
, which gave her a flush and straight draw. Her opponent, however, flopped a set of deuces and raised it up to $25,000.
Tilly wasn't going anywhere with 12 outs, so she made the call and hit the worst card in the deck for her hand against a set —
. When Rheem bet $21,000, she paid it off and then saw the bad news.
Tilly didn't lose every hand she played, however. She flopped two pair against Bobby Baldwin in another hand and scooped a $60,000 pot when the former poker world champion failed to connect on his straight draw.
"The Magician" Returns to Action
At the end of the Episode 4, PokerGO teased next Tuesday's show, which includes a slight but major change at the table. Antonio Esfandiari will appear in the game, which should create some action.
"The Magician" has mostly retired from poker and hasn't played much the past couple of years since becoming a father. Esfandiari was a regular on High Stakes Poker during the show's early years on Game Show Network in the 2000s.
Later in the season, numerous old-school pros such as Daniel Negreanu, Doyle Brunson, and Phil Ivey will appear. The 10th season has already undergone some significant changes, most notably the retirement of legendary broadcaster Gabe Kaplan, who was subsequently replaced by Nick Schulman.
High Stakes Poker Season 10 returns next week on PokerGO at 5 p.m. PT with Episode 5.
Gabe Kaplan Retires from High Stakes Poker
Past High Stakes Poker Recaps
Check out our past recaps from Season 10 of High Stakes Poker on PokerGO:
*Images courtesy of PokerGO.