Scholomance Wins the 888poker XL Spring Series $200K Mystery Bounty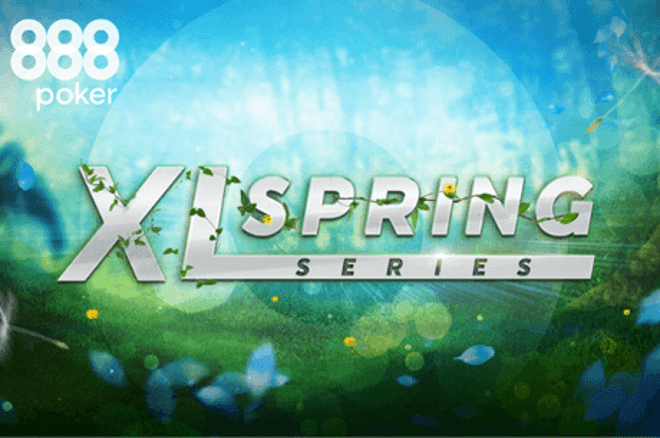 Montenegro's "Scholomance" is the latest 888poker player to become an XL Spring Series champion after coming out on top of the massive $200,000 guaranteed Mystery Bounty event.
A field of 971 players, which included 123 rebuys, fought it out for the lion's share of the $200,000 prize pool. Day 1 saw the field whittled to the final table of nine, and it was "Scholomance" that bagged up the chip lead.
The tournament had already dished out its largest mystery bounty when "NoGanoUnFlip" pulled a bankroll-boosting $20,000 prize from a golden envelope before they busted.
$200,000 XL Spring #19 – Mystery Bounty Final Table Chip Counts
| Place | Player | Country | Bounties | Chips | Big Blinds |
| --- | --- | --- | --- | --- | --- |
| 1 | Scholomance | Montenegro | $755 | 2,676,602 | 45 |
| 2 | Fishermanl95 | Romania | $940 | 2,211,290 | 37 |
| 3 | tehnats | | $6,955 | 1,991,053 | 33 |
| 4 | nuncanemvi | Brazil | $1,340 | 1,892,948 | 32 |
| 5 | Sim0nK | Lithuania | $2,266 | 1,684,552 | 28 |
| 6 | jpgomides123 | Brazil | $970 | 1,642,328 | 27 |
| 7 | Weezyspecs91 | United Kingdom | $940 | 1,121,111 | 19 |
| 8 | Diguiry | Brazil | $755 | 870,116 | 15 |
It took almost 15 minutes for the final table to lose its first player. Brazil's "Diguiry" sat down with the shortest stack, and never managed to get going. They were down to less than five big blinds when they moved all-in with king-jack of hearts from the cutoff, and "Scholomance" looked them up from the small blind with pocket nines.
Seventh place went to "Sim0nK" who, like "Diguiry," lost a crucial coinflip. "Sim0nk" got their last 12 big blinds into the middle of the table holding king-queen but couldn't get there against the pocket eights of "jpgomides123."
Win up to $10K Free With 888poker's Card Strike Feature
The final six became five when "tehnats" ran into a monster. "tehnats" had previously pulled out a $6,000 mystery bounty, ran out of luck when they lost all but two big blinds with pocket jacks against the aces of "Weezyspecs91." "tehnats" busted a short while later, with "Weezyspecs91" claiming the rest of their stack.
"FishermanI95" had been nursing a short stack for a while and kept finding themselves in situations where they couldn't commit their chips. Such a spot presented itself when they found ace-ten of spades and pushed their stack into the middle. Unfortunately for them, "nuncanemvi" woke up with pocket aces, and had one of the easier calls of their career. Those aces held, and the player count was further reduced.
Despite winning those chips, "nuncanemvi" was the next player heading to the showers. They open-shoved for 12 big blinds with king-queen, but were in a whole world of pain when "Scholomance" instantly called with a pair of kings. The five community cards provided no drama, and "nuncanemvi" was gone.
888poker: The Biggest Differences Between Online and Live Poker
Heads-up was set after the untimely demise of "jpgomides123." "Scholomance" moved all-in from the small blind with ace-seven of hearts, and "jpgomides123" called off their last three big blinds with jack-three of clubs. Ace-high would have been enough to win the pot, but "Scholomance" paired their ace on the river.
"Scholomance" held a chip lead over "Weezyspecs91" going into heads-up, and they never relinquished that advantage. The final hand saw "Scholomance" initially limp with pocket sevens but they then called a 12 big blind shove that "WeezySpecs91" made with queen-ten. The sevens remained true, and the $200,000 Mystery Bounty event had its champion!
Don't Miss Out On The $500,000 Guaranteed XL Spring Main Event
All attention now turns to the massive $250 buy-in $500,000 guaranteed XL Spring Main Event, which is also played as a mystery bounty tournament.
There are 21 flights remaining between May 31 and June 5, with Day 2 shuffling up and dealing at 9:00 p.m. BST on June 5. Each of those Day 1s runs for 18 levels, or until only 14% of the field remains. Anyone with even a solitary chip in front of them at that time progresses to Day 2 with a min-cash in tow and with the chance to secure some mystery bounties. One of those mystery bounties should weigh in at around $50,000 if previous events are anything to go by!