Top 5 FREE Things you MUST do in Monaco 2023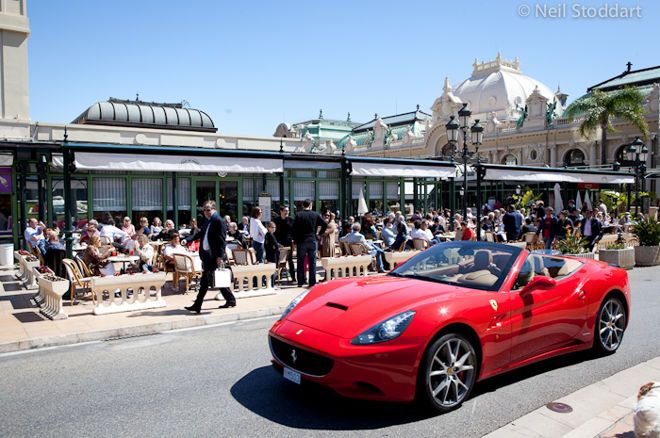 The 80th edition of the world-famous Monaco Grand Prix takes place on May 28, so PokerNews takes a look at some of the awesome free attractions visitors can enjoy before or after the race.
Are you looking for the top 5 best free things to do in Monaco? Well, we've got you covered! It's one of the top poker destinations in the world, but you don't need to be super rich (although it might help) to have a good time on the French Riviera. Here are the top free things to do in Monaco.
1. Visit Monte-Carlo Casino
Given that this is PokerNews, where better to start if you're looking for free things to do in Monaco than a casino? But not just any casino, the Monte-Carlo Casino no less.
| | |
| --- | --- |
| Location | Pl. du Casino, 98000 Monaco |
| Google Rating | 4.6 (29,140) |
| Cost | €18 (Free for members and discount for groups) |
| Opening Hours | 24 Hours |
What is the Monte-Carlo Casino and why Visit?
Sure, the Bellagio, Las Vegas is pretty special, and the Venetian in Macau is impressive, but there's something truly unique about Monaco's oldest casino. Opened in 1865, to this day it still carries the charm of an old-fashioned establishment. But don't be mistaken, this building is far from old and rundown. Its high golden ceilings and glistening chandeliers, plus its location on the famous Place du Casino (Casino Square) give it a look and feel more like a palace than a casino.
Though not strictly free to visit if you want to enter and play a few hands on the tables (the minimum bet for most games is surprisingly just €5), experiencing the atmosphere and seeing the casino's beauty from the outside is still worth the trip. What's more, for any car lovers out there, you'll do well to not spot one or two supercars parked outside.
If poker is more your thing (and let's face it, you're on PokerNews so it should at least be on your radar) why not visit during the prestigious Monaco leg of the EPT? Not only will you see a few recognisable faces, but you'll feel the buzz of one of the biggest annual poker tournaments in the calendar - with first place this year winning €750,000.
Mike Watson Becomes Third Player in History to Win Two Live EPT Main Event Titles
2. Visit Larvotto Beach
Everyone loves a trip to the beach, and the Côte d'Azur is home to some of the most beautiful coastlines in Europe. Monaco isn't synonymous with its beaches, but there are options if you're looking to build a sandcastle or two.
| | |
| --- | --- |
| Location | 98000 Monaco |
| Google Rating | 4.4 (603) |
| Cost | FREE |
| Opening Hours | 24 Hours |
What is Larvotto Beach and why Visit it?
Due to its miniature size, Monaco has very few beaches and some are even private and not accessible to the public. What's more, with all its supercars, yachts and casinos, people tend to overlook heading to the beach when in Moncao. However, Larvotto Beach, located to the north of the principality, is a little gem of a spot that will set you back nothing apart from the cost of your beach towel and shorts.
It's not the largest beach by any means, so if you're there at the height of the season you might be struggling for space. But Larvotto Beach is still well worth a visit, with its turquoise waters and soft sand.
PokerStars Casino Offers Chance To Win Epic Las Vegas Formula One Experience
3. Visit Fairmont Hairpin Curve
This is one for the F1 fans. Monaco is known for glitz, glamour and, to us at least, a bit of poker as well. But if there's one sporting event other than the EPT that Monaco is renowned for, it's the most captivating Grand Prix of the Formula 1 season.
| | |
| --- | --- |
| Location | 22 Av. Princesse Grace, 98000 Monaco |
| Google Rating | 4.9 (49) |
| Cost | FREE |
| Opening Hours | 24 Hours |
What is the Fairmont Hairpin Curve and why Visit it?
Fairmont Hairpin Curve is perhaps one of the most recognisable corners in Formula 1. Its steep, sharp bend is a nightmare for the likes of Lewis Hamilton and Max Verstappen to navigate, but when it's not race week you can cruise down a legitimate part of an existing F1 track with a lot more ease.
And why stop there? Whether you drive a Ferarri or a Fiat, you can drive the entire Monaco Grand Prix circuit - although we'd recommend doing so at a time when F1 isn't in town as the areas become restricted in the lead-up.
If you do find yourself on the French Riviera on grand prix day, you can still get involved. While the majority of places are restricted for general public access, you'll still be able to walk around, soak up the atmosphere and see one of two cool things (for motor enthusiasts at least) free of charge.
There's plenty more F1-related news in the poker sphere as well. Global Poker, for instance, put on a Turbo Series in May 2023 where players could win an exclusive Ferrari experience. Stay tuned to PokerNews for more potential F1 prizes from Global Poker. Also, a partnership between PokerStars and Red Bull has entered its second year, showing that there is plenty of crossover between poker and F1 - not to mention the array of drivers that play poker recreationally.
PokerStars Debuts Between the Lines - The Ultimate F1 and Poker Video Series
4. Visit Princess Grace Japanese Garden
If anyone has been to Monaco, one thing that is noticeable (apart from billionaires driving, wearing and living in things that cost 100x my annual salary) is how pristine the streets are. This is evident from the several gardens and parks as well, all being in showroom-like condition. One park in particular stands out - the Princess Grace Japanese Garden.
| | |
| --- | --- |
| Location | 5 Av. Princesse Grace, 98000 Monaco |
| Google Rating | 4.5 (5,245) |
| Cost | FREE |
| Opening Hours | 10:00 - 13:00 (7 days), 14:00 - 18:00 (7 days) |
What is the Japanese Garden, and why Visit it?
Japan and Monaco have little in common, but the Japanese Garden adds a lovely bit of character to the principality. Despite being just 0.7 hectares in size, it has its own hill, waterfall and even a Zen garden for meditation. Located between the Monte-Carlo Casino and Larvotto Beach, the Japanese Garden offers a surreal, authentic oriental experience right in the middle of luxury skyscrapers, looming hills and a slice of the Côte d'Azur.
Why Do Formula 1 and Poker Go Hand-in-Hand?
5. Visit Prince's Palace of Monaco
Albert II is the current Prince of Monaco and has reigned since 2005. Like any prince, he lives in a palace most definitely fit for a king, and while it might not quite be on the levels of Buckingham Palace, his residential home is still impressive nonetheless.
| | |
| --- | --- |
| Location | 98015 Monaco |
| Google Rating | 4.6 (18,465) |
| Cost | FREE Outside (€10 to Enter) |
| Opening Hours | 10:00 - 17:30 (7 days) |
What is the Prince's Palace and why Visit it?
The Prince's Palace has an illustrious history dating back to 1191. It's the official residence of the sovereign prince of Monaco and was a fortress before being turned into a palace. You can go inside for a fee, but there's plenty of value in visiting the outside.
Not only is it an experience in itself to see the palace from the outside, you'll also catch the changing of the guards every day at 11:55. What's more, the views out across the nearby harbour are absolutely stunning.
Epic Scenes as Formula 1 Car Drives Through Vegas Casino