How to Win One of 100 Mystery Bounty PokerNews Cup Seats at Golden Nugget for FREE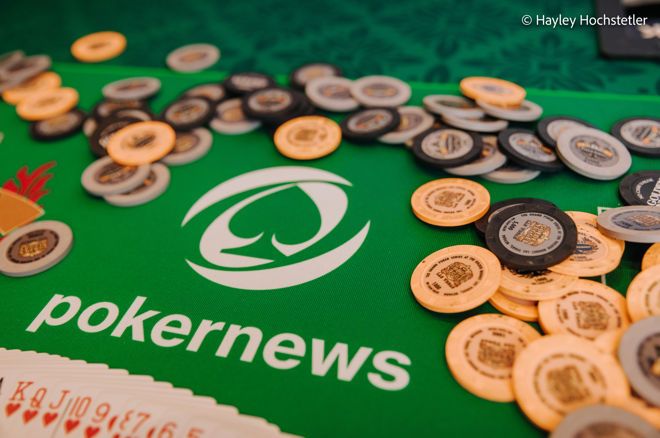 Table Of Contents
The $1,100 buy-in Mystery Bounty PokerNews Cup at Golden Nugget Las Vegas has a $1 million guaranteed prize pool, and those reading this article can win a seat for free.
Play begins June 29 as part of the popular Grand Poker Series, an annual summer tradition at the downtown Las Vegas casino. Last year's event attracted 1,245 entries and was conquered by Gary Gelman, who took home $202,745. The pot cracked $1.2 million, making it the largest prize pool in Golden Nugget history.
This year, we're spicing things up even more by adding on the Mystery Bounty element to the tournament. For those unaware of how that works, the tournament runs just like any other bounty event, except the players don't know beforehand how much their bounty will be worth until they open an envelope that will have a mystery value. In this event, the top bounty award will pay $100,000.
PokerNews Cup Tournament Details
Giving Out Free Seats to Golden Nugget Poker Players
Golden Nugget will pass out 100 free seats to its cash game players starting at 9 a.m. PT on June 24 and running right up until the tournament on June 29. The only way to win is to be playing cards at cash game tables inside the Las Vegas poker room during each drawing.
There will be 20 drawings daily done via the BRAVO random seat draw feature. If you win a drawing, you cannot sell or transfer the seat and must play in the PokerNews Cup, which is Event #78 of the series.
Should a player who has already won a seat win another drawing, a new drawing will take place. Please visit the Golden Nugget poker room for a complete set of rules.
2023 Grand Poker Series Remaining Schedule
| | | | | | |
| --- | --- | --- | --- | --- | --- |
| | Date | Time | Event # | Tournament | Buy-In |
| Wednesday | 6/7/23 | 11am | 23 | Pot Limit Omaha 8-Handed $10K Guarantee | $300 |
| | | 1pm | 24 | Daily Deep Stack No Limit Hold'em $25K Guarantee | $200 |
| | | 6pm | 25 | Night H.O.R.S.E. $5K Guarantee | $200 |
| | | 7pm | 26 | Nightly No Limit Hold'em $5K Guarantee | $130 |
| Thursday | 6/8/23 | 10am | 27 | No Limit Hold'em 6 Handed $10K Guarantee | $300 |
| | | 11am | 28A | No Limit Hold'em $200K GUARANTEE Ultimate Re-Entry | $200 |
| | | 3pm | 28B | No Limit Hold'em $200K GUARANTEE Ultimate Re-Entry | $200 |
| | | 7pm | 28C | No Limit Hold'em $200K GUARANTEE Ultimate Re-Entry | $200 |
| Friday | 6/9/23 | 11am | 28D | No Limit Hold'em $200K GUARANTEE Ultimate Re-Entry | $200 |
| | | 3pm | 28E | No Limit Hold'em $200K GUARANTEE Ultimate Re-Entry | $200 |
| | | 7pm | 28F | No Limit Hold'em $200K GUARANTEE Ultimate Re-Entry | $200 |
| Saturday | 6/10/23 | 11am | 28G | No Limit Hold'em $200K GUARANTEE Ultimate Re-Entry | $200 |
| | | 3pm | 28H | No Limit Hold'em $200K GUARANTEE Ultimate Re-Entry | $200 |
| | | 7pm | 28I | No Limit Hold'em $200K GUARANTEE Ultimate Re-Entry | $200 |
| Sunday | 6/11/23 | 11am | 29 | Black Chip Bounty Pot Limit Omaha $10K Guarantee | $300 |
| | | 12pm | 28Day2 | No Limit Hold'em $200K GUARANTEE - DAY 2 | $0 |
| | | 1pm | 30 | Daily Deep Stack No Limit Hold'em $25K Guarantee | $200 |
| | | 7pm | 31 | Cheap and Deep No Limit Hold'em $10K Guarantee | $130 |
| Monday | 6/12/23 | 10am | 32A.1 | Bar Poker Open Championship Day 1A (Flight 1) | Invitational |
| | | 4pm | 32A.2 | Bar Poker Open Championship Day 1A (Flight 2) | Invitational |
| | | 7pm | 33 | Green Chip Bounty No Limit Hold'em | $130 |
| Tuesday | 6/13/23 | 11am | 32B | Bar Poker Open Championship Day 1B | Invitational |
| | | 1pm | 34 | Daily Deep Stack No Limit Hold'em $25K Guarantee | $200 |
| | | 7pm | 35 | Tag Team No Limit Hold'em $10K Guarantee | $200 |
| Wednesday | 6/14/23 | 11am | 32Day2 | Bar Poker Open Championship DAY 2 | Invitational |
| | | 1pm | 36 | Daily Deep Stack No Limit Hold'em $50K Guarantee | $400 |
| | | 7pm | 37 | Nightly No Limit Hold'em $5K Guarantee | $130 |
| Thursday | 6/15/23 | 11am | 38 | Bar Poker Open Pro-Am | $1,000 |
| | | 1pm | 39 | Daily Deep Stack No Limit Hold'em $25K Guarantee | $200 |
| | | 2pm | 32FT | Bar Poker Open Championship FINAL TABLE | Invitational |
| | | 7pm | 40 | Nightly No Limit Hold'em $5K Guarantee | $130 |
| Friday | 6/16/23 | 11am | 41A | Mystery Bounty NLHE $250K GUARANTEE (Flight A) | $300 |
| | | 1pm | 42 | Mixed PLO/8; Omaha 8/B; Big-O $10K Guarantee | $300 |
| | | 2pm | 38FT | Bar Poker Open Pro-Am Final Table | $0 |
| | | 3pm | 41B | Mystery Bounty NLHE $250K GUARANTEE (Flight B) | $300 |
| | | 7pm | 41C | Mystery Bounty NLHE $250K GUARANTEE (Flight C) | $300 |
| Saturday | 6/17/23 | 11am | 41D | Mystery Bounty NLHE $250K GUARANTEE (Flight D) | $300 |
| | | 1pm | 43 | Daily Deep Stack No Limit Hold'em $10K Guarantee | $150 |
| | | 3pm | 41E | Mystery Bounty NLHE $250K GUARANTEE (Flight E) | $300 |
| | | 7pm | 41F | Mystery Bounty NLHE $250K GUARANTEE (Flight F) | $300 |
| Sunday | 6/18/23 | 11am | 41G | Mystery Bounty NLHE $250K GUARANTEE (Flight G) | $300 |
| | | 3pm | 41H | Mystery Bounty NLHE $250K GUARANTEE (Flight H) | $300 |
| | | 7pm | 41I | Mystery Bounty NLHE $250K GUARANTEE (Flight I) | $300 |
| Monday | 6/19/23 | 11am | 44 | H.O.R.S.E. $10K Guarantee | $300 |
| | | 12pm | 41Day2 | Mystery Bounty NLHE $250K GUARANTEE - DAY 2 | $0 |
| | | 1pm | 45 | Daily Deep Stack No Limit Hold'em $10K Guarantee | $150 |
| | | 7pm | 46 | Nightly No Limit Hold'em $3K Guarantee | $130 |
| Tuesday | 6/20/23 | 11am | 47 | BIG-O $20K Guarantee | $300 |
| | | 1pm | 48 | Daily Deep Stack No Limit Hold'em $25K Guarantee | $200 |
| | | 6pm | 49 | Mixed PLO/8; Omaha 8/B; Big-O $5K Guarantee | $200 |
| | | 7pm | 50 | Nightly No Limit Hold'em $5K Guarantee | $130 |
| Wednesday | 6/21/23 | 11am | 51 | 8 Game Mix (NLH, LH, R, ST, ST8, PLO, O/8, 2-7TD) $10K Guarantee | $300 |
| | | 1pm | 52 | Daily Deep Stack No Limit Hold'em $25K Guarantee | $200 |
| | | 6pm | 53 | Omaha Hi/Low 8 or Better $5K Guarantee | $200 |
| | | 7pm | 54 | Nightly No Limit Hold'em $5K Guarantee | $130 |
| Thursday | 6/22/23 | 11am | 55 | Mixed NL Hold'em / Pot Limit Omaha 8-Handed $10K Guarantee | $300 |
| | | 1pm | 56 | Daily Deep Stack No Limit Hold'em $25K Guarantee | $200 |
| | | 7pm | 57 | Nightly No Limit Hold'em $5K Guarantee | $130 |
| Friday | 6/23/23 | 10am | 58 | Seniors No Limit Hold'em (50+) $100K GUARANTEE | $400 |
| | | 11am | 59A | Championship No Limit Hold'em $500K Guarantee Day 1A | $600 |
| | | 3pm | 60 | Daily Deep Stack No Limit Hold'em $25K Guarantee | $200 |
| | | 7pm | 61 | Nightly No Limit Hold'em $5K Guarantee | $130 |
| Saturday | 6/24/23 | 11am | 59B | Championship No Limit Hold'em $500K Guarantee Day 1B | $600 |
| | | 1pm | 62 | Daily Deep Stack No Limit Hold'em $25K Guarantee | $200 |
| | | 7pm | 63 | Nightly No Limit Hold'em $5K Guarantee | $130 |
| Sunday | 6/25/23 | 11am | 55C | Championship No Limit Hold'em $500K Guarantee Day 1C | $600 |
| | | 7pm | 64 | Nightly No Limit Hold'em $5K Guarantee | $130 |
| Monday | 6/26/23 | 11am | 65 | Seven Card Stud Hi/Low 8 or Better $10K Guarantee | $300 |
| | | 12pm | 59Day2 | Championship No Limit Hold'em $500K Guarantee Day 2 | $0 |
| | | 1pm | 66 | Daily Deep Stack No Limit Hold'em $25K Guarantee | $200 |
| | | 7pm | 67 | Nightly No Limit Hold'em $5K Guarantee | $130 |
| Tuesday | 6/27/23 | 11am | 68 | Omaha Hi/Low 8 or Better $10K Guarantee | $300 |
| | | 1pm | 69 | Daily Deep Stack No Limit Hold'em $25K Guarantee | $200 |
| | | 6pm | 70 | Omaha Hi/Low 8 or Better $5K Guarantee | $200 |
| | | 7pm | 71 | Nightly No Limit Hold'em $5K Guarantee | $130 |
| Wednesday | 6/28/23 | 10am | 72 | Super Seniors (60+ or played Seniors) $50K Guarantee | $400 |
| | | 11am | 73 | PokerNews Cup NLHE Mega Satellite - 10 Seat Guarantee | $200 |
| | | 1pm | 74 | Daily Deep Stack No Limit Hold'em $25K Guarantee | $200 |
| | | 6pm | 75 | Triple Stud $5K Guarantee | $200 |
| | | 7pm | 76 | Nightly No Limit Hold'em $5K Guarantee | $130 |
| Thursday | 6/29/23 | 10am | 77 | Seniors Championship NLHE (50+) $50K Guarantee | $600 |
| | | 11am | 78A | PokerNews Cup NLHE $1,000,000 Guarantee Mystery Bounty Day 1A | $1,100 |
| | | 1pm | 79 | Daily Deep Stack No Limit Hold'em $25K Guarantee | $200 |
| | | 7pm | 80 | Nightly No Limit Hold'em $5K Guarantee | $130 |
| Friday | 6/30/23 | 11am | 78B | PokerNews Cup NLHE $1,000,000 Guarantee Mystery Bounty Day 1B | $1,100 |
| | | 1pm | 81 | Ladies No Limit Hold'em $10K Guarantee | $200 |
| | | 7pm | 82 | Nightly No Limit Hold'em $5K Guarantee | $130 |
| Saturday | 7/1/23 | 11am | 78C | PokerNews Cup NLHE $1,000,000 Guarantee Mystery Bounty Day 1C | $1,100 |
| | | 7pm | 83 | Nightly No Limit Hold'em $5K Guarantee | $130 |
| Sunday | 7/2/23 | 11am | 84 | Black Chip Bounty No Limit Hold'em $10K Guarantee | $300 |
| | | 12pm | 78Day2 | PokerNews Cup NLHE $1,000,000 Guarantee Mystery Bounty Day 2 | $0 |
| | | 1pm | 85 | Daily Deep Stack No Limit Hold'em $25K Guarantee | $200 |
| | | 7pm | 86 | Nightly No Limit Hold'em $5K Guarantee | $130 |
| Monday | 7/3/23 | 11am | 87 | Super Deep Stack Turbo No Limit Hold'em $5K Guarantee | $200 |
| | | 1pm | 88 | Daily Deep Stack No Limit Hold'em $10K Guarantee | $200 |
| | | 2pm | 78FT | PokerNews Cup NLHE $1,000,000 Guarantee Mystery Bounty FT | $0 |
| | | 7pm | 89 | Nightly No Limit Hold'em $5K Guarantee | $130 |