EPT Barcelona Hands of the Week: Dan Heimiller Swept Away, Big Swings for Kassouf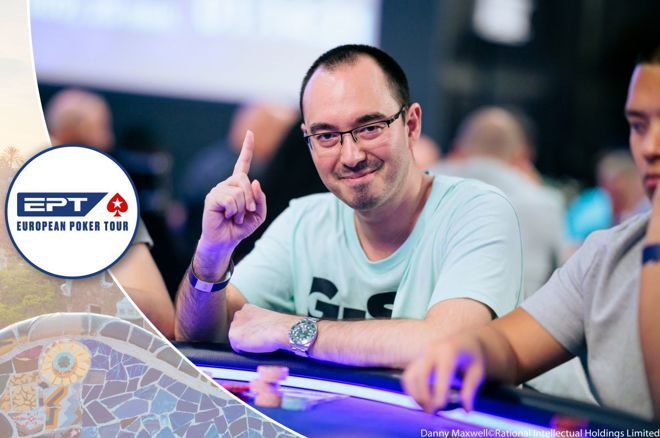 The 2023 European Poker Tour (EPT) Barcelona €5,300 EPT Main Event is nearing its end, but leading up to it there was a week's worth of side events including the €100,000 EPT Super High Roller, a pair of €25,000 NLH events, and the record-breaking €1,100 Estreallas Poker Tour Main Event.
The PokerNews Live Reporting Team has been on hand at all of them to capture all the action, and during that time they documented some big hands, be they bad beats, sick coolers, or just game-changing in nature.
Here's a look at some of the biggest hands from the EPT Barcelona festival.
Follow live updates from the 2023 EPT Barcelona here!
High Tide Sweeps Away Heimiller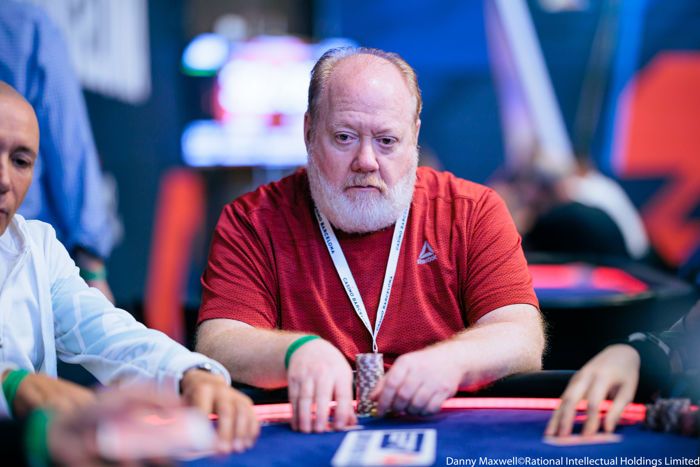 On Day 1a of the €1,100 Estrellas Poker Tour Main Event, reporter Connor Richards caught a big hand in Level 9 (600/1,200/1,200). It happened when Dan Heimiller opened to 3,000 in early position and Rodrigo Noceda called on the button before Ryan Dansie three-bet jammed a stack of around 22,000 from the small blind. Heimiller called and Noceda re-shoved for around 75,000.
Heimiller went deep in the tank and counted his remaining stack of around 50,000 and ultimately found a call. "I apologize in advance," Heimiller said as he put himself at risk.
Ryan Dansie: A♠5♠
Dan Heimiller: K♠7♠
Rodrigo Noceda: 10♥10♦
"I have a king," Heimiller said as he evaluated his live outs. The board then ran out 9♣Q♥6♦J♥7♦ to keep Noceda's tens ahead for a double elimination.
Dias Scores Double Elimination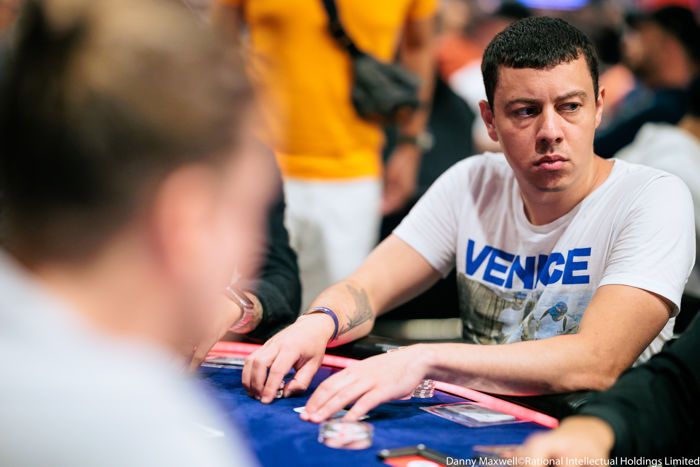 In Level 3 (100/300/300) of the same tournament, Ben Weiss reported Yucheng Liu opened to 900 from middle position, before Saymon Dias in the cutoff made it 3,200. Marius Lussi called from the small blind, and so too did Liu as it went three ways to the flop.
It came 2♥3♣3♥. Both Lussi and Liu checked, prompting Dias to make it 3,500. Lussi called, but Liu chose to raise to 10,000. Dias, the original raiser, then shoved all in. It didn't take long for Lussi and Liu to make the call for all of their remaining chips, with Dias having them both covered, and it was a three-way showdown with the turn and river to come.
Marius Lussi: A♠3♠
Yucheng Liu: A♥K♥
Saymon Dias: 10♦10♣
A stunned gasp was heard from the table, as the 10♥ turn completed Liu's flush draw, but in the process gave Dias a full house. Lussi was then drawing completely dead and Liu had to hit the last remaining three in the deck to survive.
It didn't come, as the 8♣ landed on the river, sending both Lussi and Liu to the rail in dramatic fashion and seeing Dias emerge as one of the chip leaders.
PN Pod: $20K Mistake, Negreanu Beats Polk, NAPT Returns, & Guest Tom Orpaz EPT Barcelona Heater
Big Swings for Kassouf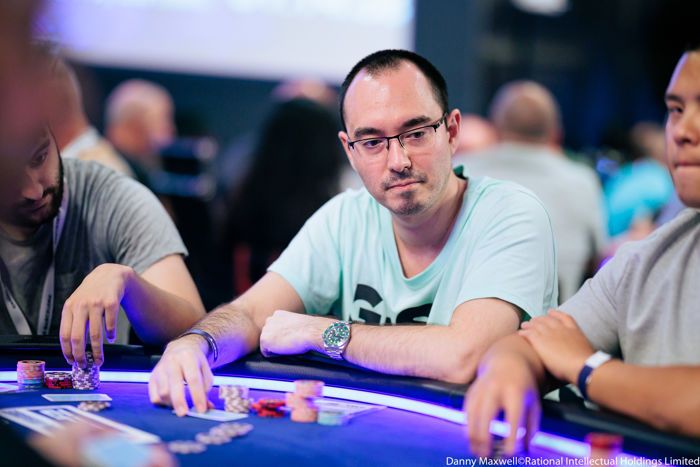 In the same flight in Level 7 (400/800/800), Ollie Garland saw a player in middle position open to 1,800,Cillian O'Donnell on the button moved all in for 3,500, Maxim Weingardt shoved all in for his remaining 8,000 from the small blind and Will Kassouf moved all in from the big blind for his last 30,000. The original raiser folded.
Cillian O'Donnell: A♦J♥
Maxim Weingardt: A♣J♠
Will Kassouf: 9♣9♦
Kassouf was in good shape until the flop landed Q♥A♠5♦. The turn and river came the 4♥ and 7♦ respectively and Kassouf had to pay off both his opponents.
The very next hand O'Donnell moved all in from the cutoff for his last 6,100. Kassouf called the bet in the small blind and the hand went to a showdown.
Cillian O'Donnell: 7♠7♥
Will Kassouf: A♥A♦
Kassouf preemptively called that a seven was coming on the flop, and he wasn't wrong; the dealer spread 7♣6♥10♦.
The 10♥ turned and Kassouf sarcastically announced "Go on! 7♦ on the river!". However, the dealer placed the A♠, and Kassouf sent O'Donnell to the rail.
Theodoridis Eliminates Alnuaimi in Brutal Cooler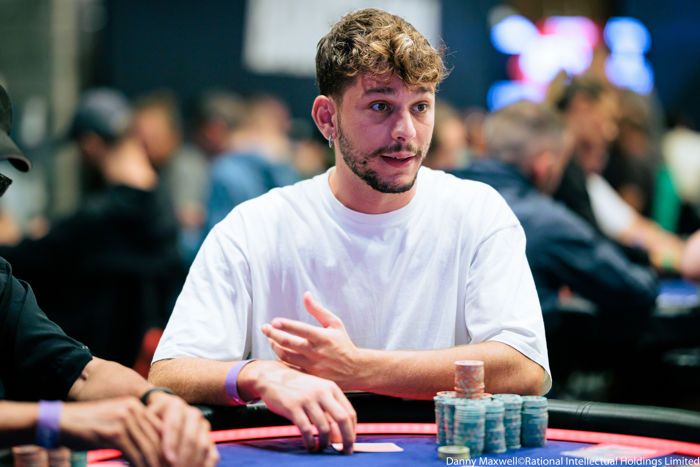 On Day 2 of the tournament, it was Level 20 (6,000/12,000/12,000) players at a table recounted a hand to reporter Ryan Lashmar. At they explained, Aristidis Theodoridis opened to 22,000 and Ali Alnuaimi three-bet to 65,000. Theodoridis made the call.
The flop came A♠Q♦9♥. Alnuaimi checked, Theodoridis bet 36,000 and Alnuaimi called.
Alnuaimi check-called another bet on the 2♣ turn, this time for 75,000.
The river came the Q♠. Alnuaimi checked and Theodoridis moved all in with a covering stack. Alnuaimi snap-called.
Alnuaimi tabled AxAx for top full house while Theodoridis showed down QxQx for quad queens to take down a colossal pot and send Alnuaimi to the rail in horrific fashion.
Set Over Set, Flush Draw Hits, Millions of Chips Change Hands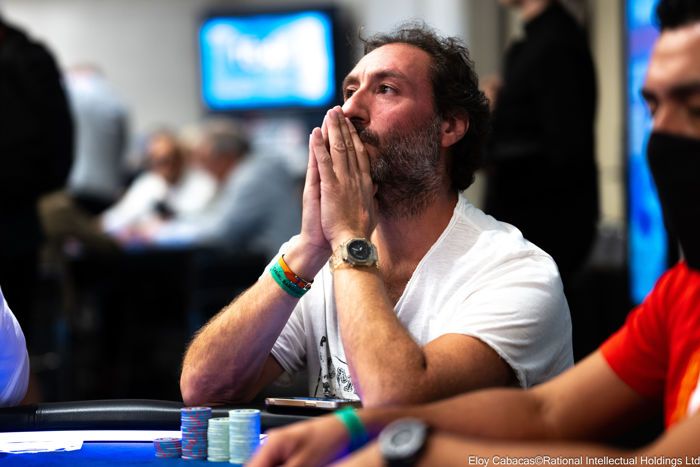 On Day 2 of the €2,200 Estrellas Poker Tour High Roller, it was Level 29 (50,000/100,000/100,000) when Matt Warburton captured a big hand. It started when Thomas Saminadin raised to 160,000 from the hijack and was called by the button, Sal Al Fakih in the small blind and Frederic Breton called in the big blind.
The flop came 8♦3♦6♠. Action checked to Saminadin, who bet 250,000. Al Fakih called and Breton reraised to 700,000. Saminadin then moved all in for 2,790,000. Al Fakih called with a shorter stack and Breton called to make it a three-way all-in worth millions of chips. Players flipped their cards.
Sal Al Fakih: 6♥6♣
Thomas Saminadin: K♦J♦
Frederic Breton: 3♠3♣
Breton had a set of threes and Al Fakih had a set of sixes. He screamed out in joy. Saminadin had a flush draw. The turn came the 7♦ and the river the 4♣.
Saminadin hit his flush on the turn to win the pot and chip up to 5,700,000. Al Fakih was eliminated from the tournament and Breton was left with around 2,500,000. It was a game-changing pot, one that left Al Fakih unhappy and Saminadin counting what was now one of the biggest stacks.
Click here to see who won the €2,200 Estrellas Poker Tour High Roller!
Executive Editor US, PokerNews Podcast co-host & 2013 WSOP Bracelet Winner.