"solernero94" Dominates the Unibet PokerNews Cup RakeRace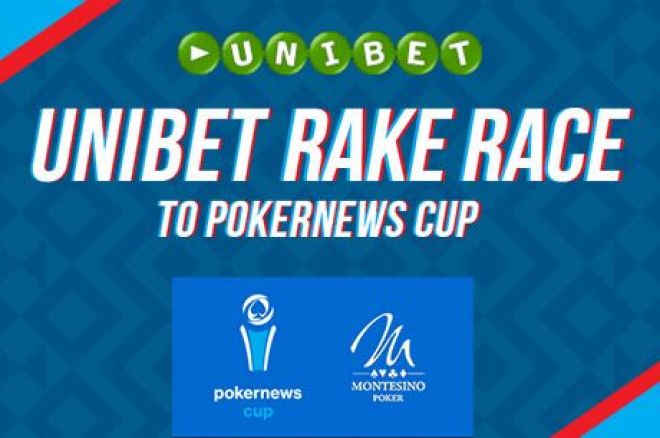 The sixth edition of the PokerNews Cup is back, this time around in Vienna, Austria from Oct. 9 to Oct. 12.
Players around the world are buzzing with excitement for a chance to play against fellow PokerNews aficionados in a Main Event that features a reasonable €250 buy-in and a huge €75,000 guaranteed prize pool.
Our friends at Unibet want to help you get into the action, and are awarding not one, but two €850 PokerNews Cup packages to the top two winners of an amazing PokerNews-exclusive rake race taking placing from July 15 to Aug. 14.
The €850 PokerNews Cup package is sure to get you to the Main Event in style and includes the following:
A seat to the €75,000 guaranteed PokerNews Cup Main Event
Three nights at the 4-star Hotel Roomz in Vienna
€250 cash for travel and spending money
Unibet Rake Race to the PokerNews Cup Results as of Aug. 4
With two packages on the line, the action has already become hot and heavy at Unibet during the first few days in August.
Unibet player "solenero94" already has a decent lead a little more than halfway into the race, with 6,663.21 points already raked. Right after him, on the second place, sits sits "rainu000" with 1,126.92 points raked.
While "rainu000" is far behind the first place leaderboard, he is still the man with the target on his back with two spots being awarded and "solernero94" almost guaranteed to be one of them.
Here is a complete look at the top ten as of Aug. 4.
| Place | Player | Rake |
| --- | --- | --- |
| 1st | solenero94 | 6,663.21 |
| 2nd | rainu00 | 1,126.92 |
| 3rd | hristoang | 357.74 |
| 4th | KD.Tran91 | 328.89 |
| 5th | Weatherman99 | 184.18 |
| 6th | Ristikuningas | 177.39 |
| 7th | milslan | 161.84 |
| 8th | DOCFLY999 | 151.53 |
| 9th | yumade | 150.89 |
| 10th | redflushh | 148.11 |
Can I still get involved?
The Unibet Rake Race to the PokerNews Cup doesn't end until Aug. 14. This means that you still have some time to get involved and work your way to one of the top two spots on the leaderboard.
To get involved in this rake race, you must already have a Unibet account through PokerNews.
If you need an account, just download Unibet Poker through our links and make a deposit and you can join the handful of others trying to play as much as they can to win one of the two coveted PokerNews Cup packages.
Read more about the Unibet PokerNews Cup - RakeRace here.
Get all the latest PokerNews updates on your social media outlets. Follow us on Twitter and find us on both Facebook and Google+!