Race Your Way to a PokerNews Cup Package at Unibet Poker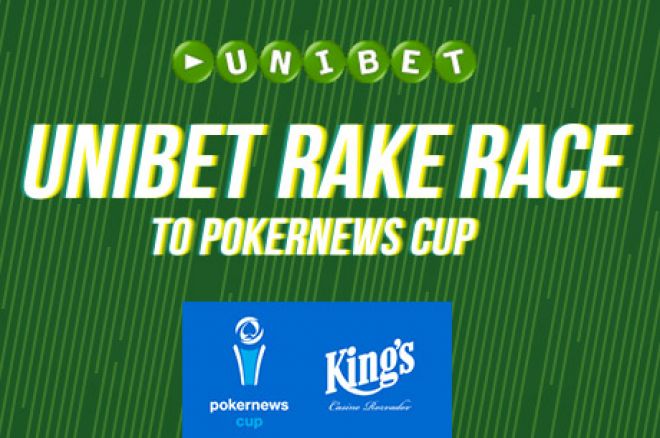 The Czech Republic is shaping into a hotbed of poker activity. The European Poker Tour (EPT) Prague is taking place from Dec. 7 to Dec. 17, and right next door, the first-ever Open Face Chinese (OFC) World Championship is open for action from Dec. 8 to Dec. 10.
The best may be yet to come, as the PokerNews Cup is celebrating its eighth anniversary from Feb. 4 to Feb. 9 at the King's Casino in Rozvadov, Czech Republic.
The PokerNews Cup is highlighted with a spectacular €250 buy-in Main Event with a humongous €200,000 guaranteed prize pool! How would you like a chance to get to the Czech Republic in style with a free PokerNews Cup package valued at €1,200?
Here's what the package includes:
€250 Main Event seat to the PokerNews Cup Main Event
€250 paid into your Unibet account for flight and spending money.
Three-nights accommodation at the King's Hotel
How You Could Win a PokerNews Cup Package at Unibet Poker
Our friends at Unibet Poker want to help two of our readers win this fantastic PokerNews Cup package, and here's how.
From Dec. 1 to Jan. 15, Unibet Poker is hosting a superb rake race generously rewarding the top two PokerNews players a PokerNews Cup package. All that is needed to participate is that you have a Unibet Poker account and enough funds to play as many of the great games on Unibet Poker as possible before Jan. 15, 2015.
Don't have an account yet at Unibet Poker? Don't worry, you can still get involved! Just download Unibet Poker through PokerNews and you can join the others competing in the 2015 PokerNews Cup Unibet Rake Race for one of the two available PokerNews Cup packages.
Early Results
The Unibet Poker rake race just began a few days ago. Since it takes place for an entire month and a half, it is anyone's guess as to which two players might join us in the Czech Republic in February. It could even be a player yet to have played this month at Unibet Poker!
"ViaFerrata" has an early lead in the rake race, already accumulating an impressive 438.59 points. "Awakened888" has a small lead on the rest of the field currently in second place with 183.99 points.
Here is a look at the top ten on the leaderboard as of Dec. 3.
| Place | Player | Points |
| --- | --- | --- |
| 1 | ViaFerrata | 438.59 |
| 2 | Awakened888 | 183.99 |
| 3 | Krayzie_ | 74.16 |
| 4 | maestrov88 | 58.87 |
| 5 | Satyrrr | 57.14 |
| 6 | umanczyk | 34.36 |
| 7 | Ishowumynuts | 28.47 |
| 8 | Kammu90 | 26.77 |
| 9 | AMIPOLSKA | 22.22 |
| 10 | Chipstacker | 19.53 |
Don't be scared off by the early lead "ViaFerrata" and "Awakened888" have on the rest of the field. There are still over 40 days left in this rake race, meaning there is still plenty of time for you to get your hands on one of the two PokerNews Cup packages available in this rake race.
Download Unibet Poker through our links today to get started on your path to the PokerNews Cup in style for free!
Click here for more info about Unibet's rake race and to read the full terms and conditions of the promotion.
For news, updates, and more follow PokerNews on Twitter and Facebook.