How to Improve Your Poker Skills: 5 Secrets From a Poker Pro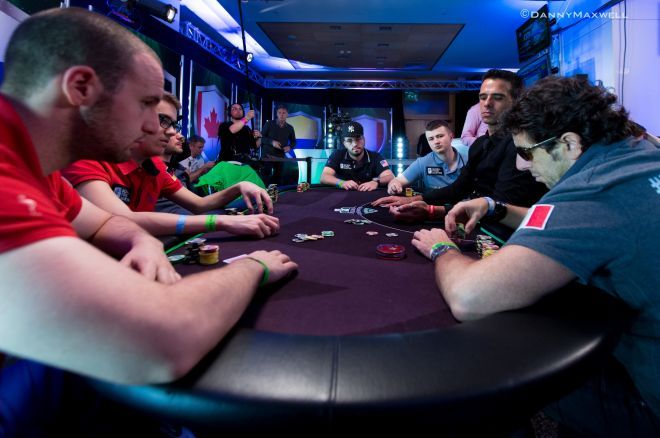 I like to believe that a solid 70-80% of us would like to be better at poker. Of course, it would be much better to think that we are all pros and millionaires but…well, chances are that we are not.
This is not too bad, though. A lot of poker room are full of terrible players, and all we need to do to bring home some real cash is to be better than them.
While here at PokerNews we have hundreds of free poker strategy articles that will tell you everything about the game, today I want to give you some tips on how to get the money you need to try, fail, try again, win…at zero cost.
Want to know how to boost your bankroll with free money? Or have you ever thought about playing for big prizes without killing your bank account? Want to know how to use bonuses as a pro?
Me too. So I asked my friend Nikolai.
A lot of poker room are full of terrible players. All we need to do to bring home some real cash is to be better than them.
Nikolai works as a poker coach and has been telling people what to do at the green table for years. He is one of those guys who always seem to know the right thing to do - especially when it's about getting some money to play poker.
Nikolai also likes to tell stories about the way he started his poker career with nothing and how he managed to build his bankroll one-freeroll-after-the-other. But I think he lies. I am sure he once red Annette Obrestad's story and decided he would make it his.
In this article you will learn:
How a new poker room can make you a better player.
The mindset you need to think like a pro.
That getting free money to play is easier than you think.
That your next summer vacation could be better than you expect.
Ray-ban sunglasses look a lot cooler when they are free.
1. Change Poker Room right now!
Nikolai always insists that every player should have at least three poker accounts. One at PokerStars (come on, we all know that), one at another top poker room, and one at the smallest legit room available at any given time.
PokerStars is a no-brainer. It's the world's biggest room; it offers tournaments with guarantees that no other operator can match, and let's admit it: the PokerStars 7 platform is spot-on.
The account at a second top room is to bonus-hunt. Some online poker sites try very hard to steal players from PokerStars, and you would be crazy to pass on the free money they offer. Lately, the best room for that became 888poker, which also happens to be the world's second biggest one. But I'll get back to it later.
Nikolai insists that an account at a small room is vital and, looking at the stats published on PokerScout, he suggests to open it either at Redbet.com or PokerHeaven.
2. Why to Play at Redbet (or PokerHeaven)
Nikolai says that the only way for you to start thinking like a pro is to feel like a complete beginner.
Find a poker room you know nothing about, open an account there, and become a regular. It will push you out of your comfort zone and open your eyes.
By joining a new room, you will get out of your comfort zone, and you will find yourself facing decisions you forgot about.
Here's how to start:
Make only the minimum deposit allowed
Cash your bonus
If you make just the minimum deposit allowed on the platform, you will have to choose carefully the best tournaments that fit your bankroll or the cash games that offer you the best value. This will push you to think and to pay attention at every single hand you play.
You want your money to last, and you want your bankroll to grow. The more you play, the better you will get to know the ecosystem of the room - and the smaller the room is, the faster this will happen.
Start small, play at small stakes, write some notes about the players you find more often. In the long run, this will become a great advantage.
3. Don't Use Your Money For The Second Account
You have deposited money at PokerStars before, and you have just thrown some bucks into an account you never thought you would have. So - ask yourself: do you need to spend money to play at 888poker?
Nikolai's advice is to open an account at a big room that offers excellent bonuses and, as a matter of fact, 888poker is running a pretty crazy promotion that includes a fat no deposit bonus.
Don't be ashamed to hunt for bonuses. Don't be ashamed to cash this free $88 no deposit bonus.
The field at 888poker is not soft, and if you think that you'll just have to log in to win big - you are clearly wrong. This site offers events with very good guarantees, juicy cash games, and a lot of chances to qualify for live events like the World Series of Poker Europe and the 888Live tournaments.
What's the point to play at 888poker then? As I said, we are bonus hunting - and 888 offers you the best (and biggest) no deposit bonus available in the industry.
How to unlock the no deposit bonus:
Confirm your email
Download 888poker
Install the poker client and enjoy your free $88
What's exceptionally good, is that you don't only have a lot of free money to play with, but that you also know how to use it. Nikolai says that if you did your homework and you have played a good number of games at the small poker room above - by now you know which are the best levels and the best games for you.
Play only the games you are comfortable with and see your bankroll soar to new heights. But, don't forget: you need to spend some time playing at a smaller room before you can put the free $88 no deposit bonus offered by 888poker to a good use.
4. Play For a Summer Vacation
If you follow Nikolai's advices right now, you can bring home a lot more than the free $88 bonus on tap at 888poker. The poker room is running a promotion named Summer SplashOut that features special daily events for $12,000 and gives you also the opportunity to win a summer vacation for two.
Until September 2, 888poker is hosting four daily SplashOut tournaments that have prize pools of $1,000 , $2,000 (two of these run per day) and $3,000. To participate to these events, you need some special tickets: open an account through PokerNews to your earn first four tickets / or click here to know how to get some additional ones every day.
Now that you feel more confident about your game, complete the weekly challenge to play for a $2,900 vacation
About the summer vacation. As a new player at 888poker, you are going to receive an email every week (until Sept. 2) with a Poker Holiday Challenge in it.
Complete the weekly challenge, and you will get a ticket to play in a special $6,800 Summer Holiday Tournament where the top two finishers win a summer holiday worth $2,900.
5. Be Cool. Wear Some.
It all comes down to one thing. Ray-Ban.
This is not something that Nikolai is ever going to tell you, but a new pair of sunglasses have never killed anyone. Especially not someone who is playing to win a free summer vacation.
Your bonus-hunting account is going to help you get some new Ray-Ban sunglasses, as 888poker runs eight daily events named All-in SplashOut Goodies Tournaments where a total of $4,000-worth of goodies is given away.
Join these games, and you'll be able to bring home Ray-Ban sunglasses, cooler bags, t-shirts, free money to play casino games, and a lot more. Just head to 888poker for more info about this.
Want to stay atop all the latest from the poker world? If so, make sure to get PokerNews updates on your social media outlets. Follow us on Twitter and find us on both Facebook and Google+!