Win Free Prizes Twice Per Day in 888poker's Winner Spinner (Spoiler, No Losing Spins!)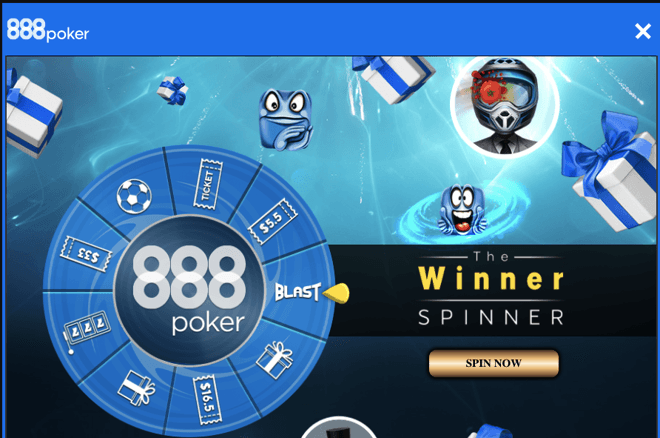 Table Of Contents
It's time to win something free every day at 888poker in the free-to-play Winner Spinner.
Scratch that, you can win something for free twice per day! Every spin is a winner and you have absolutely nothing to lose!
Every player at 888poker has a chance to spin a wheel where it is guaranteed they will win freeroll tickets, tournament tickets, casino free play, or free sports bets.
Those that have made a deposit (and don't live in Russia, Ukraine, or Belarus who are all limited to one spin per day) will have a chance at a second spin every day to win even more.
This is all a part of the big celebration 888poker is hosting for the launch of its new and impressive mobile app where they are giving away a whopping $1 million in promotions to their players.
Read on to learn how easy it is to win free prizes twice per day at 888poker in the Winner Spinner.
Read More: 888poker Celebrates its New Mobile App with $1M in Giveaways!
Step 1: Create Your 888poker Account
Obviously, the first step is that you need to have an account at 888poker. If you already have one, you can skip this step and move to Step 2.
If you don't already have an account, we have great news for you.
Simply download 888poker through PokerNews and you will instantly get a $88 bonus (£20 in the United Kingdom) and also be eligible for one free spin per day either via a computer or a mobile device.
This is where the good news just starts. Thanks to the special relationship we enjoy with 888poker, your first deposit will be matched in the form of a bonus of up to $888. This is more than double the $400 you can find by downloading directly via 888poker.
Your first deposit will also allow you to spin a second time per day provided one time is through a computer and another time is via the mobile app.
Create your free account to grab your no deposit bonus and be eligible for one daily spin.
Make your first deposit. It will be matched up to $888 and allow you to spin a second time per day.
Step 2: Spin the Winner Spinner
Once you have your account out of the way, it's time to collect your daily goodies.
Simply log-in to 888poker and you will likely be prompted to spin the Daily Spinner for free. If not, it is easy to manually have the wheel appear and spin away to collect your free prize.
Most players that have made a deposit, will be allowed to spin a second time provided it is one spin each via a computer and a mobile device.
As we already mentioned, there are no losing spins. In other words, you will be a winner every time you will spin the Daily Spinner, so be sure to log-in to 888poker daily to collect your free prizes.