Earn an Extra Cash Bonus with Run It Once Poker's Cash Booster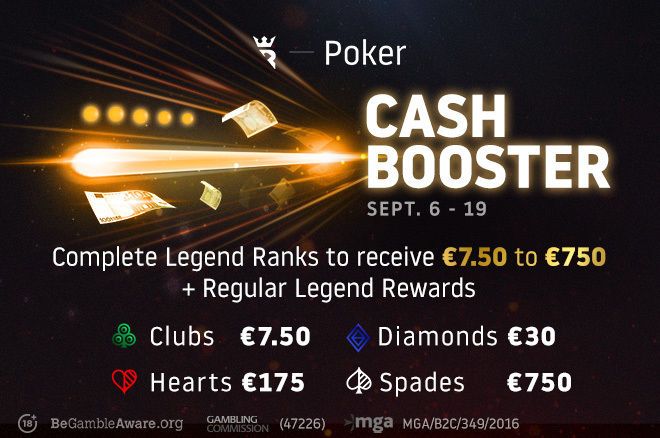 Run It Once Poker has been rewarding players with great promos since its inception. The amount of money and value the site gives back to its players is unparalleled when it comes to playing on the virtual felt. This giving back culture to players continues this week and next with the new Cash Booster promotion.
Cash Booster Promo Can Earn You Up to €750
The poker platform, which is still in its infancy, is adding even more value to their Legends rewards during the weeks of September 6 – 12 and September 13 – 19by offering an extra cash booster on 6-max cash tables only for any player that completes all five levels for a given Legends Rank!
Depending on which Rank a player completes each week, they can earn an extra cash reward ranging from €7.50 to €750. Players will receive the cash booster by finishing the fifth level of a given Legends Rank. Players can follow their progress by referencing their Legends banner in Run It Once's lobby. The cash bonuses for completing each Rank can be seen in the table below.
| Booster | Cash Reward |
| --- | --- |
| Clubs | € 7.50 |
| Diamonds | € 30 |
| Hearts | € 175 |
| Spades | € 750 |
Getting Rewarded
Players are only eligible to receive one cash booster reward per week. The reward will be based on the highest Rank that a player completes all five levels in that week.
For example, suppose a player completes three levels of Hearts. In that case, they will receive an additional €30 from the Diamonds Booster because Diamonds was the highest Rank where they completed all five Levels.
Players will receive their cash booster prize with their weekly Legends payout. Legends payouts are credited to players' accounts within 48 hours of the conclusion of the week.
Determining Your Progress
Players can determine their progress by referencing their Legends banner in the lobby. Once a player completes the fifth Level of a given Rank, they are eligible for the corresponding cash booster reward.
Promo Exclusions
There are no multipliers or additional boosts when determining the weekly cash booster reward for this promotion. Players will earn the corresponding cash bonus based on which Rank they completed all five Levels.
This promotion's added cash rewards do not apply when calculating Four Week Streak Rewards or any Legend Reward boosts from any other offer/promotion/offer.
How Does a €600 Bonus With No Expiry Date Sound?
All new Run It Once players who download the software via PokerNews are entitled to a 100% deposit bonus worth up to €600. What makes this welcome bonus unique is you can make as many deposits as you like for the first 30 days after your first deposit. This makes it perfect for those players who do not want to or cannot deposit €600 in one chunk.
Another great feature of the Run It Once welcome bonus is it never expires if you play at least once hand every 30-days, meaning you essentially have forever to clear your bonus! As for release rates, check the table below to see how fast the Run It Once bonus clears.
| Bonus Progression | Rake This | Get This |
| --- | --- | --- |
| €0-€100 | €25.00 | €5 |
| €100-€200 | €57.10 | €10 |
| €200-€300 | €66.50 | €10 |
| €300-€500 | €100 | €10 |
| €500-€600 | €200 | €10 |
Calum has been a part of the PokerNews team since September 2021 after working in the UK energy sector. He played his first hand of poker in 2017 and immediately fell in love with the game. Calum's proudest poker achievement is winning the only tournament he has ever played in Las Vegas, the prestigious $60 Flamingo evening event.