The Bernard Lee Poker Show 11-28: 2019 WPT LAPC Champion, David "ODB" Baker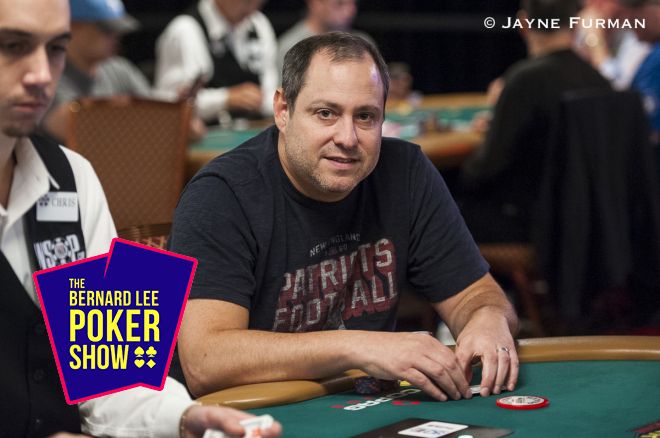 In this episode of The Bernard Lee Poker Show on the PokerNews Podcast Network, Bernard Lee interviews the recent World Poker Tour LAPC Main Event Champion, David Baker.
With this title, David achieved three goals with this win: first cash over $1 million, first major no-limit hold'em victory, and first WPT Main Event title. Additionally, David discusses his successful poker career including his 2012 WSOP bracelet win ($2,500 8-Game Mix), his early poker days, and his prowess in mixed games.
Show Time Stamps
| | |
| --- | --- |
| 0:00 | Welcome to this week's The Bernard Lee Poker Show. |
| 0:30 | Bernard announces the winners of the WPT LAPC (David Baker), Gardens (Frank Stepuchin), and Borgata Winter Open (Viny Lima). All three final tables were played at the Luxor Casino inside the HyperX Esports Arena in Las Vegas. |
| 2:15 | Bernard announces the 2019 WPT LAPC champion, David Baker will be his guest on this week's show. |
| 2:41 | Erkut Yilmaz outlasted 280 entries to capture his second WPT Main Event title this season at Thunder Valley Casino, just outside of Sacramento, California. Erkut now leads the WPT Player of the Year Standings. |
| 4:00 | Bernard announces the winners of the recent WSOP Circuit Main Events held at the Bicycle Casino (Sean Yu) and Harrah's Atlantic City (Ryan Eriquezzo). Both players had previously won bracelets in the WSOP Global Casino Championship and are now both headed back to that tournament held in August 2019. |
| 6:18 | RunGood Gear Ad |
| 7:01 | Bernard welcomes the recent 2019 WPT LAPC champion, David Baker, to the show. |
| 8:14 | David joins the show. |
| 8:43 | David discusses how satisfying it was to win this title. "It's kind of overwhelming." |
| 10:21 | David recalls making a WPT final table in October of 2006 and was fearful that he might never return. "I don't think I really understood how precious the opportunity was. I just assumed I would be back many times. And that I would have many titles when all was said and done. They just all kind of alluded me." |
| 12:33 | David explains why he considers The Commerce, possibly even his first home. "I've stayed at Commerce pretty much for the last 15 years, probably 150 to 200 nights a year. That's my home." |
| 14:28 | David discusses that he wasn't originally planning on playing in the 2019 WPT LAPC event. "I very rarely travel for tournaments these days. And I only played because I was there playing cash games." |
| 16:36 | David describes the stacked final table led by four-time WPT Main Event champions, Darren Elias. "(The final table) was all about Darren, and it allowed me to do my thing and get in my own head." |
| 23:36 | David discusses the importance of his rail which included John Racener, Cord Garcia, Ray Henson, and Josh Arieh. Entering the final table, David formulated a strategy with them and "it played on exactly like we planned." |
| 26:47 | David discusses how the 30-minute delay of the live stream, created a unique dynamic at the table. |
| 29:51 | David explains how he and others at the final table utilized the time extension during the WPT LAPC final table. |
| 35:42 | Share My Pair Ad |
| 36:13 | Bernard continues his interview with the 2019 WPT LAPC Main Event, David Baker. |
| 37:05 | David describes how RunGood Gear designed his final table t-shirts and how he prepared for the final table. |
| 42:16 | David explains how he got the nickname "ODB" which stands for "Original David Baker." "I was playing on the circuit for a while and then this guy got deep in a Bellagio event. I was getting all these texts (wishing me luck)… And then, he took over the poker world and everyone else said "ODB." It just kind of stuck… It wasn't forced or contrived and it kind of works now." |
| 44:33 | David discusses his typical games, usually mixed games, at the Commence, including betting limits. "We range anywhere from a 5-game to 20-game mix of mostly draw games and a few stud games with some big bet games mixed in… That's my bread and butter." |
| 45:55 | David reveals that badugi, limit single 2-7 draw and razz are his strongest games. "I've turned into kind of a draw specialist." |
| 51:03 | David discusses his schedule from now until the WSOP, including any additional WPT events. |
| 55:27 | David congratulates Bernard on having his show for 11 years. "Congratulations. 11 years having your show is pretty impressive." |
Let us know what you think of the show - tweet about the podcast using #BernardLeePokerShow, and be sure to follow @BernardLeePoker on Twitter or Instagram.
You can follow David Baker on Twitter @audavidb.
The Bernard Lee Poker Show is now available on iTunes.