Top Pair Podcast 330: Interview with Phil Galfond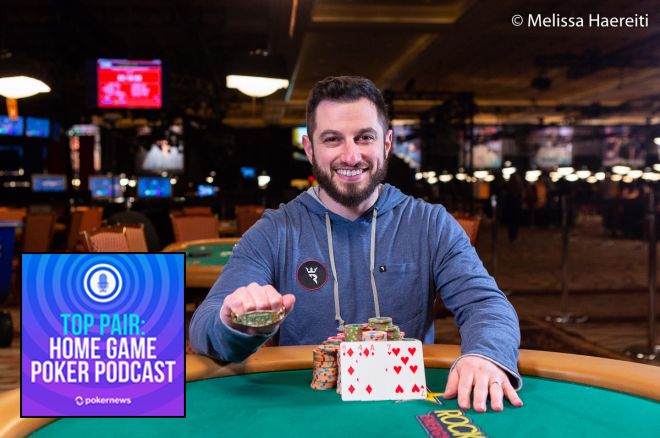 In episode 330, Bruce Briggs and Robbie Strazynski welcome Phil Galfond to the show. Constantly in the news now for having made a splash with his new online poker site Run It Once Poker, Phil speaks with our hosts about a number of other topics, including Run It Once training, his home game history, and who he'd love to invite to a home game he'd host.
Plus, Robbie, at last, got a home game going for the first time in a month and Bruce regales us with yet another tale of how great he is at breaking even no matter how many hours he spends at the home game felt. Also, our hosts take a look at an article Robbie wrote long ago examining how poker skills can be useful in real life. Finally, this week's One Outer illustrates why drawing to the nuts isn't always necessary.
Show Time Stamps
| | |
| --- | --- |
| 00:24 | Synopsis |
| 1:09–22:29 | How Ya Runnin? |
| 1:23 | Robbie: Finally got to play in a home game after close to a month in a small, five-handed game. Got buried very deep in the hole after running poorly for five hours, then emerged to end up as a winner in the game after variance sorted itself out over the final two hours of the session. |
| 7:03 | Heading to Sochi for the European Poker Tour, very much looking forward to the experience. |
| 9:25 | Bruce: Played in three games, two cash mixed game sessions and one tournament. Down $81 in the first session, managed to quintuple up in the final hand to end up $5 in the black. Bought in twice to a $60 tournament, didn't cash. Finished up about $110 in the third session… so the legend of "breakeven Bruce" lives on. |
| 16:30 | Listener Jim Donahue writes in with news that he's written a couple of books about popular home game dealer's choice games SOHE (SHOP) and Drawmaha. He'll hopefully be a guest on a future episode. |
| 23:13–32:40 | Poker Talk |
| 23:39 | Robbie gets a podcast topic suggestion from a potential new listener while sitting in the dentist's office. |
| 25:28 | Reviewing the article Robbie wrote for OnlineCasinoBluebook that illustrates how poker strategy and skills can prove useful in real-life situations away from the felt, such as applying for a job and buying a house. |
| 34:06-1:02:53 | Look Who We Found (Interview with Phil Galfond) |
| 34:14 | Introducing Phil Galfond, mentioning the buzz about his new Run It Once Poker venture. |
| 35:05 | Exploring Phil's home game experience. He started as a pre-teen, gambling $0.25-$5 spread limit games. Played a game we fondly refer to as "numbers," a high-low point game with a declare. Used to play with his friends for about 5-6 years, through middle school and high school. |
| 37:45 | Went to college during the Moneymaker boom years, not taking poker too seriously. Started thinking about poker seriously only when he started to read poker books. |
| 39:10 | Do pros have a better chance of winning bracelets in non-hold'em events? |
| 40:25 | Did Phil's early years playing in home games give him a predilection towards mixed games once he started taking the game seriously? |
| 40:58 | "OMGClayAiken" – what's the deal with the online screen name? |
| 42:50 | Phil explains what Run It Once Training is all about. |
| 45:40 | What was Phil's motive for starting Run It Once training in the first place and what are his views about players working hard to improve? |
| 47:40 | The history of how Run It Once training first started, beginning with about 20 coaches with a goal of producing a new video or two every day, something they've been doing for over six years. |
| 49:50 | How would home game poker players benefit from Run It Once training? |
| 51:45 | To what extent is Run It Once training's older material produced years ago still "good," considering how much players have improved over the years and how much the game itself has developed and progressed? |
| 55:05 | Name dropping some of the current and past Run It Once training instructors. |
| 56:13 | If Phil were to host a six-handed home game, who would he want to invite? |
| 58:20 | Does the name "Phil" give someone better odds of becoming successful at poker? |
| 59:15 | Looking back on the days when Phil had a slide installed in his two-floor New York City apartment. What happened to the slide? |
| 1:02:57 | One Outer – Apparently, not every player realizes the importance of drawing to the nuts… |
You can subscribe to PokerNews' Top Pair Home Game Poker podcast on iTunes here, or you can access the RSS feed here.
Follow the show on Facebook and be sure to join in the conversation on Twitter at #PNTopPair.
Follow hosts Bruce Briggs @toppair and Robbie Strazynski @cardplayerlife, also available via email: [email protected]