Top Pair Podcast 326: The Home Game Poker Record Book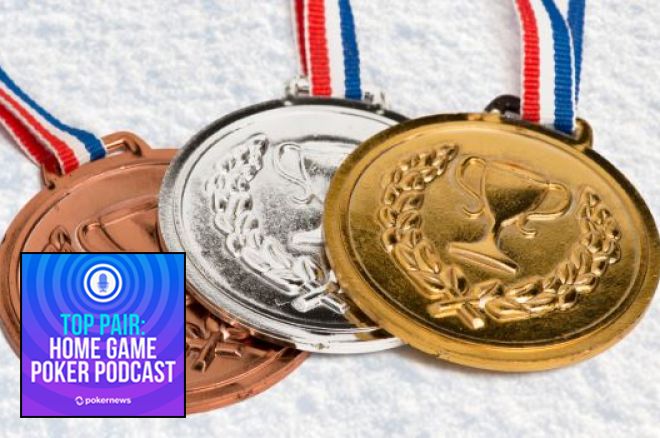 In episode 326 Bruce Briggs and Robbie Strazynski reveal a number of their home game records, including longest and shortest sessions, their biggest home game wins and losses, greatest number of consecutive daily sessions, and much more.
Our hosts also pay a short tribute to the dearly departed Gavin Smith, recap their latest home game sessions, give a memorable shout out to a 97-year-old actress, and share another chuckle with you as Good Old Gutterball takes center stage.
Top Pair thanks their sponsors, J Design Cards and the Poker Notes Live mobile app for their support. Be sure to check 'em out!
Show Time Stamps
| | |
| --- | --- |
| 01:49 | Synopsis |
| 2:37–18:52 | How Ya Runnin? |
| | Robbie: Back from the Bahamas, where media aren't allowed to play poker, had quite the itch to finally play again. Off to a great, profitable start for 2019 with details of the year's first session. |
| | Bruce: "Breakeven Bruce" details more wins and losses to stay the course. Remembering Gavin Smith, with a shout out to the tribute written by Nolan Dalla. Marking the birthday of 97-year-old Betty White, who celebrated with a home poker game of her own. |
| 20:10–47:45 | Just a Few Folks Coming Over To Play |
| | Robbie and Bruce elaborate on some memorable home game milestones, achievements, and records, including longest sessions, shortest sessions (even a one-hand session!), largest wins and losses and much more. |
| | Bruce details a day he played in four different home games and how he managed to play in a home game for 31 consecutive days. Robbie talks about the strangest place he ever took part in a home game and that he's only played twice in home games abroad. |
| 47:54 | One Outer – Gutterball gets confused about how many hole cards you need to use in a particular home game variant. |
You can subscribe to PokerNews' Top Pair Home Game Poker podcast on iTunes here, or you can access the RSS feed here.
Follow the show on Facebook and be sure to join in the conversation on Twitter at #PNTopPair.
Follow hosts Bruce Briggs @toppair and Robbie Strazynski @cardplayerlife, also available via email: [email protected].