Top Pair Podcast 324: Tips for Injecting More Fun Into Your Home Poker Games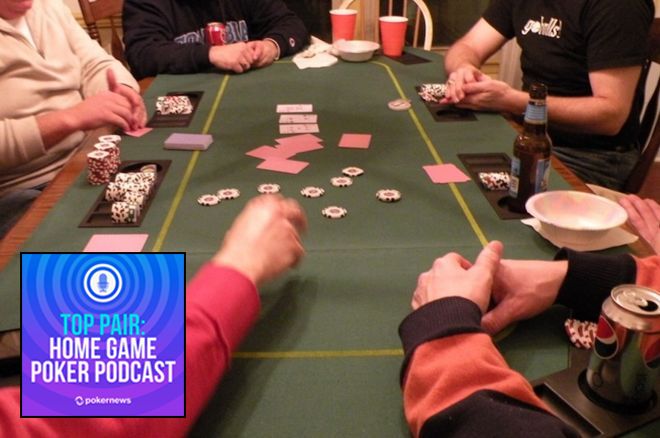 In episode 324 of the Top Pair Home Game Poker Podcast, Bruce Briggs and Robbie Strazynski review a couple recent articles with tips for how to make your home poker games more fun. They also present a few ideas of their own that might help boost the enjoyment factor around your home game felt.
Plus, a recap of our hosts' final home games of 2018 and Robbie previews the PSPC, which he'll be covering in the Bahamas at the start of January.
Finally, 'tis the season for… voting on the best hand? That'll all become clear in this episode's One Outer.
Top Pair thanks their sponsors, J Design Cards and the Poker Notes Live mobile app for their support. Be sure to check 'em out!
Show Time Stamps
| | |
| --- | --- |
| 00:24 | Synopsis |
| 1:07–19:58 | How Ya Runnin? |
| | Robbie: Back to winning in the last few home game sessions – life is great when you're winning at the felt! Also, previewing the PSPC, will be in the Bahamas for the second time doing media coverage; there's no better place for a poker player or fan to be in January, both for on-felt action as well as off-felt activities! |
| | Bruce: "Breakeven Bruce" no longer? Two unfortunate losses in recent sessions, in part due to failure to re-calibrate from a mixed-game mindset to a Hold'em only mindset. Avoids being the victim of "too many outs" syndrome in a memorable Omaha hand. |
| 22:08–48:40 | Poker Talk – Having Fun at the Poker Table |
| 23:22 | Reviewing Ashley Adams' article "A Dozen Ways to Have More Fun at Poker" |
| 29:05 | Reviewing Tadas Peckaitis' article "5 Great Ways to Enjoy Poker More in 2019" |
| 37:15 | Bruce runs through a few issues and suggestions of his own for how to ensure home games stay enjoyable, based on his experience playing in over 1,500 home game sessions. |
| 43:56 | Robbie's a big fan of the occasional "bomb pot" to help spice things up at a home game. |
| 45:20 | Big shout out to Friday Night Poker. The last episode (#9) of their first season featured an incredible line-up: Chris Moneymaker, Phil Hellmuth, Antonio Esfandiari, Maria Ho, Jeff Zucker, Daniel Negreanu, Frank Kassela and "Uncle Ron" all playing $5/10 NL Hold'em. The show featured an amazing home game-style atmosphere. THAT's precisely the type of fun, friendly environment we all ought to have in our home game sessions. |
| 48:41 | One Outer – Debate about the rules of a particular home game variant leads to the players taking a vote as to which hand gets declared the winner. |
You can subscribe to PokerNews' Top Pair Home Game Poker podcast on iTunes here, or you can access the RSS feed here.
Follow the show on Facebook and be sure to join in the conversation on Twitter at #PNTopPair.
Follow hosts Bruce Briggs @toppair and Robbie Strazynski @cardplayerlife, also available via email: [email protected]