Top Pair Podcast 323: Vegas Charity Poker Recap with Gene Hull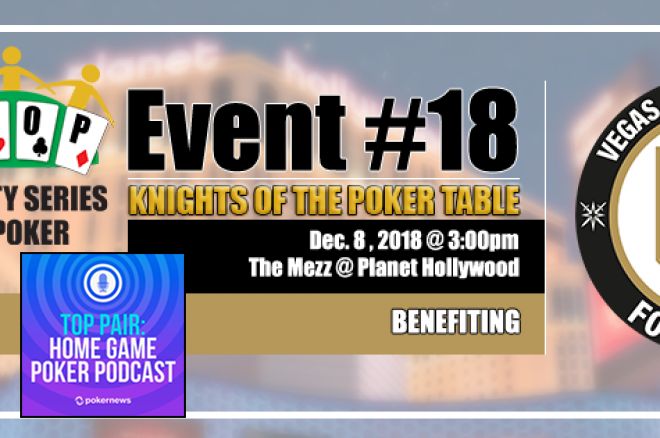 In episode 323 of the Top Pair Home Game Poker Podcast, Bruce Briggs and Robbie Strazynski welcome Gene Hull back to the show. He proudly represented the podcast at the recent CSOP "Knights of the Poker Table" charity event. While he didn't claim the top prize, he had a great time and fun experiences, which he happily shares with us.
Plus, answering a mailbag question on how to find home games, recaps of Robbie and Bruce's latest home game poker sessions, and another fun Gutterball story to end the show.
Top Pair thanks their sponsors, J Design Cards and the Poker Notes Live mobile app for their support. Be sure to check 'em out!
Show Time Stamps
| | |
| --- | --- |
| 00:26 | Synopsis |
| 1:14–19:56 | How Ya Runnin? |
| | Robbie: Finally broke a multi-session cold snap and is back to his winning ways at the home game felt. Also, close to the finish line of his Running Well 1,000km charity poker challenge for Save a Child's Heart. |
| | Bruce: "Breakeven Bruce" bubbles the annual charity home game but recoups the buy-in (and more!) in bounties. |
| 20:28 | Gene Hull joins the co-hosts for an interview to recap and share his experiences playing out in the CSOP "Knights of the Poker Table" charity poker event in Las Vegas, at the Planet Hollywood poker room. |
| 24:50 | Got to sit with the World Poker Tour's Matt Savage, to meet reigning WSOP Main Event champion John Cynn, and the night's emcee, Daniel Negreanu. |
| 26:30 | Gene's strategy for playing in a "bingo" tournament, with fast blind structures, unlimited rebuys, and add-ons. He made it about two-thirds the way through the tournament. |
| 29:40 | Top prize was a WSOP Main Event seat, plus there were other prizes like $1,000 for the chip leader after level 8 as well as $1,000 for the player who had the most rebuys. Both of those prizes went to the same player, Randall Emmett, who bought in 26 times! |
| 35:28 | Final words from Gene, "our Las Vegas ambassador," encouraging listeners to attend the Las Vegas Weekly Poker Discussion Group. |
| 37:28–56:52 | Door Card (Tips and Tricks for Getting New Players into Your Home Game) |
| 38:00 | Listener M., from New York, wants some advice on how to recruit more players for the home game. |
| 40:10 | Bruce shares the story of how he first got started playing in home games in 2006. In a nutshell "one thing led to another," and eventually that has led Bruce to play in over 1,000 home poker games in the last 12 years. Bar poker leagues and online MeetUp platforms really work well! |
| 47:03 | Robbie shares the story of how he first got started playing home games, and how he first met most of the people he still plays home games with through charity poker tournaments he used to run from 2003-2006. |
| 51:30 | Nothing better than networking and word of mouth to find home games as well as find new people to play in your existing home games. |
| 58:20 | What the @#$ Did Gutterball Say?! – Jay Leno makes a home poker game appearance… sort of… |
You can subscribe to PokerNews' Top Pair Home Game Poker podcast on iTunes here, or you can access the RSS feed here.
Follow the show on Facebook and be sure to join in the conversation on Twitter at #PNTopPair.
Follow hosts Bruce Briggs @toppair and Robbie Strazynski @cardplayerlife, also available via email: [email protected]