Top Pair Podcast 329: CSOP Charity Poker Recap with Donna Lawton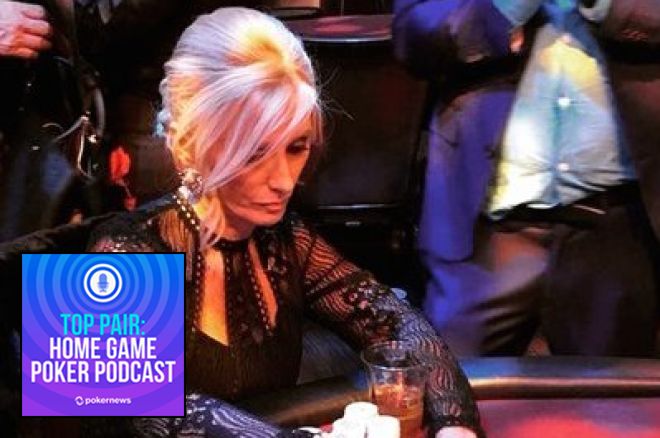 In episode 329 Bruce Briggs and Robbie Strazynski welcome Donna Lawton to the show. She proudly represented the podcast at the recent St. Jude Against All Odds CSOP charity event. While she wasn't able to repeat as the event's winner, she had a great time and fun, meaningful experiences helping to raise over $335,000 for the organization.
Plus, Bruce shares his regular home game session recap while Robbie teases an upcoming poker trip to EPT Sochi. As usual, good old Gutterball helps us end off the show with a good laugh.
Top Pair thanks their sponsors, J Design Cards and the Poker Notes Live mobile app for their support. Be sure to check 'em out!
Show Time Stamps
| | |
| --- | --- |
| 00:24 | Synopsis |
| 1:07–44:04 | How Ya Runnin? |
| 1:18 | Bruce: Just one four-hour home game session, partaking in just two pots that went to showdown. Enjoying reading Eli Elezra's book. Boasting about almost having more Top Pair episodes than Grey's Anatomy. |
| 6:53 | Robbie: No home game poker over the last couple weeks (rare!), but looking forward to another poker trip: will be doing media coverage at EPT Sochi. Discussing what it's like to be heading to Russia, breaking stereotypes, and what to expect. |
| 18:53 | Donna Lawton joins the show to report back on her time representing the Top Pair Home Game Poker Podcast at the Charity Series of Poker "Against All Odds" event to benefit St. Jude's, which took place on March 2, 2019 at the Red Rock Casino and Resort. |
| 19:58 | Donna's home game background, how she got into the game for the first time in 2008. |
| 22:50 | Donna's past experiences as the Utah state representative in the Poker Player's Alliance, becoming friendly with Linda Johnson and Jan Fisher. |
| 25:36 | Moving from Utah to Las Vegas; when and why? Getting introduced to numerous members of the poker community. |
| 28:25 | Shifting away to play in casino poker rooms instead of home games, with one notable exception. |
| 30:55 | Donna recaps what the night was like, representing the Top Pair Home Game Poker Podcast at the charity poker event. Food, drink, ambiance, celebs and poker players galore, hundreds of people coming out to support the cause and have a good time. |
| 34:00 | Speaking about St. Jude, how the organization works, and the amazing things they've done over the last 50 years for patients and their families. |
| 36:40 | Donna talks about how she fared in this year's event after having won last year's event (and a seat at the WSOP Main Event). |
| 39:15 | Details of the prizes on offer during the event, beyond a WSOP Main Event seat for the winner. |
| 45:25–56:38 | Congrats! You Made the Show (Mailbag/Listener Feedback) |
| 46:05 | An email from listener Josh, who tried to teach Omaha to a couple of his family members, explaining how he went about it. |
| 52:47 | Tweet from Michael Hunt who just discovered the podcast, had a question for Andrew Neeme re: how the world-renown vlogger takes notes on hands while at the tables. |
| 56:39 | One Outer – Good old Gutterball seems to have misplaced one of the game's regular players… |
You can subscribe to PokerNews' Top Pair Home Game Poker podcast on iTunes here, or you can access the RSS feed here.
Follow the show on Facebook and be sure to join in the conversation on Twitter at #PNTopPair.
Follow hosts Bruce Briggs @toppair and Robbie Strazynski @cardplayerlife, also available via email: [email protected]