Top Pair Podcast 327: Interview with Andrew Neeme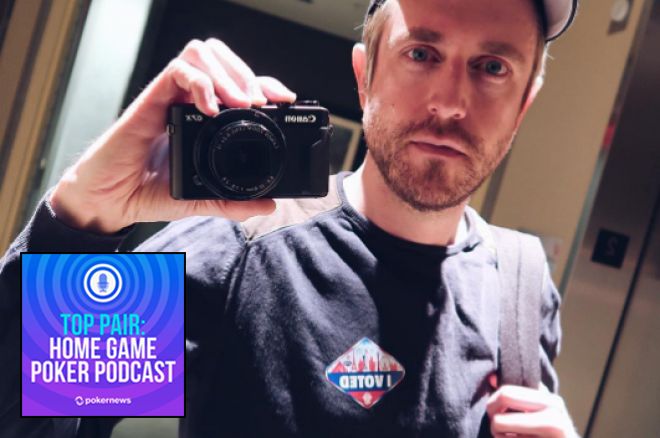 In episode 327 of the Top Pair Home Game Poker Podcast, Bruce Briggs and Robbie Strazynski welcome poker vlogger Andrew Neeme to the show. We dive deep into a discussion of Andrew's MUGs (meet up games) initiative, what it's all about, how it continues evolving, and how it encapsulates the home game vibe in a poker room setting.
Bruce and Robbie also fill you in on their latest home game exploits, as well as an upcoming charity poker event in Las Vegas where Top Pair will be proudly represented. Finally, in this week's One Outer, we'll let our listeners be the judge of whether a player made the right call or if it was instead kind of a questionable move.
Top Pair thanks their sponsors, J Design Cards and the Poker Notes Live mobile app for their support. Be sure to check 'em out!
Show Time Stamps
| | |
| --- | --- |
| 00:24 | Synopsis |
| 1:11–22:18 | How Ya Runnin? |
| | Bruce: Bruce making some money over his last three home game sessions, both in cash games as well as being one of four players to chop for top prize in a tournament. |
| 9:13 | The "elevator" cash game, a description and discussion. |
| 13:58 | Donna Lawton will be Top Pair's representative in the upcoming Charity Series of Poker "Against All Odds" event to benefit St. Jude's, taking place on March 2, 2019 at the Red Rock Casino and Resort. |
| | Robbie: Got an unlikely home game together despite a competing home game taking place across town. First time ever that participation increased throughout the session rather than decreased. Wife off for a week-long vacation, so hopefully numerous home game poker sessions are on the horizon. "While the wife is away, the husband shall play!" |
| 24:26–1:01:02 | Look Who We've Found (Interview with Andrew Neeme) |
| 25:27 | Andrew's poker background and lack of home game background. "Grandma and I played Uno and Crazy Eights." Two plus years and counting with the vlogging, 150+ videos and over 100K YouTube channel subscribers. |
| 27:20 | What are MUGs? What's the mission? How did the idea come about? In what way(s) are MUGs similar to home games? |
| 32:55 | Where have some of the MUGs taken place thus far? How do Andrew and his co-host Brad Owen decide where and when each MUG is going to be held? |
| 34:28 | Does Andrew reach out to different poker rooms or do they reach out to him now? |
| 37:56 | Are the games always NL Hold'em or do MUGs sometimes get PLO and other poker variants going? |
| 39:11 | How does Andrew rotate tables during meet up games? When do he and Brad get up from one table and move to the next one? Who has to leave from the table when they sit down? |
| 41:12 | How do MUGs bomb pots work? |
| 45:13 | Do people play against Andrew differently now vs. a year ago? How about in "regular" games vs. MUGs games? |
| 47:10 | In Andrew's latest video (ep. #151) in Austin Texas, he gave away an actual silver mug to the winner of a tournament. What gave Andrew the impetus to run a tournament; how was it different than previous MUGs and why the trophy? |
| 50:47 | What's Andrew's secret / trick to getting loyal followers to engage and produce feedback? Any marketing tips for media folks or fellow vloggers to grow their audience and increase their follower counts? |
| 54:10 | According to Andrew, "Having a losing poker session is annoying. Having a losing session and making a fun video out of it and being creative as a result of it all is a game changer." Why? |
| 58:45 | Andrew and his buddy, Benton Blakeman, offer help/feedback via the Hand History Lounge. |
| 1:01:18 | One Outer – A clever angle or a shady move? |
You can subscribe to PokerNews' Top Pair Home Game Poker podcast on iTunes here, or you can access the RSS feed here.
Follow the show on Facebook and be sure to join in the conversation on Twitter at #PNTopPair.
Follow hosts Bruce Briggs @toppair and Robbie Strazynski @cardplayerlife, also available via email: [email protected]