Daniel Negreanu Joins CSOP for Annual St. Jude Charity Event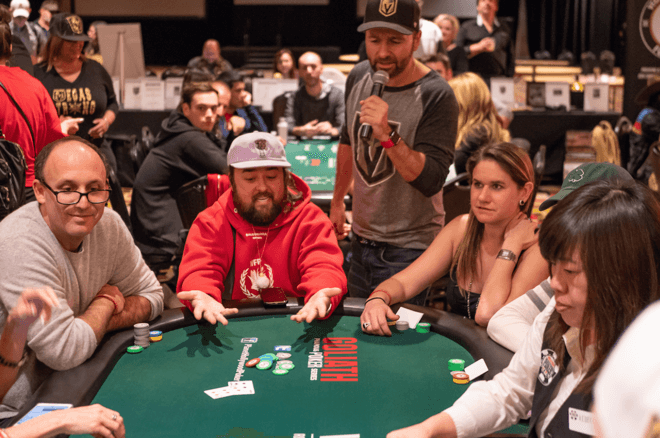 For years, Daniel Negreanu has used his poker fame to help raise funds for St. Jude Children's Research Hospital. For the first time, Negreanu has partnered with the Charity Series of Poker (CSOP) for their annual Las Vegas poker charity event.
St. Jude Against All Odds Event Details
This year's event will take place at 5 p.m. on Saturday, March 2 at Red Rock Casino Resort & Spa at the South Beach. Hosted by Luis "Weezy" Egurrola, the "St. Jude Against All Odds" will feature a competitive night of poker complete with a red carpet, open bar and delectable dining experience. Additionally, there will be both live and silent auctions and entertainment.
Stout: "I get choked up talking or even thinking about some of the St. Jude patient stories and I'm honored to play my small part."
"I'm fortunate to be able to support a lot of great organizations, but there's no other work I do that feels quite the same as supporting St. Jude," said CSOP founder Matt Stout, who recently spoke to PokerNews about becoming a father. "Families never receive a bill from St. Jude, but it's equally important to know that they freely share their medical research so that the discoveries St. Jude makes can help children worldwide.
"I get choked up talking or even thinking about some of the St. Jude patient stories and I'm honored to play my small part in assisting them with their wonderful mission and work."
Tournament and Prizes
The winner of the fifth annual charity tournament, which will begin at 9 p.m. and costs $500 to enter ($250 rebuys and add-ons), will win a seat into the 2019 World Series of Poker Main Event, while the runner-up will receive four center-ice tickets to see the Vegas Golden Knights alongside Negreanu, a die-hard hockey fan. Finally, the third-place finisher will win a Mont Blanc Leather Back Pack Urban Spirit Collection donated by MontBlanc.
Players will start with 5,000 in chips and may rebuy any time they're under that mark for $250 for an additional 5,000 in chips. There will be optional single, double, triple, and quadruple add-ons available at the first break for 10,000 chips per $250. Each player will be offered a one-time only option to purchase three rebuys/add-ons for the price of two at registration. Levels will last 15 minutes each and players must be 21 years or older to participate.
Esteemed Guests
Among those slated to attend are comedian Clayton Fletcher, National Sports Betting Champion Randy Lee, CSOP VP of Marketing Lexy Gavin, Katie Stone Cappuccio, Esther Taylor, Tommy Bates, Jen Shahade, Jessica Dawley, Loni Harwood, Jo Kim, Asher Conniff, Frank Kassela, Antonio Alberto, Trevor Savage and Craig Rubinstein.
In the past, the star-studded affair has attracted the likes of extreme sports athletes Connor Fields, Gus Kensworthy and Ricardo Laguna as well as actors Jennie Garth, Tom Everett Scott, Wille Garson, Philip Boyd, Kelly Hu and David Sutcliffe.

All funds will go to support St. Jude Children's Hospital, which helps ensure families never receive a bill from St. Jude for treatment, travel, housing or food – because all a family should worry about is helping their child live through cancer and other life-threatening diseases.
Sponsors for the "St. Jude Against All Odds" include Poker Central, Red Rock Casino Resort, Shift4Payments, Freedom Dream Team, Inc., The Revelution, and Draken International.
To register for the tournament or to purchase dinner tickets, call 702-341-2903 or visit StJude.org/LVpoker.
Finally, be sure to check out both PokerNews' social media and family of podcasts to win a free seat into the CSOP "St. Jude Against All Odds" charity event.
Executive Editor US, PokerNews Podcast co-host & 2013 WSOP Bracelet Winner.