Matt Stout Reflects on CSOP Golden Knights, Fatherhood & Future Plans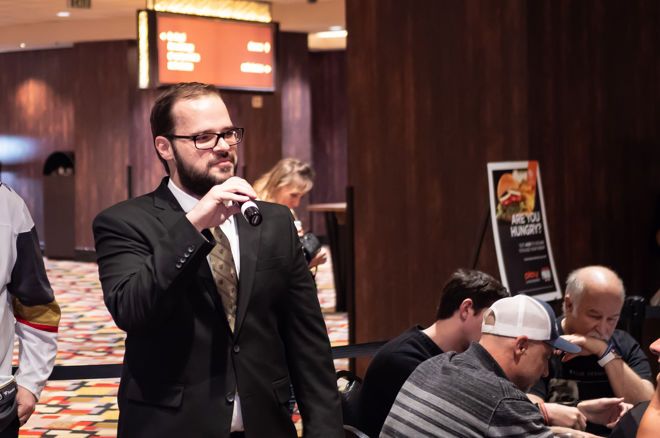 Table Of Contents
December 8, 2018, was a big day for Matt Stout. Not only was his 18th installment of the Charity Series of Poker (CSOP) – the Knights of the Poker Table – set to take place at Planet Hollywood, that morning his fiancé, Brittney Barnes, gave birth to their first child.
Obviously, it was a whirlwind of a day for Stout, who spoke to PokerNews about both becoming a father and the charity event, which raised more than $94,000 for the Golden Knights Foundation, a 501(c)(3) organization that serves as the primary charitable link between the NHL's newest team and the Las Vegas community.
A Hockey Dream Come True
The charity tournament attracted 251 entries including emcee Daniel Negreanu, Pawn Stars' Austin "Chumlee" Russell, Hollywood actor Kane Hodder, 1998 WSOP Main Event champ Scotty Nguyen, and reigning WSOP champ John Cynn. Also in attendance was Gene Hull, who won his way in via the Top Pair Podcast.
Stout: "I damn sure plan to make sure they never regret their decision to put me in charge of all of this."
Hollywood producer Randall Emmett won the $1,000 bonus for most rebuys/add-ons and also nabbed a $1,000 bonus for being the chip leader after the first break. However, it was Lisa Pickell won took down the tournament and won a seat into the 2019 World Series of Poker Main Event.
"I grew up playing hockey and my only tattoo is of the New York Rangers shield just to give you an idea of how much I love hockey," Stout said of his chance to work with the Golden Knights. "They're still my #1 team, but the second Gary Bettman said he wanted to see 10,000 deposits on season tickets to give us a team, I was all in."
He continued: "I couldn't be more honored or excited to take on the challenge of running effective events that raise money for a great cause while we bring the community closer to the team by playing my favorite game. I can't thank John Coogan, President of the VGK Foundation, or Daniel Negreanu enough for the opportunity, and I damn sure plan to make sure they never regret their decision to put me in charge of all of this."
Matt Stout's Special Day
Asher Ray Stout was born at 10:36 a.m. on December 8. He was 19 inches long and weighed 6 lbs. 15 oz. Fittingly, two weeks later, at just 15 days of age, Asher attended his first Golden Knights hockey game.
"I had two completely independent, life-changing events, each of which would be a memory I'd cherish forever, go down on the exact same day," Stout recalled. "How can I even put into words what it's like to watch your first child come into the world, to see mother and child both be healthy and happy...and then for that mother to insist that I leave the hospital for a couple hours to watch ANOTHER one of my dreams be realized?"
"When I am playing poker, it means playing a lot more PLO cash and less tournaments.
Indeed, Stout did make a brief appearance at the CSOP event but then it was straight back to the hospital.
"As I watched our mascot Chance, who played the tournament in full costume, do the 'Rock the Baby' motion at me, it sunk in that everything had gone off without any major hitches and that I'd put the check mark on two life goals in one day. It gave new meaning to the word 'surreal' for me, to say the very least."
So what effect will a having a newborn have on Stout's poker career?
"I envision myself traveling less while I focus on expanding the CSOP and spending more time with my family," he said. "When I am playing poker, it means playing a lot more PLO cash and less tournaments to make it easier for me to play poker around my family schedule rather than trying to work my family time around an unpredictable tournament schedule. Even before Brittney got pregnant, I had transitioned to playing more PLO cash because I was getting sick of being on the road for such a large percentage of the year."
The CSOP in 2019
Even with the addition to the family, Stout doesn't plan to slow down with the CSOP.
"We're hitting the road with some more stops in the works along with plans to partner with some more Vegas-based charities for local events," he revealed. "I get asked by a lot of charities to help run events, but aside from my own time constraints and the struggle to maintain the quality of our events, I hold myself to an extremely high standard in terms of vetting potential beneficiaries before giving them access to CSOP's network of sponsors and donors."
The CSOP also hopes to continue working with the Vegas Golden Knights.
"The Vegas Golden Knights Foundation is run by the same people who run Folded Flag Foundation, their sister charity which was also started by Bill Foley, the owner of the Vegas Golden Knights," said Stout. "It's a national non-profit that supplements the death benefits for the families of US soldiers who die in combat. We're working on plans for a few different national stops benefiting FFF, and may even partner VGK Foundation with other NHL teams' charities in markets that have NHL teams."
Stout also hopes to get involved with some other Las Vegas charities in the New Year such as the Shannon West Homeless Youth Shelter and The Just One Project.
Here's a look at some photos from December's event courtesy of the CSOP and Chris "Fox" Wallace:
Executive Editor US, PokerNews Podcast co-host & 2013 WSOP Bracelet Winner.