Top Pair Podcast 328: How Play Money Poker Practice Helps You in Home Games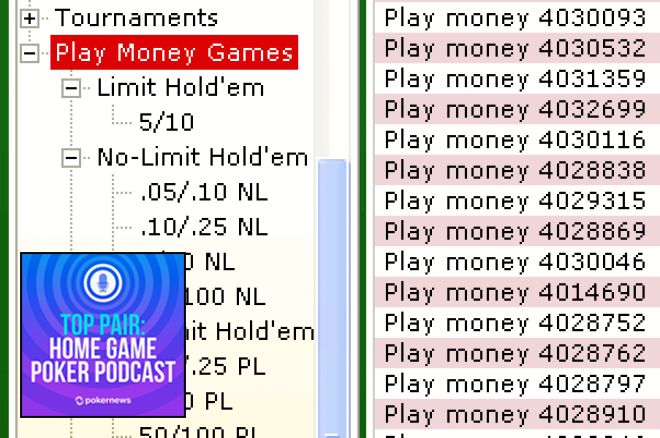 In episode 328, Bruce Briggs and Robbie Strazynski take a deep dive into play money poker to play online and discuss how it can help you improve your home game play. Robbie tallied a "massive" 23 hours of home game play while his wife was out of town during the past couple of weeks, while Bruce adds more detail to last episode's "Elevator Poker" topic and reminds listeners of an upcoming Vegas charity poker night where Top Pair will again be represented by a longtime listener.
Finally, the episode ends off with a chuckle, with an ode to marriage featuring a particularly poker-related theme.
Top Pair thanks their sponsors, J Design Cards and the Poker Notes Live mobile app for their support. Be sure to check 'em out!
Show Time Stamps
| | |
| --- | --- |
| 00:27 | Synopsis |
| 1:02–20:06 | How Ya Runnin? |
| 1:23 | Robbie: When the Wife is Away, the Husband Will Play (Poker). Ultra-rare to play in four home games within a two-week span, but with the wife abroad, what better to fill up 23 hours than time at the home game felt?! |
| 11:37 | Bruce: Zero home games played due to being snowed in. Further discussion of the "Elevator Poker" structure, wherein blinds rise throughout a night's cash game play. |
| 16:30 | Donna Lawton will be Top Pair's representative in the upcoming Charity Series of Poker "Against All Odds" event to benefit St. Jude's, taking place on March 2, 2019 at the Red Rock Casino and Resort. |
| 21:25–26:31 | Congrats! You Made the Show (Mailbag/Listener Feedback) |
| 21:59 | Listener Randy adds some insight to the "Elevator cash game" and offers up some strategies and tips for how to succeed in this unique format. |
| 24:15 | Listener Dustin reports back from how his "Elevator cash game" played out on the first occasion of his home game group giving it a try. |
| 27:55–44:49 | Talk Poker To Me (Article Review) |
| 28:00 | Introduction to Martin Harris' article about Five Uses for Play Money Online Poker Games and Tournaments |
| 31:39 | Doing poker math exercises. |
| 32:40 | Practicing identifying patterns. |
| 36:02 | Getting familiar with tournament structures. |
| 38:04 | Familiarizing oneself with a new online poker client (software). |
| 39:36 | Trying out different games and formats. |
| 44:58 | One Outer – Who knew that poker's suits could be the perfect metaphor for a long-running marriage? |
You can subscribe to PokerNews' Top Pair Home Game Poker podcast on iTunes here, or you can access the RSS feed here.
Follow the show on Facebook and be sure to join in the conversation on Twitter at #PNTopPair.
Follow hosts Bruce Briggs @toppair and Robbie Strazynski @cardplayerlife, also available via email: [email protected]