The Bernard Lee Poker Show 12-03: Phil Hellmuth, 30 Years After 1989 WSOP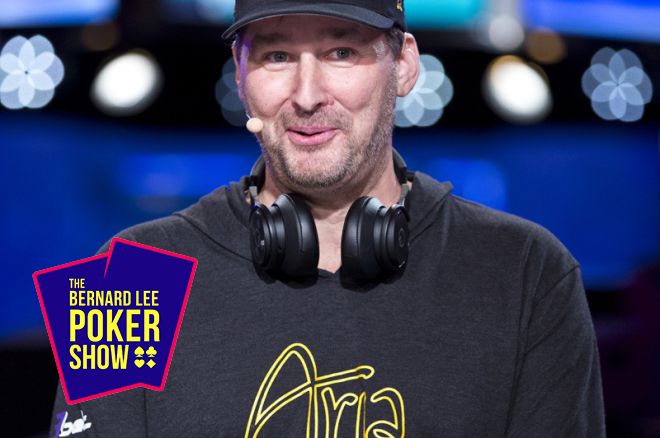 In this episode of The Bernard Lee Poker Show on the PokerNews Podcast Network, Bernard Lee interviews the 1989 World Series of Poker Main Event, Phil Hellmuth, as he celebrates his 30th anniversary of his 1989 WSOP Main Event victory over Johnny Chan.
Initially, the 15-time WSOP bracelet winner discusses his latest win in last summer's WSOP Event #71: $5,000 No-Limit Hold'em. Then, Phil discusses his victory in 1989 WSOP Main Event.
The 30th anniversary of this championship occurred this past weekend on May 18, 2019.
Show Time Stamps
| | |
| --- | --- |
| 0:00 | Welcome to The Bernard Lee Poker Show as this week's guest will be the 1989 WSOP Main Event, Phil Hellmuth, as he celebrates his 30th anniversary of his victory. |
| 1:26 | The poker social media blew up this past weekend as Daniel Negreanu married Amanda Leatherman in a ceremony on May 17, 2019 in California. #ALovesTheD |
| 2:01 | Mississippi native Chris Lane captured the WSOP Harrah's New Orleans Circuit Main Event for $185,158 over a field of 582 entries, earning a seat into the 2019 WSOP Global Casino Championship. |
| 4:02 | RunGood Gear Ad |
| 4:45 | Share My Pair Ad |
| 5:16 | Bernard welcomes Phil Hellmuth to the show. |
| 6:07 | Phil joins the show. |
| 6:43 | Phil explains how he felt winning his 15th WSOP bracelet last summer in Event #71: $5,000 no-limit hold'em (30-minute levels) and discusses his controversy during the 2018 WSOP Main Event versus James Campbell. "To me, it was weirdest, kind of the most negative social media has ever been on me in my life, followed by almost the most positive." |
| 10:40 | Phil discusses why he already bought James Campbell into the 2019 WSOP Main Event. "He handled himself perfectly…I already bought him for next year's series. I already posted the $10,000." |
| 12:11 | Phil recalls buying into and playing in the 2018 WSOP $5,000 no-limit hold'em tournament (Event #71), which he won for his 15th bracelet. "I'd like to say I had a good feeling, but I didn't. I was not gung ho about playing in this tournament." |
| 13:25 | Phil recalls the action of Day 2 including the final table of the 2018 WSOP $5,000 no-limit hold'em tournament. "I made it through the day (1), and now I knew I had a chance…I knew it was going to be fast." |
| 14:28 | Phil discusses the only time in his career he stalled because he really wanted to get to dinner break. "There was a minute and ten seconds to dinner break. Alright, this is the one time in your life where you have to stall." |
| 15:10 | Phil remembers coming back from dinner break and playing three-handed. "The very first hand I stuffed it with A-5 with 10 big blinds and got called by (pocket) kings. And I hit an ace and a five. And all of a sudden, I was right in there." |
| 15:43 | Phil discusses heads-up play, including winning the last hand to win his 15th WSOP bracelet. "I was at a huge chip disadvantage at that point. I still on 3 million and I think he had 9 million…I've had big chip leads and not won bracelets and I have small stacks and won bracelets heads up. So, I just gave it my best shot." |
| 18:00 | Phil reveals he had a herniated disc during the entire 2018 WSOP, which limited his tournament schedule. "I couldn't even walk. I was having trouble walking to my room…I skipped so many $10,000 buy-in tournaments. I've never skipped (more than) one or two per summer. (This summer) I skipped like seven. I was in pain." |
| 20:47 | Phil discusses how he set the goal of winning 24 WSOP bracelets in his career. "In 1993, that was the year I won three (WSOP bracelets) in one year and that put me at five. And it just stuck in my mind, you're going to win 24 bracelets…And I said that this is a great thing to hang on to. 24. Let's go for 24. I don't why the number came or what it means, but it was something to cling to, kind of a nice lifetime goal." |
| 21:56 | Phil recollects when Doyle Brunson and Johnny Chan came out to present him with his 11th bracelet when Phil took over the sole lead of the WSOP bracelet race. "Chan and Brunson were there to give me No. 11. We were all on 10 and they both came out to give me bracelet No. 11 which was pretty classy, pretty cool." |
| 22:14 | Phil also explains why Doyle and Johnny stopped playing so many bracelet events. "Tournaments take a lot of effort. A lot of toil, not toll." |
| 25:28 | Phil discusses the players who are his biggest threats in the WSOP bracelet race. "You think of Phil Ivey first…Daniel (Negreanu) with six is an amazing player…Joe Cada has a bunch (four) of bracelets and his results in no-limit hold'em remind me of my results in no-limit hold'em in the past." |
| 27:57 | Bernard discloses and lauds Phil for winning six of his 15 WSOP bracelets after the Moneymaker boom with such large fields. "It's almost just as easy to win a tournament with two or three thousand people in no-limit hold'em as it is to win a mixed game event because the mixed game has 120 of the world's absolute best players…And my edge is small in these spots. Whereas, in my opinion, there is a cap on how good you can become. You can come up with the most beautiful mathematical theories ever devised, you still have to be able to bluff and not show that you are bluffing. You still have to be able to bet really strong hands and not show that you are betting really strong hands." |
| 31:42 | Las Vegas Laundry Services Ad |
| 32:42 | Bernard continues his interview with the 15-time WSOP bracelet winner, including the 1989 WSOP Main Event, Phil Hellmuth. |
| 33:32 | Phil can't believe it is 30 years ago since his victory. "Oh my God. You're the first person to tell me it was 30 years ago." |
| 33:38 | Bernard and Phil both fondly recall the old Sony Yellow Sports Walkman. "I was the only one in the poker world wearing headphones…a whole era has past. I went from trend setter to that trend doesn't even exist anymore." |
| 35:00 | Phil recalls a column in Esquire where Johnny Chan is interviewed and complimented Phil. "Esquire was a big magazine…This article comes out in January. Everyone is talking about it…And Johnny Chan is talking about me." |
| 36:30 | After reading this column, Phil predicted his victory and "told everybody I was going to win the 1989 (WSOP) Main Event." He even recorded this prediction on his answering machine. |
| 39:05 | Phil discusses why winning the WSOP Main Event was his initial goal. "I wrote down goals and at the top of that list was to win the World Series of Poker Main Event." |
| 41:09 | Phil remembers his heads-up battle versus Johnny Chan, who at the time was the two-time reigning WSOP Main Event champion. "Johnny Chan in 1988 in the Main Event, he busted me. I finished 33rd. He had jacks, I had tens. The flop came 7, 8, 9. I think we were all-in pre-flop. His jacks held up." He also recalled that "Chan and I had played a lot by then and I wasn't afraid." |
| 43:32 | Bernard states that Phil (span first to last bracelet: 1989-2019) is only the third player in WSOP history to win a bracelet in four different decades. Jay Heimowitz (1975-2001) and Billy Baxter (1975-2002) are the other two. |
| 45:09 | Phil discusses his victory in 2012 WSOP Europe Main Event. |
| 46:29 | Phil discusses how he continues to adapt to the ever-changing game of poker. "One thing I do is I do talk poker with Mike Matusow and Brandon Cantu. And we have some very, very deep discussions about the game, where it is, what's happening…Knowing what they are doing, I'm not about what they do. I'm about how to beat what they're doing." |
| 48:09 | Phil discusses no-limit hold'em. "No-limit hold'em, at the end of the day, is an art form, as well as a science. And if you have great reading abilities and have great logic, you are always going to do well." |
| 48:51 | Phil congratulates Bernard on his 12th anniversary of The Bernard Lee Poker Show. |
| 50:06 | Cabot Cheese/Creamery Ad |
Let us know what you think of the show - tweet about the podcast using #BernardLeePokerShow, and be sure to follow @BernardLeePoker on Twitter or Instagram.
You can follow Phil Hellmuth on Twitter @Phil_Hellmuth.
The Bernard Lee Poker Show is now available on iTunes.
Don't forget to subscribe to the PokerNews podcast on iTunes here, or you can access their RSS feed here.