PokerNews Podcast 510: Kayla 'winopoker' Voogd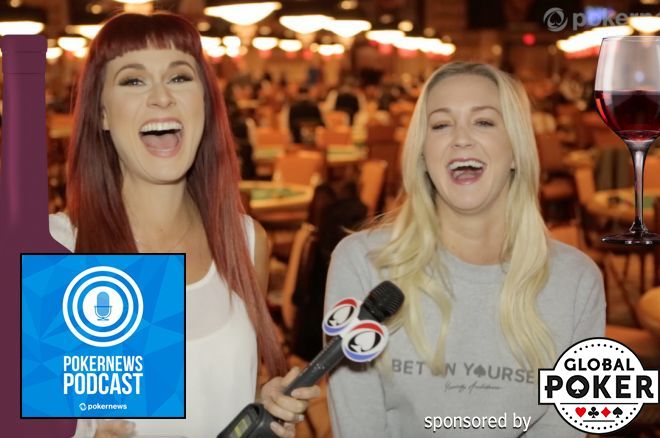 It's Episode 510 of the PokerNews Podcast, Sarah Herring is finally back in the US of A, and she and [Removed:139] dive into what's going on in the poker world.
Poker After Dark ensured that mid-August would not be a dead time in the industry, the "Masters of the Main" week provided plenty of entertainment. John Cynn, Kelly Minkin, and Randall Emmett all starred in some pretty memorable moments.
Plus, PokerStars is giving away more Platinum Passes, Maurice Hawkins and "Crouton's Uncle" notch big scores, and poker works its way into the mainstream media landscape.
Then, Kayla 'winopoker' Voogd joins the show to chat about her passion for poker, her Instagram following, and what else she has going on outside the poker world.
This week's sponsor: Global Poker.
Show Time Stamps
| | |
| --- | --- |
| 0:30 | Intro: Sarah is finally back from Sochi |
| 1:30 | What an entertaining Poker After Dark episode, "Masters of the Main" |
| 4:10 | Randall Emmett certainly making his presence felt in the poker world, in a somewhat polarizing way |
| 8:30 | John Cynn goes all-in again and again and again and again |
| 9:40 | The Bernard Lee Poker Show is coming to the PokerNews Podcast Network! |
| 11:15 | Are streamed cash games running it twice too often on all-ins? |
| 14:00 | Kelly Minkin pulls off an epic slowroll |
| 17:00 | Tony Miles exacts some "revenge" against John Cynn |
| 18:40 | Sponsor: globalpoker.com |
| 19:50 | PokerStars Making Amends for Recent Crashes with $650K in Freerolls |
| 21:10 | Get Creative to Win Platinum Passes from PokerStars Ambassadors |
| 23:10 | partypoker releases schedule for MILLIONS tour stop at Baha Mar |
| 26:50 | Maurice Hawkins Adds HPT Title to Trophy Case |
| 29:00 | Alex Jim Wins WSOP Circuit Foxwoods Multi-Flight Event for $134,570 |
| 30:00 | Are multi-flight/re-entry events taking place too often? |
| 31:40 | Josh Malina makes it through the Day 1A flight of the WPT500 at the Bicycle Casino. Sarah has no idea who he is. Jeff is offended. |
| 34:10 | Poker and Game Theory Featured in Hit Film 'Crazy Rich Asians' |
| 35:30 | Poker scenes in movies and television: not fantastic for the most part |
| 37:40 | Red Dead Redemption II Offers Gamers Old West Style Poker Action |
| 39:20 | Kayla 'winopoker' Voogd joins the show! And we find out how to say her last name! |
| 41:50 | How much time she has for poker: "I do play quite a bit...I have the freedom to be able to play pretty often...but it's definitely not my income, it's just a good time." |
| 42:40 | What Voogd has going on outside of poker, an explanation of the companies that she and her husband, Peter, run |
| 44:50 | The success of her husband's book: "6 Months to 6 Figures" |
| 47:50 | Her history in sales, and how it's helped her in poker: "Body language in sales is everything, and body language in poker is a lot too, so it definitely comes hand in hand." |
| 49:30 | Tips for working in sales: "A lot of it is just solving the problem...I don't have any fear of rejection. Someone could say no to me and it just means nothing." |
| 50:40 | Working poker into her schedule: "I've always had a passion for poker, so I was really able to start working on my poker game a lot more." |
| 52:10 | How her passion for poker developed: "It first started when my Grandpa taught me how to play poker. He was in the Navy, and when he was in the Navy, they'd literally play for their paychecks." |
| 53:00 | Playing in her first poker tournament: "I felt like this was my career, this is where I belong." |
| 54:40 | How she balances her time between cash games and tournaments: "I actually do plan a lot, I always check out the tournaments I want to play in, I schedule when I'm playing cash....I'm pretty organized with it because I treat it like a business." |
| 55:50 | Diving into her popular 'winopoker' Instagram page |
| 57:10 | Is she inspired to take poker more and more seriously? "I'm constantly working on my game and finding ways how to get better." |
| 58:00 | Running through a cash game hand with those #livereads: "Guys love to bluff girls, even more than they love to bluff guys" |
| 1:01:40 | Her experience at Live at the Bike: "I don't get nervous because I just don't care what anyone thinks...I just have fun, I'm playing my game." |
| 1:02:40 | Wine time with Sarah and Kayla |
| 1:04:10 | Blowing people up who work their way into her DMs on Instagram |
| 1:09:40 | Meeting fans at different casinos: "I've been doing Instagram meetups, casinos have been reaching out to me. They just want to hire me to promote their place...it's a good way for the casino to get exposure and a good way for us poker Instagramers to hang out and meet." |
| 1:12:40 | Sponsor: globalpoker.com |
| 1:13:00 | PokerNews Podcast Fam!! Check all our podcasts out on Audioboom |
Tell us who you want to hear from. Let us know what you think of the show - tweet about the podcast using #PNPod, and be sure to follow Sarah and Jeff on Twitter.
You can subscribe to the PokerNews Podcast on iTunes here, or you can access the RSS feed here. The PokerNews Podcast family of podcasts is now available on audioBoom. Leave us a review and we might read it on the air, or at least give you a shoutout.